Almost every Ecuadorian driving from Latacunga south towards Riobamba stops for a famous Salcedo ice cream bar. The main route through town was once home to dozens of ice cream stores all claiming to sell the original Helado de Salcedo. Today few people take the time to drive into town as the new highway, the E-35, slows down near a couple of stores that have sprung up on the new route. In fact, you can't miss them because the traffic can be so bad in this one little spot that you will be forced to slow down to avoid hitting pedestrians crossing the road to get the "best" ice cream (it's alway on the other side).
We like to take the road less traveled and will sometimes go through the center of town, like we were forced to do in the old days. And there are still plenty of ice cream stores vying for your business.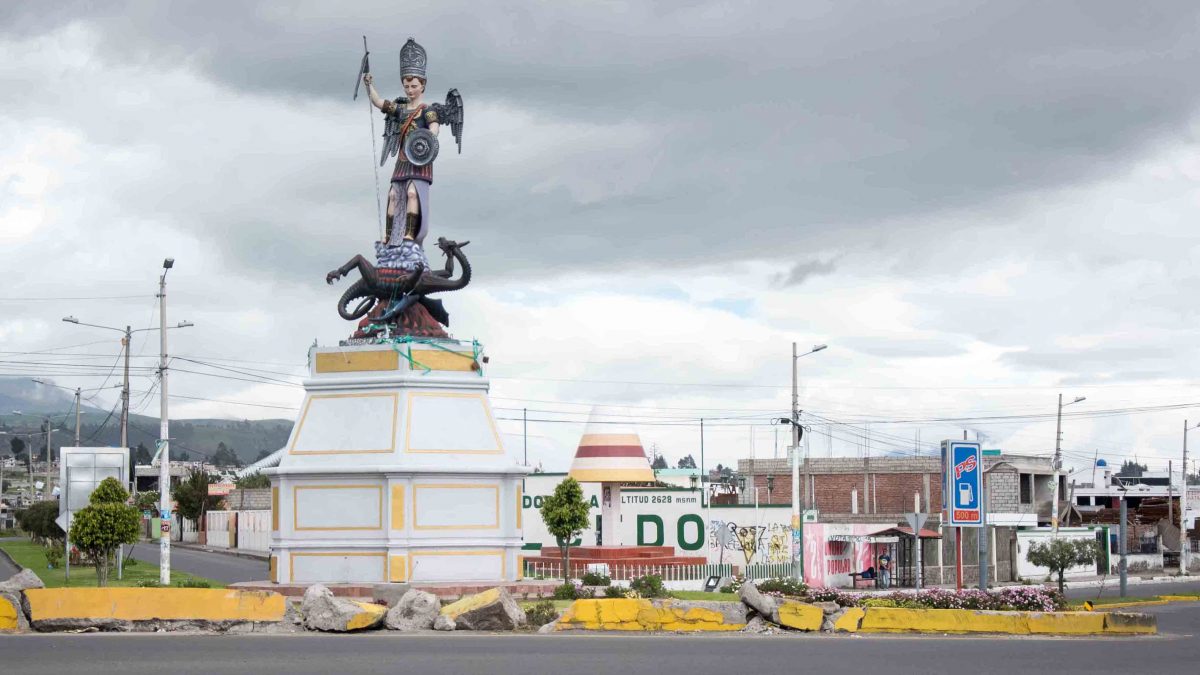 Just a few weeks ago, we stopped at one of the pull-offs just upon entering town as much to photograph the trash cans as to eat the ice cream. Yes, Salcedo is also home to the infamous open-mouthed clown trashcan. And other varities have immerged. The Bart Simpson version is more like a traditional trash can, with the top of his head serving as the opening while Donald Duck grins wide, hoping your trash will make it into his lip-like bill. And, if you like clowns, then you will be thrilled by the wide selection of gaping black mouthed versions dotted throughout town. There are a few that might be worthy of adding to a scary clown collection.
Inexpensive Ice Cream, Tons of Competition
As you drive through town, you will see young women standing on the side of the street, waving down cars. Each claims to have the best ice cream in town. Honestly, I am not sure how these places stay in business. With so much competition, ice cream sells at about 75 cents a bar. Waving flags and trendy trash cans can only attract so many new customers.
Some of the flavors on offer you may not recognize. Rompasas is rum-raisin, a traditional favorite among older Ecuadorians. Chicle is bubblegum, a favorite with kids. But the traditional bar is the one I wanted to try.
The Traditional Salcedo Ice Cream Bar
The traditional bar is shaped like an upside down drinking glass. In fact, you sometimes find ice cream for sale in its original mold, a plastic cup. The traditional bar always comes with four flavors and always in the same order. The top is leche or milk. I know this sounds like a very plain ice cream but it is delicious. It must have to do with the milk coming from cows raised on grassy mountain slopes in the high Andes.
The next layer is mora or blackberry. The blackberries of Ecuador are juicy and tart, with lots of big seeds. The blackberry ice cream leaves the seeds behind and packs a good fruity flavor.
The third layer is naranjilla. I'm afraid there is no translation for this fruit. It grows on a plant similar to eggplant and bears a small, solid fruit that is thick-skinned and orange on the outside. Inside, it is segmented, almost like a tomato and bears a greenish jelly with lots of pale seeds. It is used to make fresh fruit juice and is absolutely delicious.
The last layer is taxo, sometimes called curuba in nearby countries. This fruit is a type of passion fruit. It is long and tubular with green skin, bright orange flesh, and small black seeds. It's not very sweet and a single taste can leave your tongue feeling dry. It's the kind of fruit you either love or hate (I love it!).
Information For Your Trip
While you can buy Helado de Salcedo in many places in Quito, it's fun to make a pitstop if you're passing anyway. 
Direction by Car, use WAZE and look for Salcedo, Provincia de Cotopaxi, Ecuador.
Direction by Public Transportation While there are buses from Latacunga to Salcedo, you can ask at any stop along the highway for Helado de Salcedo and there is a good chance they may just have a traditional ice cream bar.