W
e are about to head out on the adventure of a lifetime, a 12 day Galapagos land based tour!
After a lot of research, we decided that the best option for our family was to make our lodgings on land each night rather than on a cruise ship. Our money could be stretched a little further and, if weather ends up being horrible due to El Niño, we have more flexibility than if we went on a cruise. It doesn't hurt that one of us tends to get sea sick and will get a break from boats by sleeping in a comfortable, still bed rather than a swaying bunk.
Our goal is to visit three of the main islands and take day trips from each. I planned out a basic itinerary that included starting at Isla Isabela moving to Santa Cruz and then ending in San Cristobal. I sent it to a couple of travel agents and chose the one that responded in good time and with a basic price that sounded reasonable.
We went with Galapagos Alternative who quoted us about $2600 per person for basic accommodations, breakfasts, tours, lunches on most days, transportation, mask, snorkel, and fins (no wetsuits). We ended up paying just over $3100 per person, partly because we are traveling at the high season so our choices of accommodations were more limited. We also chose a private charter for one of our trips. However, the upgrade in hotel also included dinners for our stay on Isabela.
We still had to pay for our own flights to and from Quito, the entrance fee to the park, and the $20 immigration card. A trip to the Galapagos is not an inexpensive proposition.
If you want to save even more money, you could be your own travel agent and make each and every hotel and trip reservation on your own. If you are traveling with only one or two people, it is much easier to grab last minute deals, especially in both Santa Cruz and San Cristobal. It is harder on Isla Isabela where there are fewer tourists. Since many trips only include about 12 people, making last minute reservations for a family of four are more complicated. However, we have had good luck using Moonrise Tours out of Santa Cruz for last minute trips to Bartolome Island.
Also, you need to know that there is no single trip that will allow you to see "all" of the Galapagos in one go. Even cruises are chartered to visit only certain islands.
Curious as to our "perfect" Galapagos land-based tour?
Isla Isabela – 4 days
We chose to start our trip on Isla Isabela in Puerto Baquerizo Moreno so that we only had half days of boat travel from island to island. It means we had one long day of travel at the beginning of the trip. If you would prefer to charter a flight from island to island, it is possible though the price of your trip will raise accordingly and you are severely limited in the size of baggage you are permitted to carry. 
This itinerary does not include a trip to Las Tintoreras, a well-known destination on the island.
DAY 1 – Travel from Quito to Isla Isabela via Baltra & Santa Cruz
We get ourselves to the Quito Airport and take our scheduled flight to Baltra Island, the Galapagos where we will be met by a driver from Galapagos Alternative. They will make sure we get from Baltra to Isla Isabela:
Pick-up from airport
Bus over Baltra Island
Ferry boat ride over channel
Bus or taxi over Santa Cruz Island to Puerto Ayora
Afternoon transfer to Isabela Island by boat
Read the article about our travel day.
Once on Isla Isabela, Galapagos Alternative gets us to our hotel.
Day 2 – Tour to Los Tuneles
An early morning pick up for a guided group tour that includes snorkeling and exploring the lava arches called Los Tuneles.
Open-water snorkeling from boat
Travel along the coast of Isabela by boat to Los Tuneles, about 45 minutes
See a labyrinth created by the interaction of lava flows and ocean currents
Trek across lava arches and bridges – tide permitting
Snorkel and enjoy an astonishing array of marine creatures
DAY 3 – Tour to Volcano Sierra Negra and Volcan Chico
An early morning pick-up for a strenuous hike in the highlands of Isla Isabela
Transportation to the highlands (45 minutes)
1-2 hour strenuous hike to the world's second largest volcanic crater
If weather permits, continue to Volcan Chico for a view of the northern volcanoes of Isabela and Fernandina Islands
Hike back down to the bus (3-4 hours)
Lunch included at Campo Duro, a quaint highlands farm with giant tortoises
This hike is NOT recommended for children under 12, seniors, overweight adults, or people with physical limitations
Read more: Volcan Sierra Negra * Volcan Chico.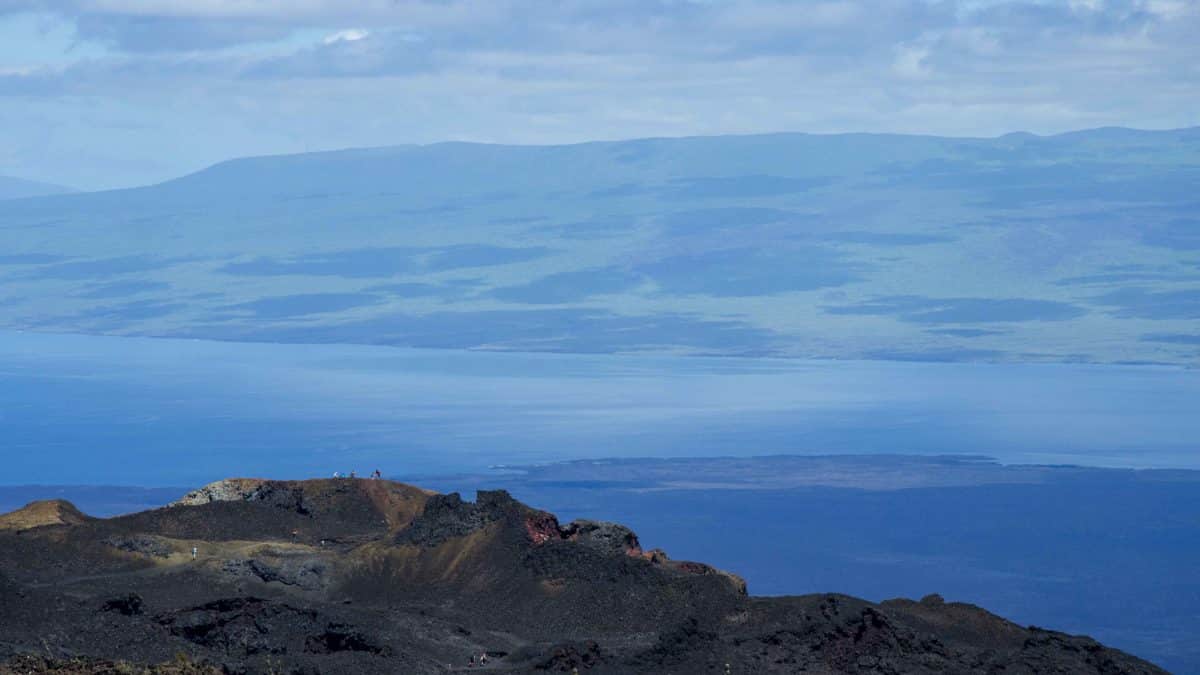 Day 4 – Cuatro Hermanos
Early morning pick up to snorkel at 4 Hermanos
Travel off the coast of Isabela by boat to 4 Hermanos, about 30 minutes.
Cruise through the partial craters of these 4 islands each unique in form.
Explore a secret cave by boat or snorkeling.
Snorkel with friendly sea lions, sea turtles, reef fish and possibly sharks.
Watch for the more rare fur seals near the cliff.
In the afternoon, we are on our own in Puerto Villamil. Sounds like a good time to relax on the beach!
Read More: Fishing 4 Hermanos * Snorkeling at 4 Hermanos
ISLA SANTA CRUZ – 3 days 
There are also several more day trips that could be added from Puerto Ayora, Santa Cruz than are shown here. This three-day visit hits the highlights. If Bartolome Island is high on your list, you will want to see it from Santa Cruz. Another well-known destination is the Charles Darwin Station. The grounds are easily walkable and seen without a guide and, in our opinion, the hatching facilities at Isla Isabela and San Cristóbal are in much better condition
DAY 5 – Travel from Isla Isabela to Isla Santa Cruz by Boat
Early morning pick up to catch the boat that departs at 6:00 am for Isla Santa Cruz! Arrive mid-morning.
We have this day free to do what we like. My guess is that we will head to Tortuga Bay to take photos of marine iguanas, lizards, and Darwin's finches and for some relaxation time at the beach.
Day 6 – Highlands and Las Grietas
Tour of the Highlands of Santa Cruz – Mid-morning pick up at the hotel for a tour of the Highlands of Santa Cruz. 
Visit the twin craters of Los Gemelos
See giant Galapagos tortoises roaming in nature
Snack provided at lodge
Cross through ancient underground lava tunnels
Learn about and see our reforestation and coffee project
Bay Tour Santa Cruz and Las Grietas with Kayaks – After lunch pick up for open-water snorkeling and kayaking at Las Grietas
Kayak from the German Beach to Punta Estrada for a short hike to find white-tip sharks resting in the crevice below.
Look for colonies of seabirds nesting on the cliffs.
Hike over lava rocks and past salt lagoons to Las Grietas.
Climb down wooden stairs into the canal-like crevice (la grieta).
Swim or snorkel in the canal.
Kayak back to German Beach.
Read More: The Wild Tortoise Reserve * The Lava Tunnels *  Las Grietas 
DAY 7 – Tour of South Plaza Island
Morning pick-up at the hotel for a large group tour to South Plaza Island.
Bus transfer from Puerto Ayora, Santa Cruz to the Itabaca Canal (approx 45 min.)
Boat transfer from canal to South Plaza Island (approx 1 hour)
Disembark and explore an island inhabited by a large sea lion colony, Galapagos land iguanas, and a large variety of sea birds including the rare red-billed tropic bird and the Galapagos swallow-tailed gulls.
Enjoy the panoramic views, unique geology, and endemic plants this island has to offer
Snorkel along the channel with a variety of marine life
Return to Puerto Ayora, Santa Cruz Island (late afternoon)
(The order of activities is subject to change on the crew's discretion)
Read about our actual South Plaza Island trip.
SAN CRISTÓBAL – 5 DAYS
We chose to end our visit at Puerto Baquerizo Moreno, San Cristóbal for a very practical reason. They have an airport with flights back to the mainland. In fact, their airport is literally minutes from most hotels on the island, unlike Santa Cruz where you must travel for an hour or two from the airport on Baltra to reach Puerto Ayora.
DAY 8 – TRAVEL FROM ISLA SANTA CRUZ TO ISLA SAN CRISTÓBAL BY BOAT
Morning pick up at Hotel to board boat that departs at 7:30am for Isla San Cristóbal and transportation to the hotel.
This means a free afternoon in Puerto Baquerizo Moreno with choices like these:
DAY 9 – 180-DEGREE TOUR OF SAN CRISTOBAL ISLAND
Morning pick-up to head out on our 180 degree tour os San Cristobal (and about the only way to see the Red-footed Boobies that nest at the far side of the island).
Visit 6 sites on the calmer north coast of San Cristobal – halfway around the island
Cruise about 1.5 hours directly to Punta Pitt
Find the rare RED-footed booby via panga ride along the coast of Punta Pitt (no disembark)
Relax and snorkel from a secluded white-sand beach at Sardina Bay
Take a short hike on an impressive lava field at Punta Pucuna
Visit Cerro Brujo and the majestic arch on a panga ride along the coast (no disembark)
One last panga ride at the iconic Kicker Rock for some great shots of the impressive islet (no disembark)
(The order of activities is subject to change at the crew's discretion)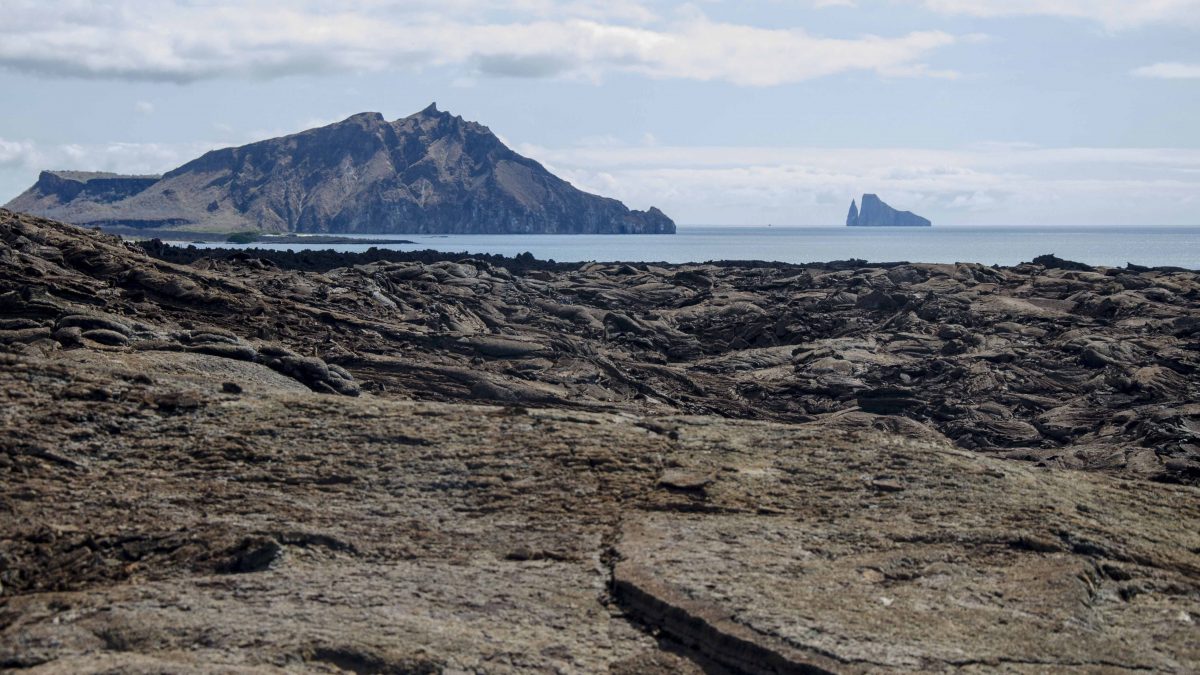 DAY 10 – TOUR OF KICKER ROCK/LEON DORMIDO AND REMOTE BEACH
Mid-morning pick up for a guided group tour that will include open water snorkeling.
Cruise out to Kicker Rock (approx. 1 hour)
Admire the form of this Islet as its cliffs tower over you
Snorkel the deep, narrow channel created by this island while you look for hammerhead sharks, rays, sea lions, sea turtles, and a variety of fish passing below.
Lunch included onboard
Relax and snorkel from a secluded white-sand beach.
(The order of activities is subject to change at discretion of the crew)
DAY 11 – TOUR OF ISLAS LOBO AND OCHOA BEACH
Exact time to be scheduled when we arrive at San Cristóbal.
Cruise along the coast of San Cristobal Island to Islas Lobos (approx. 40 mins)
Disembark on Islas Lobos for an 1-hour walk over lava rocks where you can find Nazca boobies, blue-footed boobies, frigate birds, and marine iguanas
Snorkel with friendly sea lions in the protected channel by Islas Lobos
Cruise another 20 minutes to Ochoa beach to explore or relax
Return to Puerto Baquerizo Moreno
(The order of activities is subject to change at the crew's discretion)