I don't know about all of you but I just love to cook. I also love to eat. When we move to a new place, one of the first things we do is visit restaurants that serve the local cuisine. In Texas, that meant bar-b-que  but we also found the best breakfast tacos around. In Argentina, grilled beef tenderloin was high on the list but empanadas quickly became our favorite. In Germany, it was frikadelle and potato salad near Ramstein and spaetzle with just about anything in Stuttgart. In California, it could mean sushi, Mexican food, or a classic American diner, all with a California twist. In fact, Californians specialize in fusion cuisine, taking food from other cultures and turning it into their own.
After leaving these places, we usually miss the food so much that we learn how to make it ourselves. I'll never forget our first assignment to Eielson AFB, Alaska. There were NO restaurants of note in the area; even Fairbanks, a 45 minute drive in good weather, had only a Thai restaurant to add to the list of places serving very typical American cuisine. I learned how to make Indian Curries and Japanese Donburi at home. I relied on a cookbook that I still own to this day, the Encyclopedia of Chinese & Oriental Cookery by Jennifer Brennan. Sounds a little dated, doesn't it? She wrote this book before the US market had caught on to ingredients like miso or Thai curry paste in a jar. Believe it or not, her miso substitute was actually refried beans. Nevertheless she had some great recipes and my all time favorite was for beef curry. The reason I liked it so much is that I could adjust her recipe so easily – once I learned the technique I could make all kinds of curries even though they might not have been very traditional.
I'll share a modified recipe for curry powder from Brennan's cookbook but you can also use any of the quality curry powders available in stores today. Remember, those jars are really full of multiple spices and if one of them seems lacking in flavor, you can always augment it by turning to your spice cabinet and tossing in a little more special something. That way, you make the recipe really yours. If you're not sure where to buy quality spices, I recently found My Spice Sage. They offer free shipping and throw in samples to boot. 
Homemade Curry Powder
You can use whole spices and grind them or you can use ground spices. Remember, the former retain flavor for a longer time and will make a more aromatic and tasty mix.
Get yourself a rimmed cookie sheet and place a piece of foil on it. Alternatively, use a cast iron skillet instead. Place each ingredient in its own pile:
1/4 cup of cumin seeds
1/2 cup of coriander seeds
1/4 cup whole fenugreek
6-8 dried red chilis (1/2 TB cayenne pepper is the ground substitute)
1 TB black peppercorns
1 TB mustard seeds (black is preferable, but brown and yellow will do) 
Place the spices in an oven preheated to 300°F. Allow the spices to slightly brown. This will take about 10 minutes. A good sign that the spices are ready is that you'll be able to smell their wonderful aroma. Be careful of the red chilis as they can be very potent when heated. Grind these warmed spices in a spice mill or with a pestle and mortar. Sieve the ground mixture and regrind any large pieces. After grinding add: 
2 TB ground turmeric 
Place this in a jar with a sealable lid. Give a good shake to mix well and you have curry powder!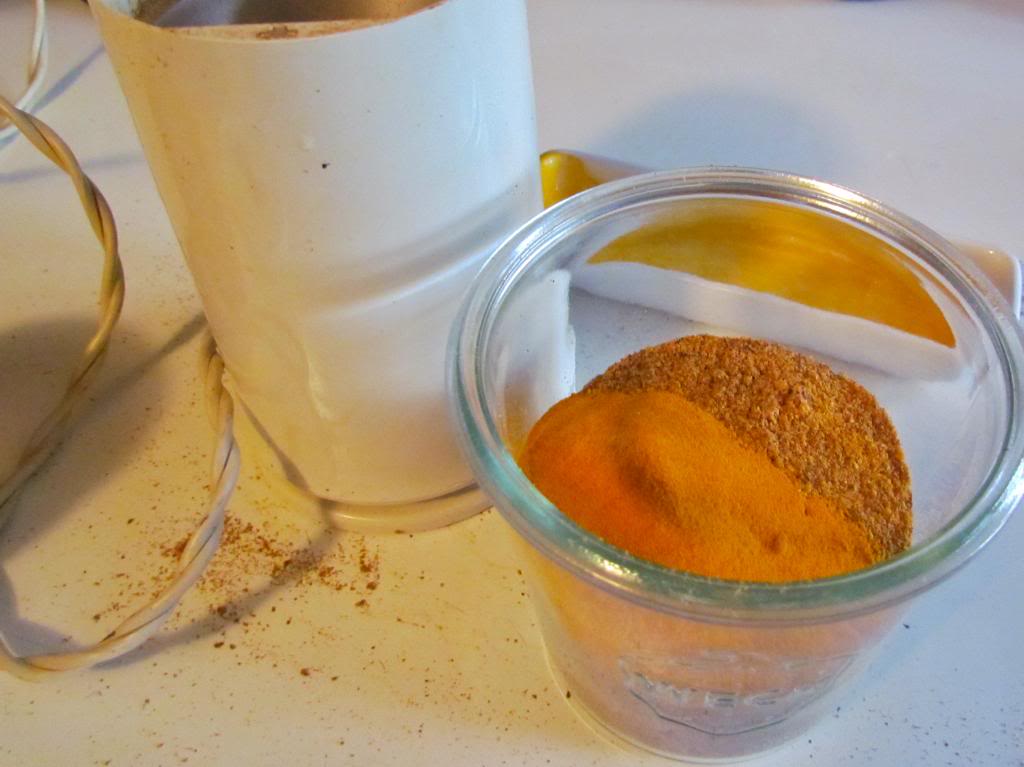 THE BEST BEEF CURRY EVER
First, make a curry paste by adding two to three tablespoons of curry powder to about a 1/4 cup of white vinegar. Let this sit while you proceed with the next steps.
Next, sauté one chopped onion and some minced garlic in a little ghee or canola oil until the onion is golden. Then add the above curry paste to the hot pan. Cook until the mixture starts to stick a little and becomes very fragrant.
At this point, add about a pound of protein of your choice – stew beef, pork or lamb shoulder cut into bite size pieces, or chicken. I haven't tried tofu but I bet it would work fine. Stir until all the protein is coated. Sprinkle with a teaspoon of sea salt, turn down the heat, and cover with a lid.
In about ten minutes you'll find your meat is cooking in its own delicious gravy. From here, you can go many directions but we usually add a small can of diced tomatoes, veggies of choice (carrots, potatoes, green beans, etc.) and cook until the veggies are done. If you want a really rich curry, add a can of coconut milk and cook until the flavors meld, about 10 minutes more. Yum!
This recipe was originally published in April 2013. This post has been reformatted and a few grammatical changes have been made.