One of the most popular dishes in the mountainous regions of Ecuador is llapingachos – a dish made from mashed potatoes. It's basically the potato pancake of Ecuador. Most often, I've seen it served alongside traditionally prepared meats, like hornado (roasted pork). In the city of Ambato, an entire meal goes by the same name. It includes the potato pancakes, locally-made sausages, a fried egg, a side salad, sliced avocado, and the ever-present ají. In some places, a llapingacho includes fresh cheese in the center. That's that version I'm going to share with you today.
The Papa Chola
But before you get to the recipe, you need to learn about a special potato called the Papa Chola. It is a large, red-skinned potato with creamy, yellow flesh. It's tempting to think that our American red potatoes could replace the Papa Chola but they wouldn't work. It is not a salad potato in any way, shape, or form. Rather, it is very firm when raw. Yet, when cooked, it easily mashes into a fluffy mound.
The most similar replacement potato in the United States would be a Yukon Gold, especially the large ones. It has the same butter yellow color inside and mashes fairly easily. However, if you chose to replace the Papa Chola with the Yukon Gold, you may need to add some liquid. Alternatively, you could go for your average Russet. Then I would use a little extra achiote oil to lend the potatoes the necessary yellow color. Either way, you need a potato that mashes! For my readers in other countries, I would love to hear your suggestions for a replacement potato or if you can find Papas Cholas on the grocery store shelves.
Llapingachos
Ingredients
Achiote Oil*
Papas Cholas – about 2 pounds
Medium white onion – diced
1/2 block of Queso Fresco (fresh cheese used in Mexican dishes)
Salt
Pepper
Vegetable Oil or Lard
*achiote oil can be found at Latin American grocery stores or a larger grocery store with a good international foods section. If you can't find it, you can buy achiote seeds (also called annatto) and saute them in a good quality olive oil. About 2 tablespoons of seeds in 1 cup of oil and heat until the oil turns a brilliant orange/yellow. Remove from heat. Strain the oil and reserve for later use. Toss the seeds.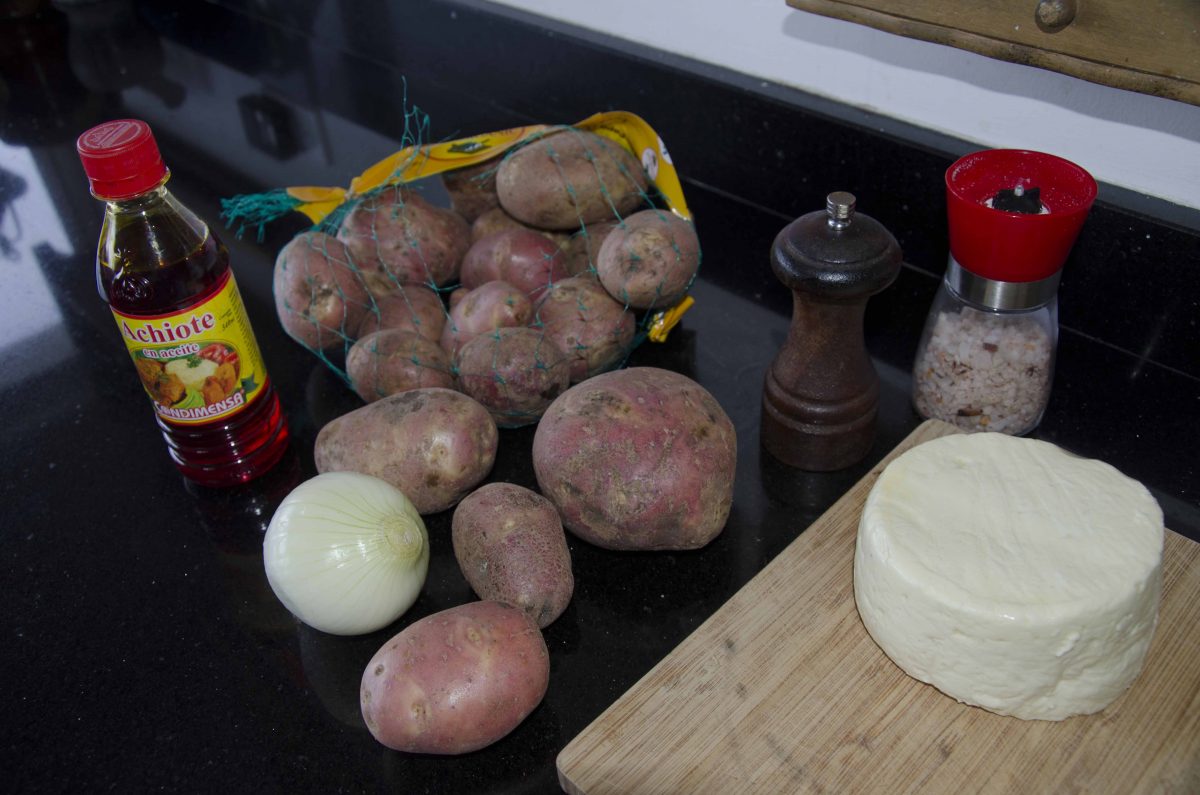 Instructions
And now, for the rest of the instructions.
Peel and chop the potatoes. Place them in a large pot of salted water, bring to a boil, and cook until tender.
At altitude, this takes about 30 minutes.
Meanwhile, saute the diced onion in about a tablespoon of achiote oil.
Cook onions until soft.
Mash the cooked and drained potatoes. Add the sauteed onions.
Mix together until well combined. The color of the oil with further color the mash. Test the mash for flavor. Add salt and/or pepper if you like.
Cube the cheese – this is about 1/4 inch dice. Then add it to the potato mash.
Form the mixture into patties. Each of these patties started off as a ball about the size of a small lemon. I then flattened them in my hand until they were about 1/4 inch thick.
Pan fry on a griddle greased with pork lard (traditional) or vegetable oil. They will need a couple of minutes per side. The cheese inside should get soft and warm.
Ecuadorians would serve these potato pancakes with a side salad, some avocado, and some very spicy ají.
If you decide to make these, please let me know how it goes. I am especially interested in learning which potatoes make great llapingachos so that when I return to the United States, I'll have a head start on making Ecuadorian dishes at home!