Hornado is an amazing dish found in market stalls and festivals throughout the Ecuadorian Andes. If you love roast pork and potatoes, it's worth going out of your way to taste the different variations found from north to south. This article will tell you about a few of them. If your favorite isn't listed,  please send us a photo with the name and address of the venue where you tried the best versions of this roast pork plate! We'll add those photos to the article.
What is Hornado?
The word hornado comes from the Spanish horno for oven or kiln. To make hornado, an entire prepared pig is roasted in a wood-burning oven until its meat is deliciously tender and its skin crackles with crispy goodness. The meat can be basted or injected with chicha de jora or beer or fruit juices. Seasoning changes by region though salt is a definite constant!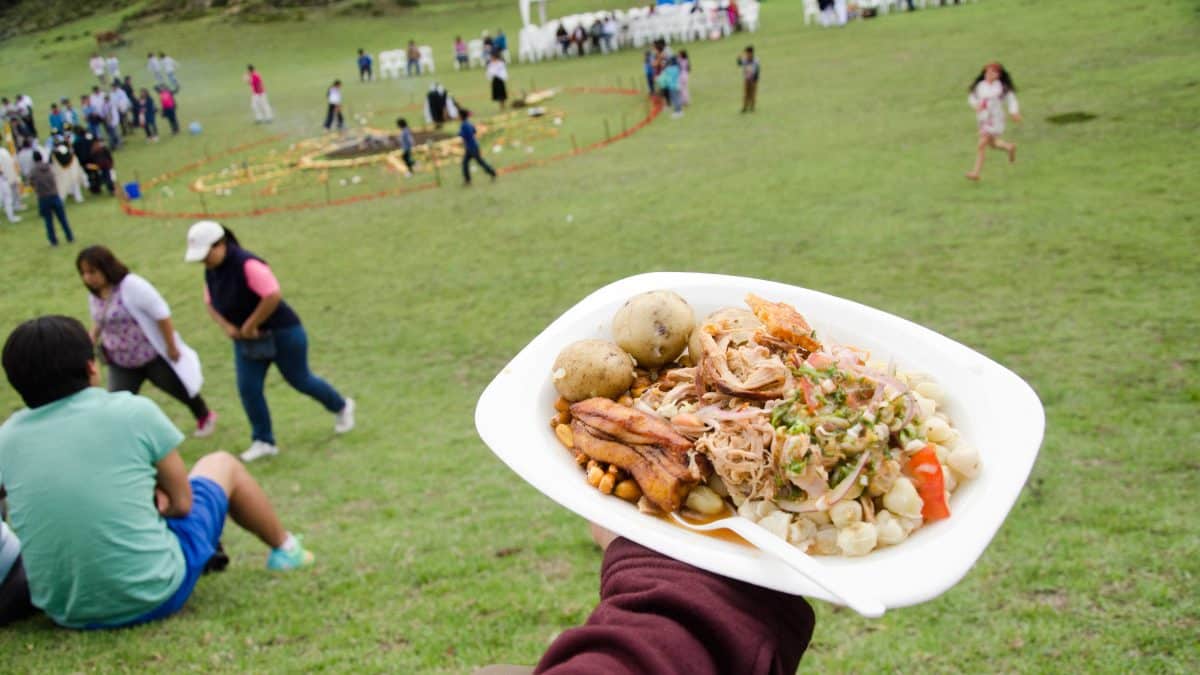 A sign of an excellent preparation is crunchy skin or crackling. The skin is such a delicacy that it goes by distinct names in different parts of Ecuador: cuero, cuerito, cascaritas. Sometimes, it's even sold as a unique plate all on its own. Just check out the cascaritas stalls in Cuenca and Cañar to see what we mean!
Hornado Is More Than The Pork
However, hornado would never arrive with only pork on the plate. That would be sacrilege! Indeed, a true Andean hornado includes some starch, usually llapingachos or tortillas de papa made of local potatoes or mote, a hominy-like sidedish of corn, or both. Some regions love to add slices of fried sweet plantain. And everyone offers at least a few kernels of toasted corn called tostado.
The next common ingredient to all hornado dishes is a sweet and sour salad (ensalada agridulce) made of red onion and tomato dressed with vinegar and/or a splash of lime juice. Like the dish it accompanies, agridulce is slightly different for each and every kitchen.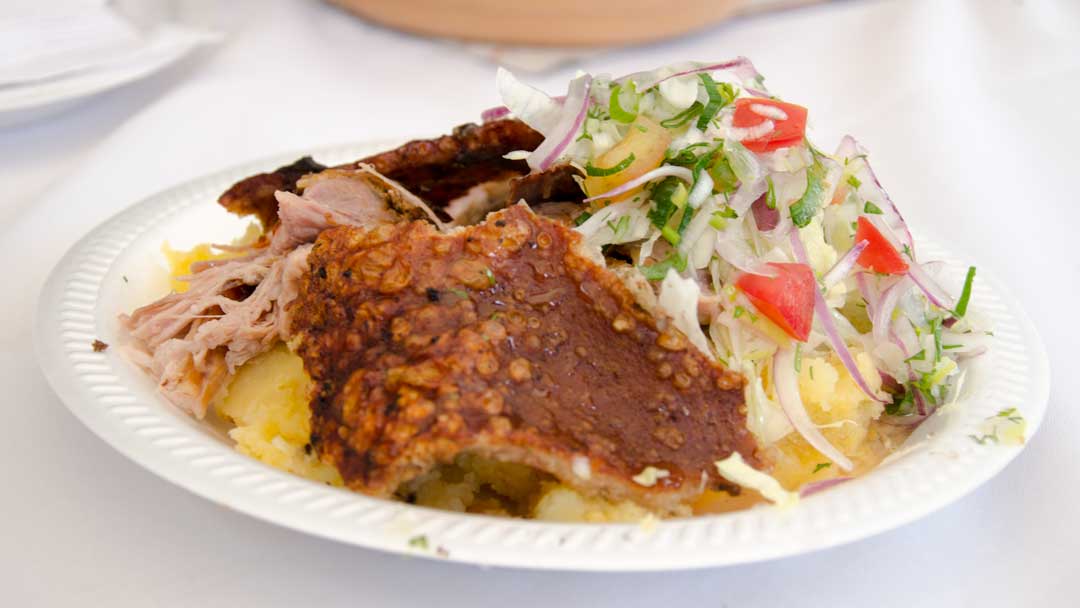 Last but not least, a small bowl of ají will be placed on the table so that each and every person can spice their roast pork to taste. After that, regional changes abound! My favorite is the vegetable and rice stuffed "sausages" made in Otavalo by Rosario Tabango. In my mind, she makes the best hornado in all of Ecuador.
For recipes that you can make at home, check out these pages from Laylita.com: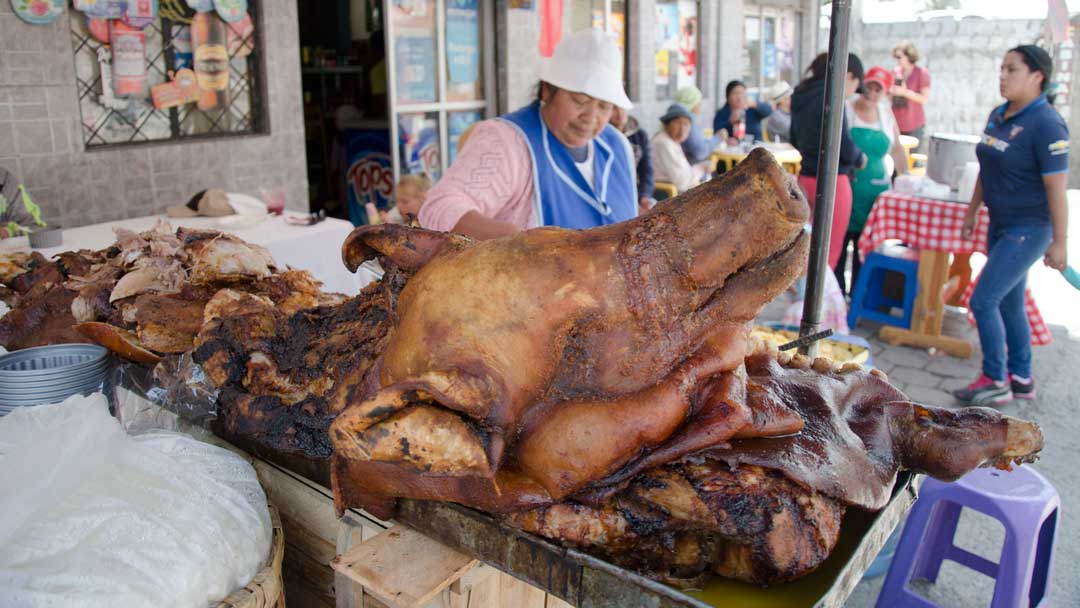 Where is the Best Hornado?
It is unusual to find hornado in most sit-down restaurants in Ecuador. For tourists that fear eating festival food or buying from a stall at the local market, it can be tough to find a place to try this iconic meal. We challenge you to reach outside of your comfort zone and head to the local market for the best selection of hornado. This means you will be looking to eat early. Market stalls selling hot food tend to start closing around 2 pm. A good hornado stand may actually sell out much earlier as many Ecuadorians will eat it for breakfast!
Market Tips for the Best Hornado Experience
You will want to look for a stall that is neat and clean. That means someone is removing dirty dishes and wiping down tables. If you are worried about hygiene, look for a handwashing station near the stall. We also try to choose vendors who keep the food slightly removed from customers. It might not make for as pretty a stall, but it means that fewer people are breathing over the food you are just about to eat!
Next, look for the popular stalls. If locals are eating there, it means the food is good, in more ways than one. Locals are not going to eat at a place that makes them sick. Nor are they going to settle for nothing but the best in the town.
If you are still in doubt about which stall to try, don't panic! The women at the stalls will fight for your attention by offering a taste. Usually, they hand over a small amount of roast meat and sometimes a tiny bit of crackling. Feel free to walk up and down the line to try every single one before choosing your roast pork platter!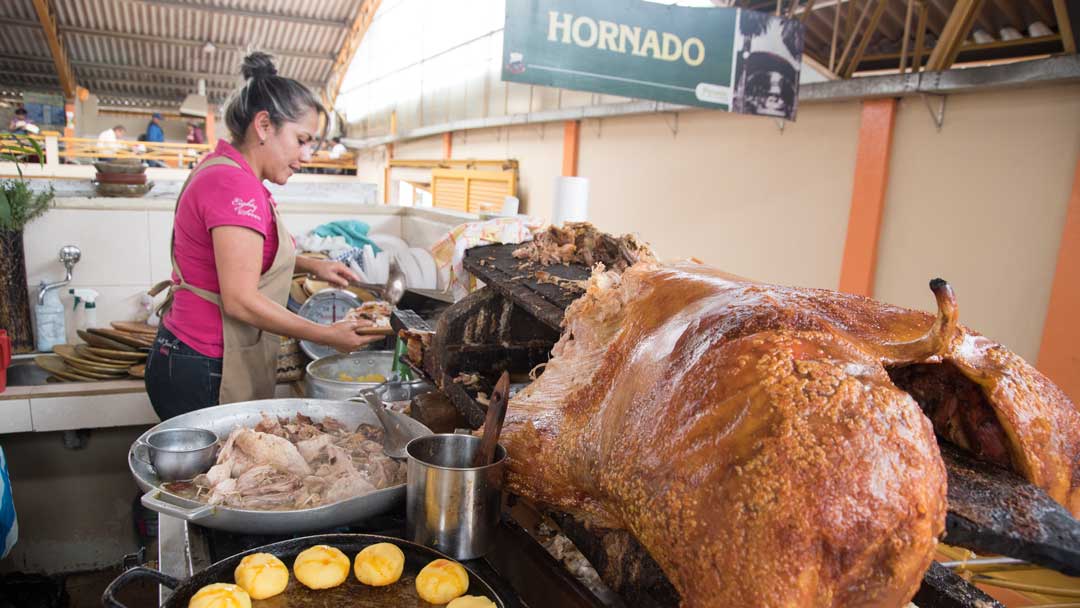 Once you've chosen, know that you can also determine what size plate you would like. In big cities, a small plate can run as little as $2.50. It will likely come with a decent serving of pork and salad but only one potato pancake. For around $3.50, expect larger portions of everything and about 2 potato pancakes. For $4.50 – $5.00, expect a large plate of food with plenty – enough for a couple to share.
Ask for La Yapa
Last but not least, consider asking for la yapa. This term is useful in many situations in Ecuador where you are shopping at the market or buying from a street vendor. You may even notice a few restaurants advertising la yapa with their own meals. It translates into "a little something extra." It's sort of like a Baker's Dozen (thirteen cookies instead of an even twelve).
Only ask if the vibe feels right. For example, look for a friendly vendor who is not harried or struggling to keep up with long lines. Of course, we recommend avoiding unfriendly vendors at all costs but sometimes it's hard to know until the moment of purchase.
If you decide to ask, I can almost guarantee you a look of surprise and perhaps a laugh when they see a gringo using Ecuadorian slang. Next, they'll add an extra dollop of something good on your plate.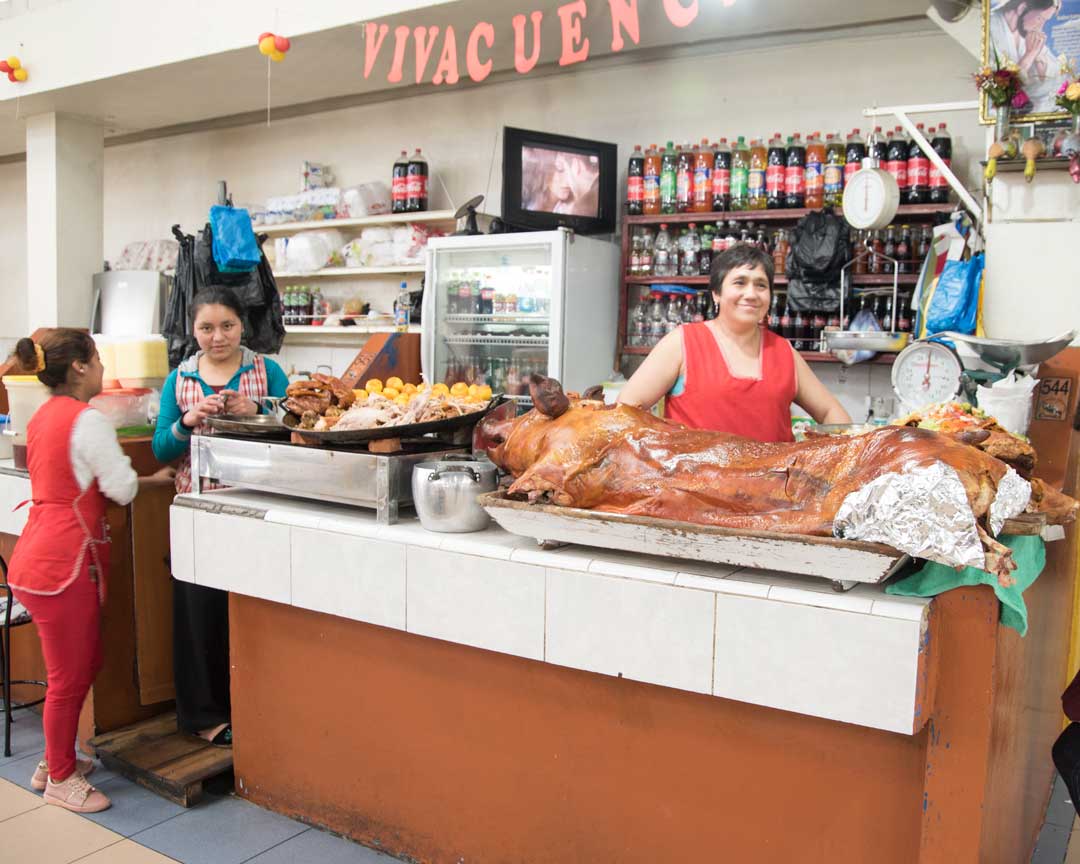 Hornado From North to South
Starting from immediately across the border with Peru in Tulcan all the way to Loja (and possibly beyond!), you can find hornado. Below, we attempt to give at least a description and possibly a photo from each regional style of this truly comida típica de Ecuador.
Tulcan, Carchi Province
We heard rumors about the unique hornado pastuso of the Carchi Province long before we travelled so far north. The name pastuso comes from a region across the border with Colombia, Pasto. Before 1916, this part of Colombia was northern Ecuador. Unsurprisingly, the culture and traditions are as Ecuadorian as they are Colombian.
On our last trip to Ecuador, we crossed into the country via Colombia, giving us the perfect opportunity to explore Tulcan and to try this meat-and-potatoes dish.  Served with a caldo, or broth, I ended up making a mess of the mashed potatoes. By the end of my meal, the plate was more soupy than I would have liked. We've heard its common to find this dish served with roast potatoes, a good solution for this style of roast pork.
While we won't rank it in our top three, it's unique enough that it's worth trying again!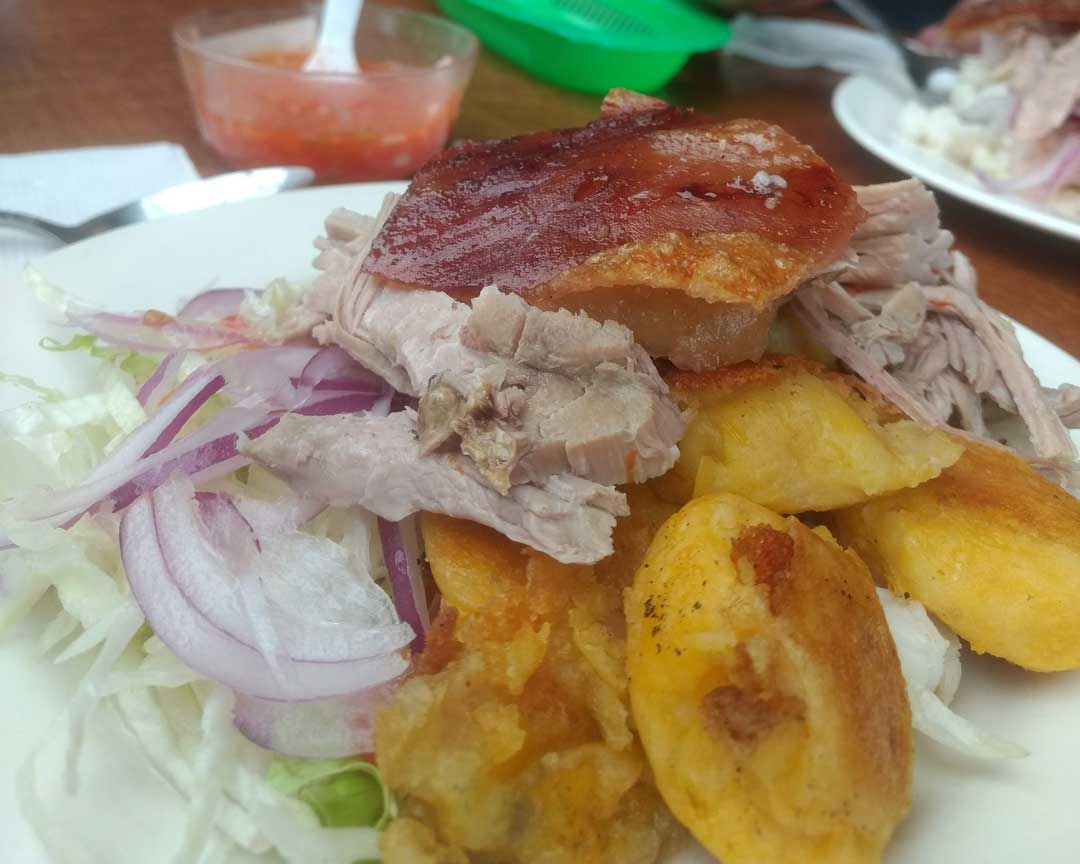 Otavalo, Imbabura Province
If you are a regular reader of our pages, you'll already know that we love the hornado in Otavalo. We are especially fond of one vendor, Rosario Tabango. A few years back, she won the Best Hornado in Ecuador contest, proudly accepting a huge trophy from President Correa. Her booth shares this history as well as an old polaroid of one of her favorite guests (me!). Seriously, for a melt-in-your-mouth plate of roast pork and potato pancakes fried in lard, you can't go wrong. We also suggest you order a larger plate so that you can try her vegetable and rice stuffed sausage casings. They are delicious, though not vegetarian by any means.
Rosario and several other hornado vendors can be found in the Mercado Municipal 24 de Mayo, not far from the Plaza de Ponchos.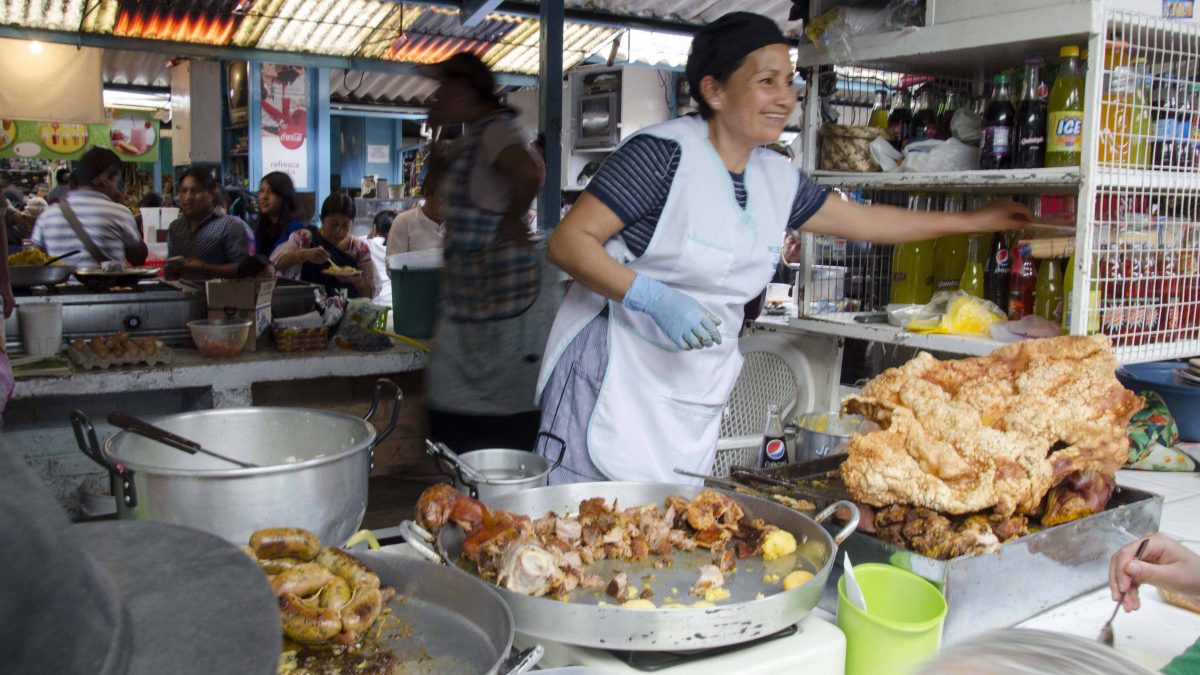 Quito, Pichincha Province
It took me a few years before I tried the hornado in Quito. When we first arrived to Ecuador, I was not game to eat at the local markets. Little did I know what I was missing! We think the best place to try a truly Hornado Quiteño is at the Iñaquito Market in the neighborhood of the same name. With several vendors to try, there isn't a bad version. Though, we do recommend heading to a vendor who looks about to sell out as it means she has made the best roast pork of the day.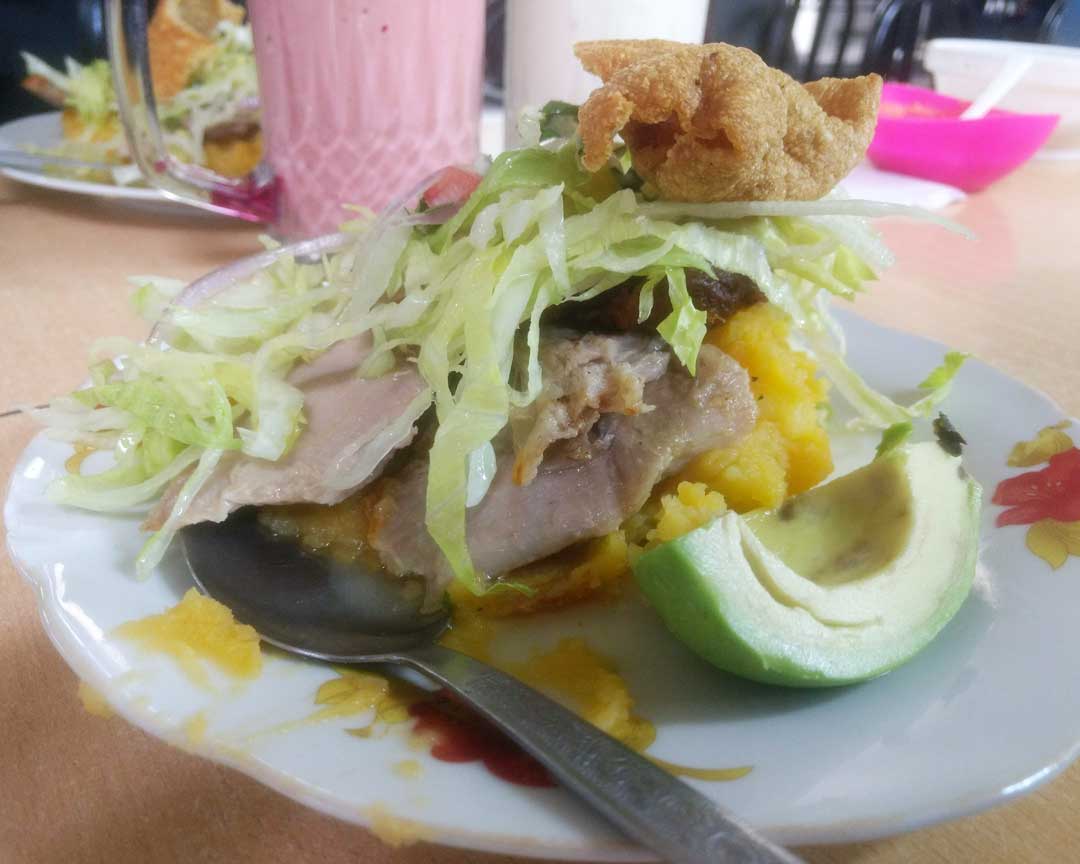 Sangolquí, Pichincha Province
According to the local newspaper El Comercio, the hornado of Sangolquí takes three days to prepare. That's a lot of marinating and at least a few hours in the oven for the pork alone. It is always cooked using a wood-burning oven. Served with tortillas de papa, mote, and agridulce, the Sangolqui version is almost always accompanied by sliced avocado.
With more than 20 stalls selling roast pork, the Sangolquí market is the easiest place to compare vendors!
One last great link to a recipe for Hornado de Sangolquí from the second-place winner of the 2019 Best Hornado in Ecuador contest:
https://www.eluniverso.com/larevista/2019/08/11/nota/7461309/hornado-sangolqui-receta-segundo-puesto-feria-raices
Ambato, Tungurahua Province
The food markets in Ambato are known for their deep red sausages, locally grown apples and peaches, and huge slabs of artisan chocolate. We've also heard that they make a mean hornado. Next time we're in town, we'll make our way to the Mercado Simón Bolivar for a taste! 
Riombamba, Chimborazo Province
According to the city's tourism page, Riobamba's hornado is roasted over coals kept in a wood box strewn with eucalyptus leaves, imparting a slightly smoky aroma and unique texture to the finished dish. Just head to the Mercado La Merced to find the best hornado in town! Thanks to Scott Haschen for providing this great photo!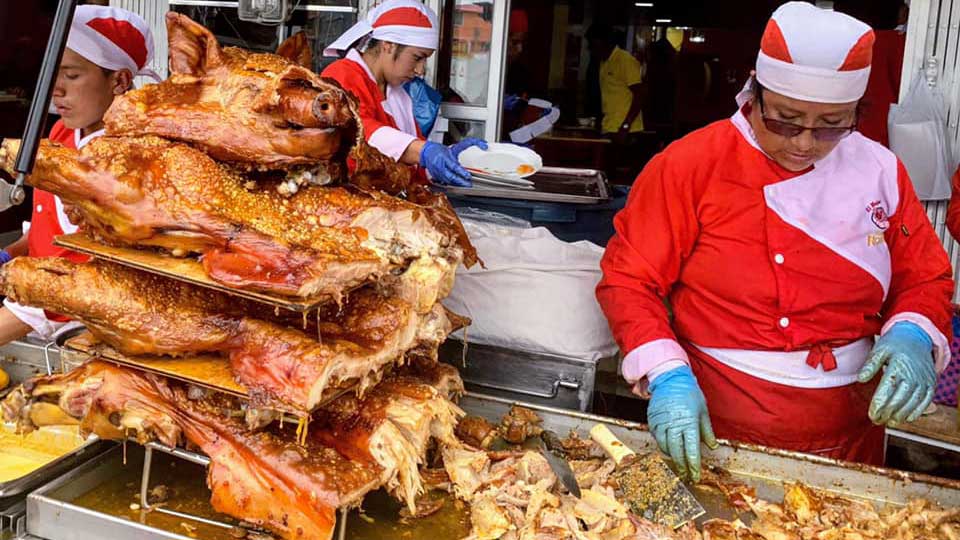 Cuenca, Azuay Province
Cuenca is famous for its food! The indoor market at 10 de agosto is full of opportunities to try plenty of comida típica including hornado. The pork, while good, was not our favorite but we did hit the stalls around 1 pm, a little late in the day. We could have used a more potato, less mote, and missed the tomato in the salad. The lettuce version doesn't seem to pack that acidic touch that balances well with roast pork. We've since been told that we should also try the stands near Tres Puentes.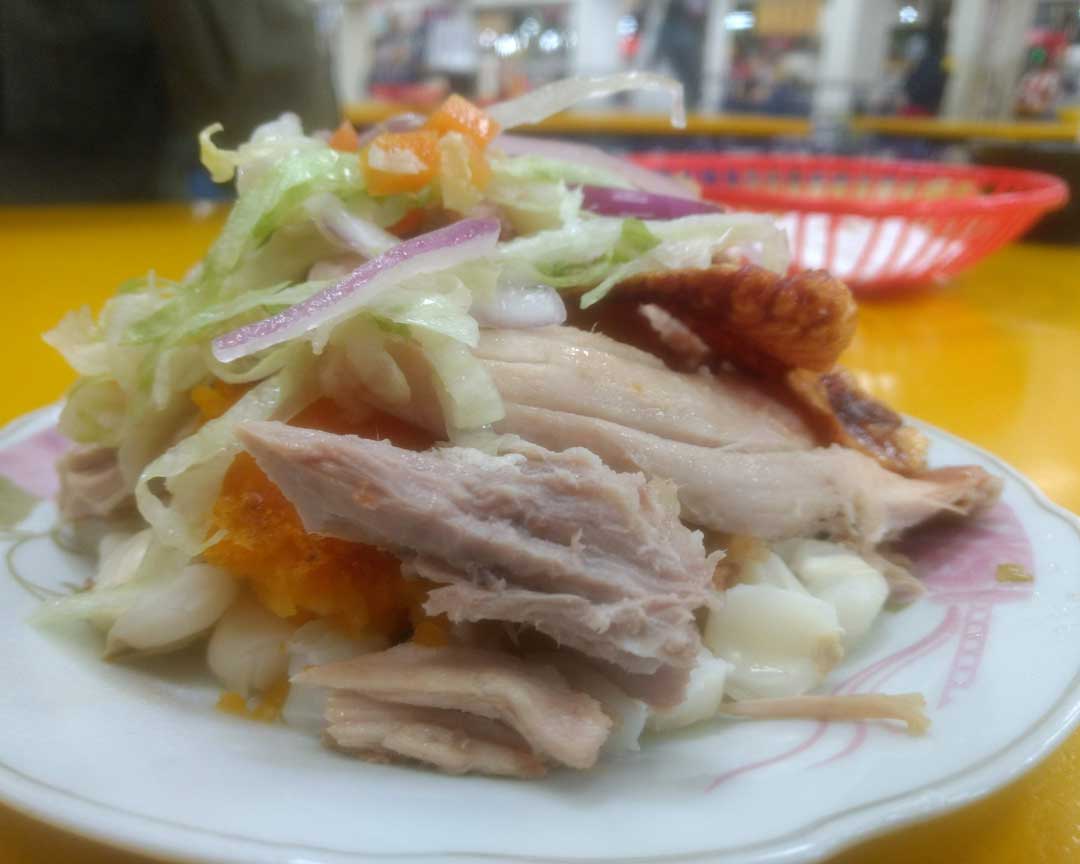 Gualaceo, Azuay Province
In the farmlands just outside of Cuenca, the small town of Gualaceo offers tourists many reasons to visit. High on our list is the delicious hornado found at the local, indoor market. Wonderfully tender pork, super fresh salad, and thick mashed potato pancakes make you tempted to ask for more. In fact, that's exactly what our local guide did after finishing most of his plate. He came back with la yapa, probably for bringing three gringos to dine at a friend's stall!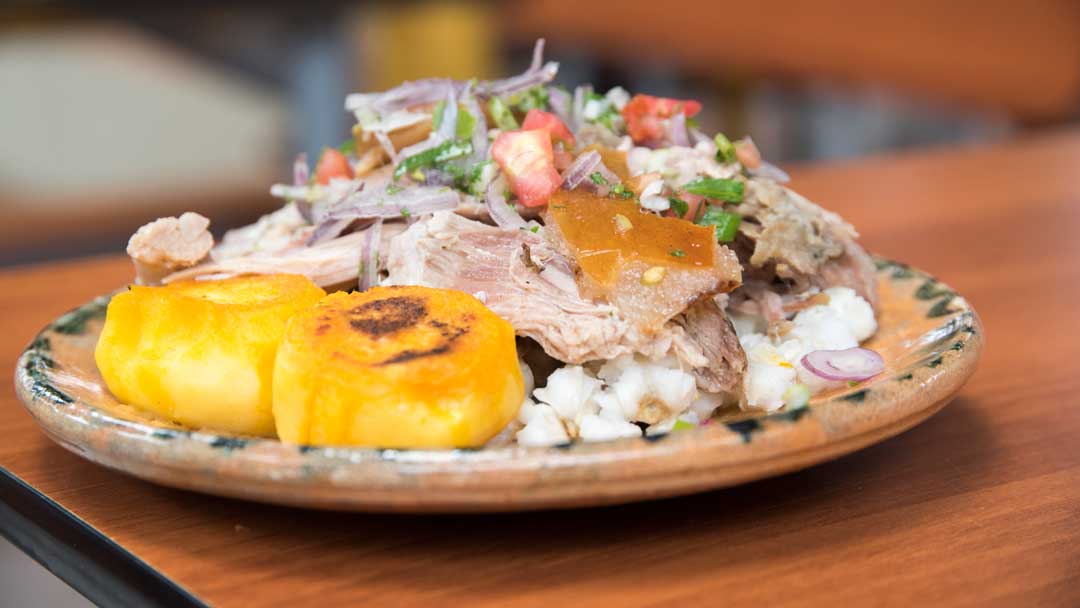 El Tablon, Loja Province
We've not been fortunate enough to try the hornado of El Tablon, a small community outside of Saraguro in the Loja Province. But word has it they make a version worth trying. In this region, hornado sometimes comes with roasted potatoes instead of llapingachos and always with mote and ensalada. The seasoning is said to be unique but few are willing to give up their family secrets to share it!