Ceviche is a uniquely South American dish and takes many different forms, most containing seafood. But a vegetarian ceviche? Yes!
This recipe is a vegetarian ceviche made with heart of palm, an ingredient commonly found throughout Ecuador. The sauce, because Ecuadorian Ceviches are always very saucy, can be used to make other ceviches as well like a street vendor's Ceviche de Chochos (a legume native to Ecuador) or the world-famous Ceviche de Camaron, using local Ecuadorian shrimp.
Palmitos or Hearts of Palm
Palmitos, or hearts of palm, can be found in the United States and Europe in jars or in cans. The flavor is reminiscent of an artichoke, though milder without the nuttiness. If you don't want to use heart of palm, you could try fresh or canned artichoke hearts. I also think lightly steamed or baked Jerusalem Artichokes would make an interesting substitution. Or lightly steamed cauliflower. Be adventurous and let us know your favorite version in the comments below!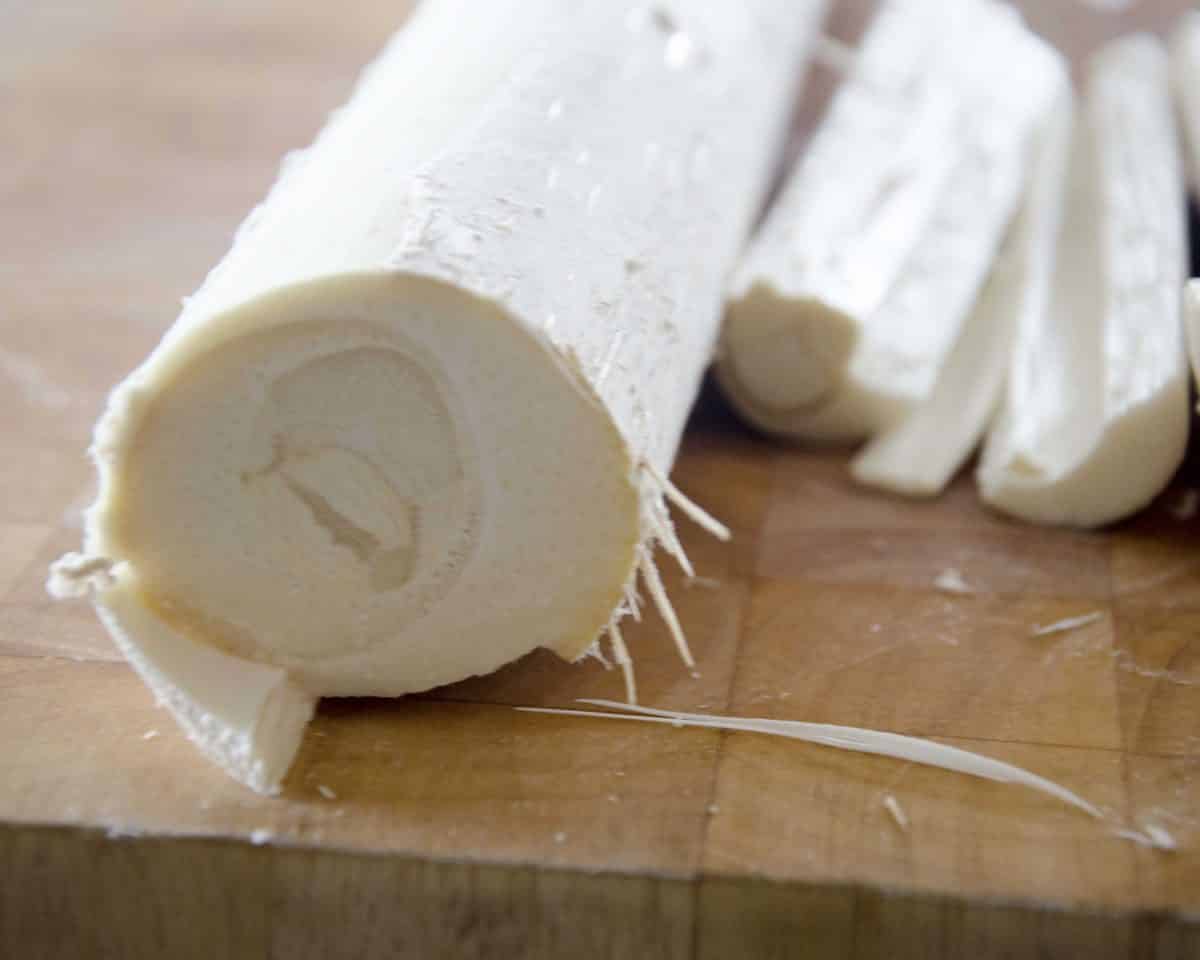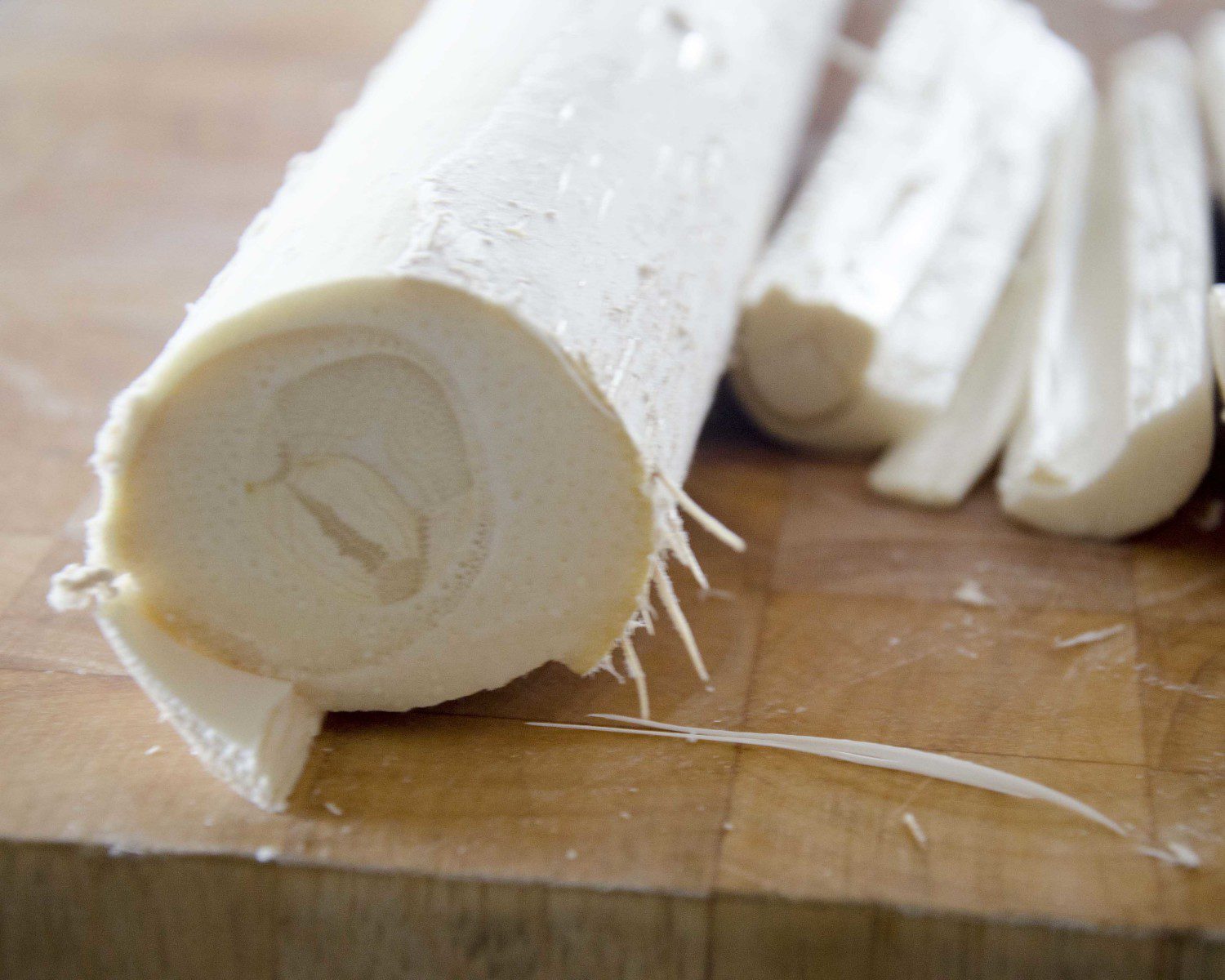 The Best Heart of Palm for Vegetarian Ceviche
A small note about sustainability and organic heart of palm. Many different varieties of palm trees produce a heart that is edible. Many are wild and still grow in primary forests. Some are harvested illegally and have placed some species of palm on the endangered species list. Unfortunately, here in Ecuador, it is next to impossible to tell the origin of fresh heart of palm. But not so for those of you buying canned or jarred varieties. Please do your best to purchase a brand from a company that works alongside native communities in South America to harvest sustainably and to protect the primary forests that still remain.
The chef from Wildsumaco, Gabriela Cruz, who shared this recipe with us (thanks very much, Gaby!), swears that Heart of Palm Ceviche is best made with fresh heart of palm so if you can manage to find some, go ahead and give it a try. This recipe includes instructions for the fresh variety. If you have to open a jar, your preparations will be even faster!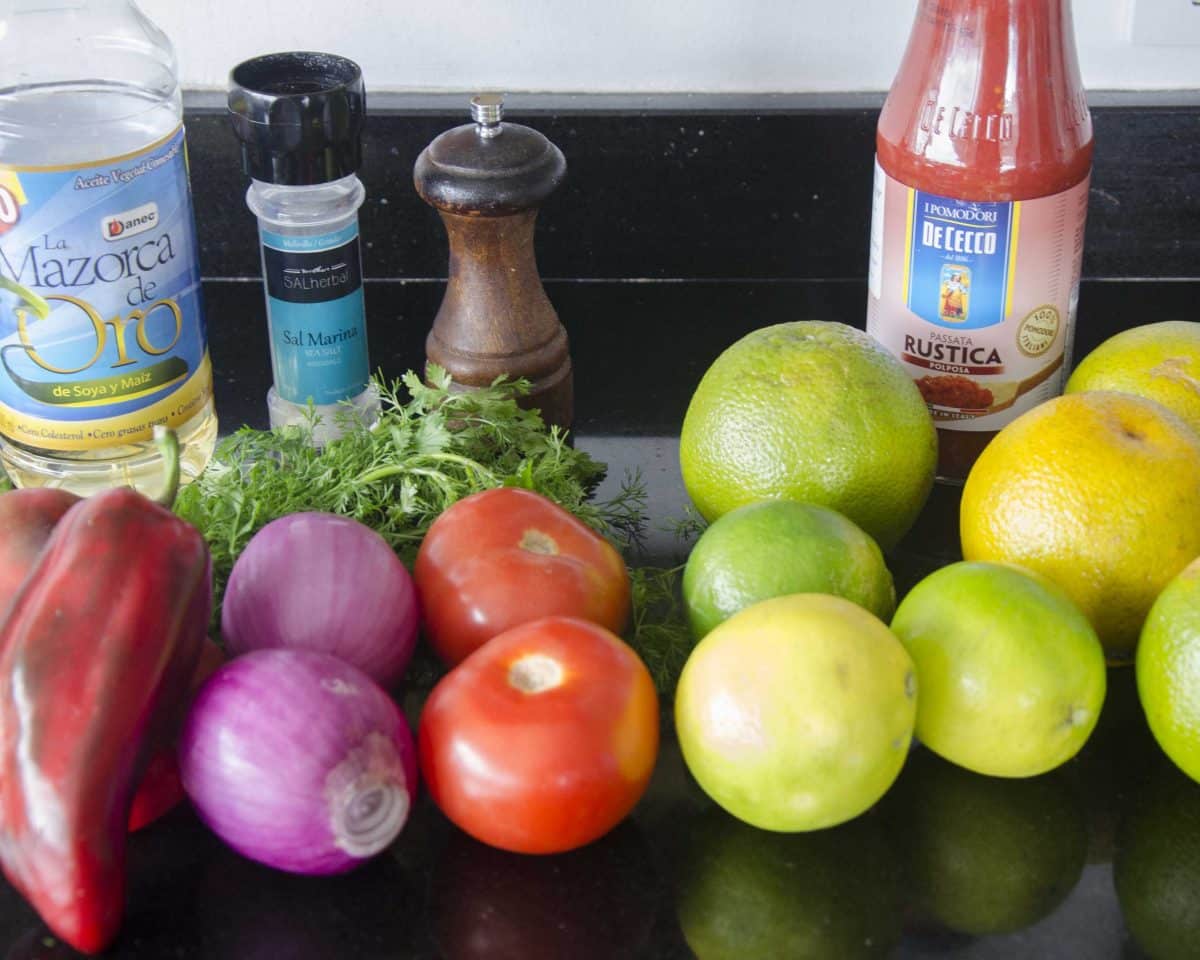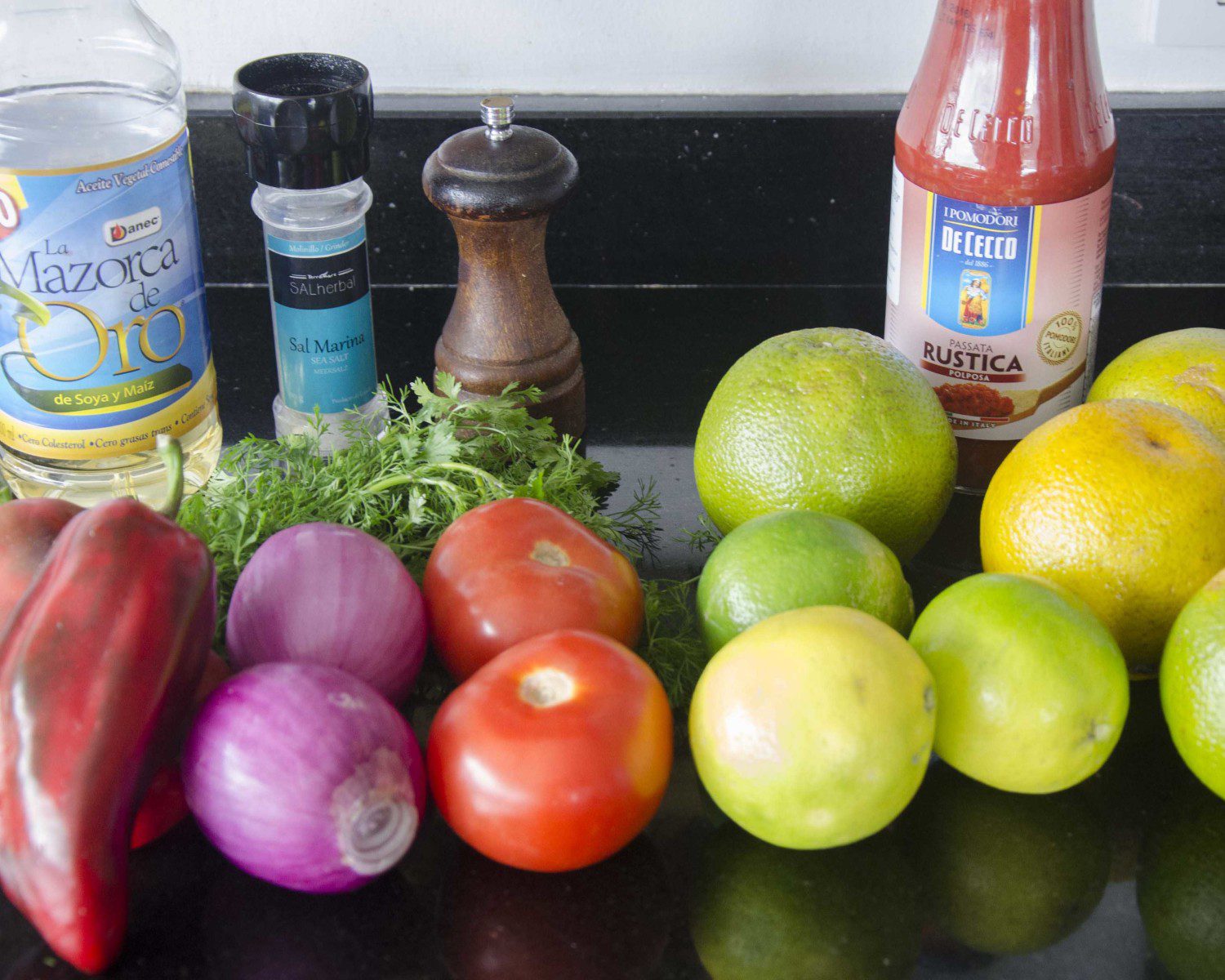 Ceviche de Palmito – Heart of Palm Ceviche
from Gabriela Cruz, chef at Wildsumaco Ecolodge
2 red onions, finely diced
1 small green pepper, finely diced
1 small red pepper, finely diced
2 very ripe tomatoes, chopped
Fresh heart of palm (2 stems, about 15 inches long) or 2 8oz cans or jars, chopped into bite-sized pieces
1/2 cup finely minced Cilantro or Parsley
3 very ripe tomatoes, for blending or 1 cup of tomato puree
Juice of 4 oranges
Juice of 3 lemons or large limes
1 tsp of ketchup (optional)
1 tsp of mustard (optional)
2 tsp vegetable oil
salt and pepper to taste
Prepare all of your vegetables and place them in a large salad bowl along with the chopped cilantro or parsley. Green pepper was hard to get this week so the picture shows all red pepper. But that also goes to show you that the veggies in this recipe are a suggestion. Feel free to add or replace other crunchy veggies that add color.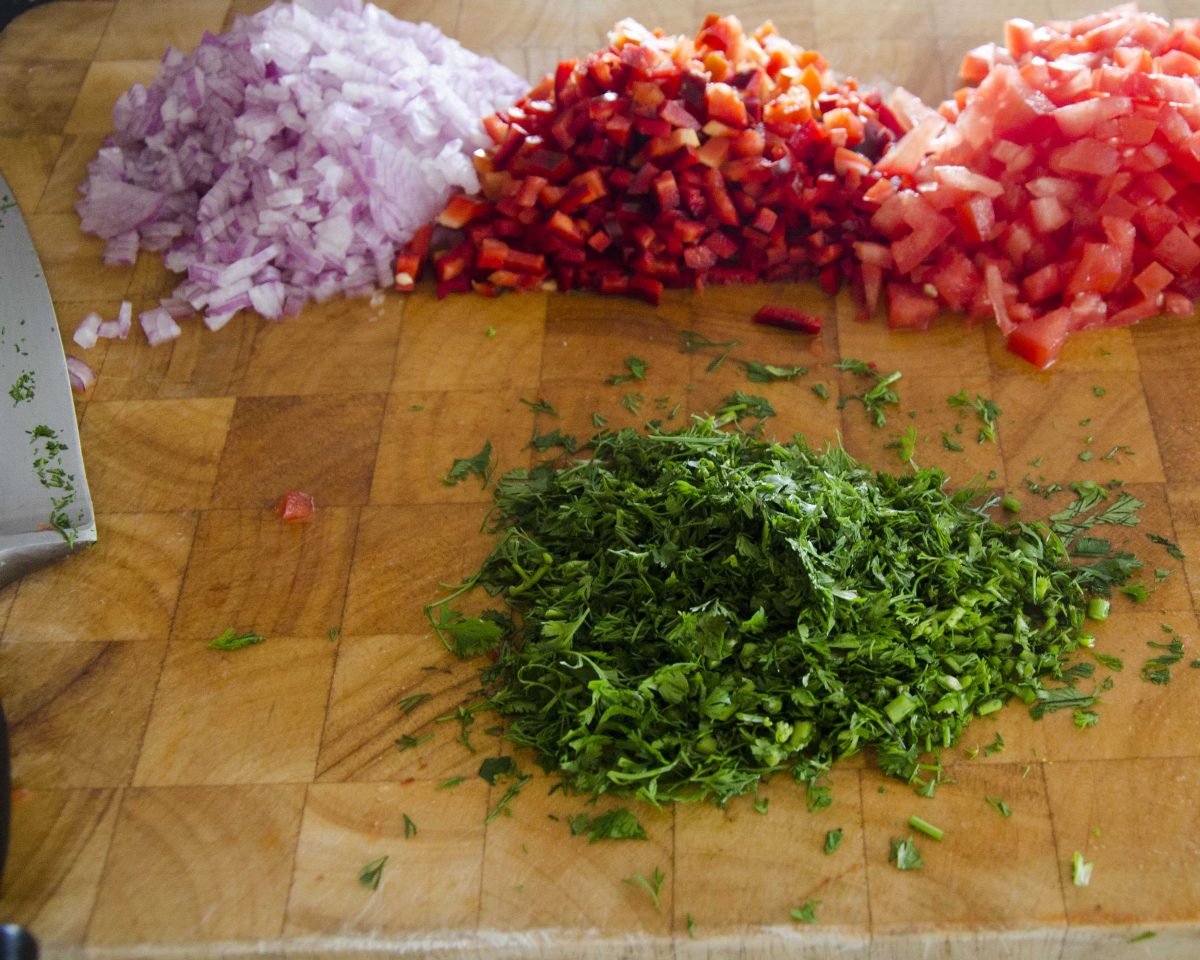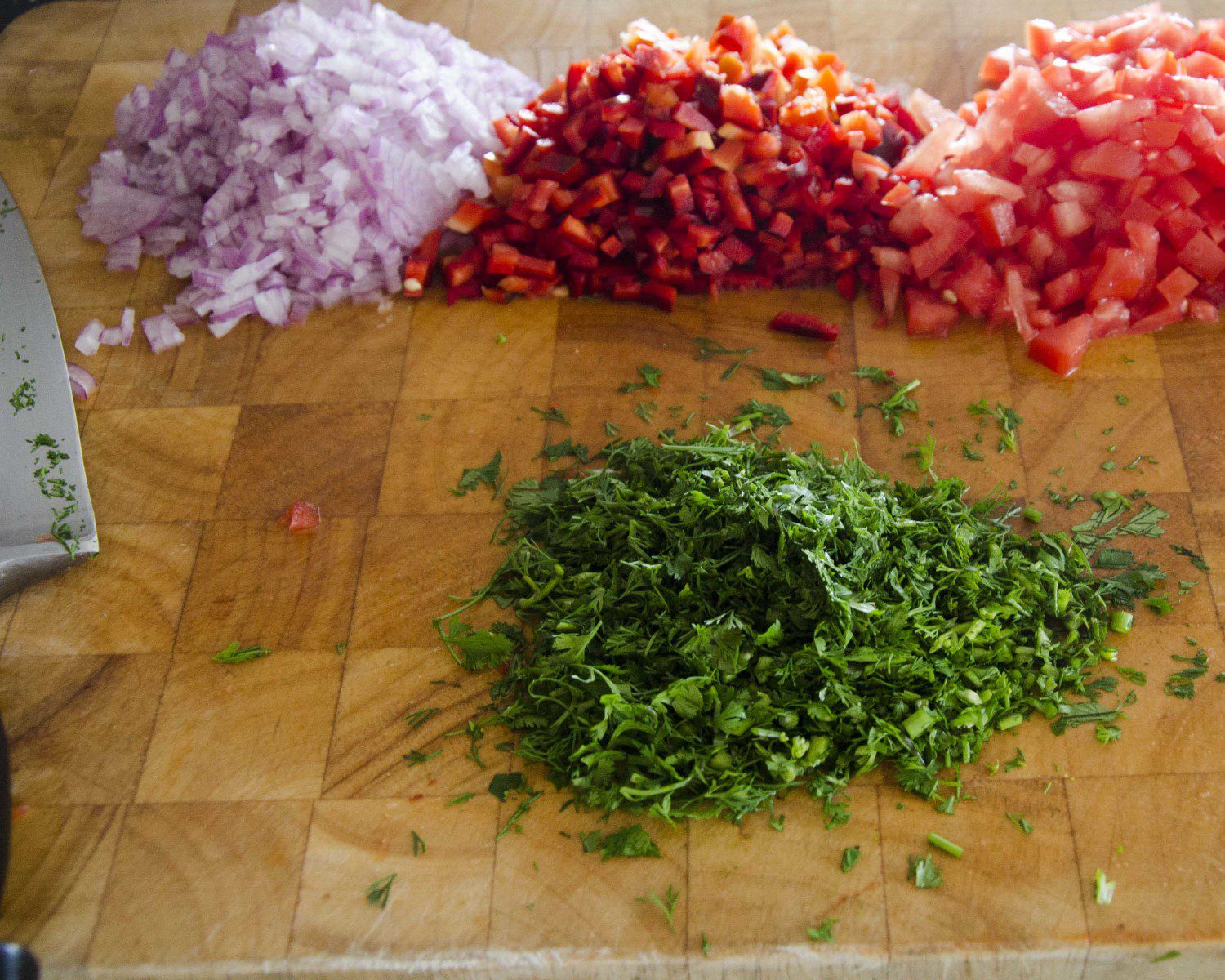 Prepare the Heart of Palm
You will need to carefully remove the outside layer of the heart of palm to reveal the tender heart in the center. Beware of the spines in the outer layers! They can be very sharp.
You can easily see where that heart is when you look at the cross-section of the stem. I found that cutting the stem into smaller sections, about 8-10 each, before trying to peel them, worked best.
I then took a knife and ran it through the first layer on four sides and then pried each quarter off of the center, leaving the heart of palm intact. If you plan on cutting your heart of palm into small pieces, you could just cut lengthwise through the entire piece and the center will easily pop out.
Dice the fresh palm into small bite-sized pieces. Add them to the salad bowl.
If using canned, simply open, drain, rinse, and then dice away!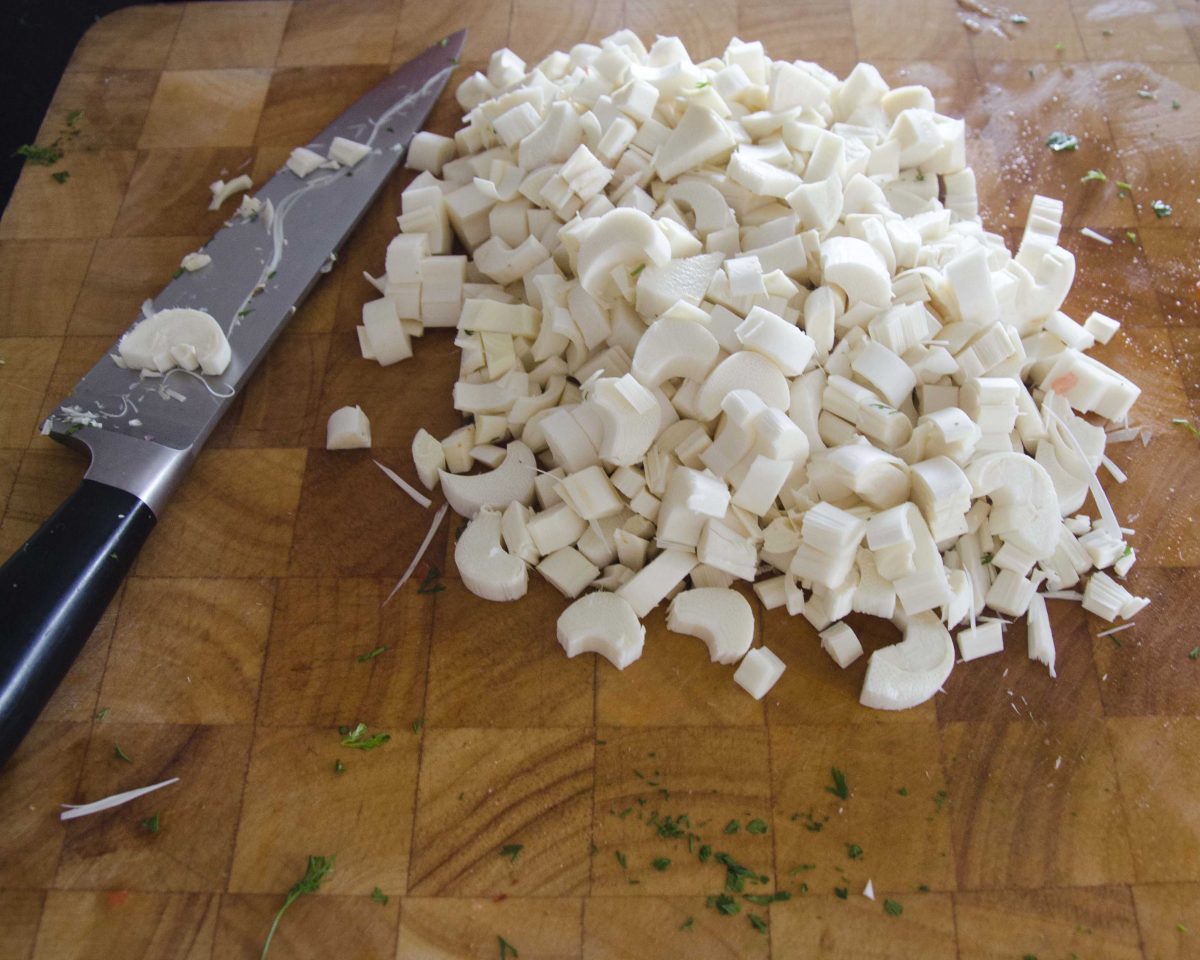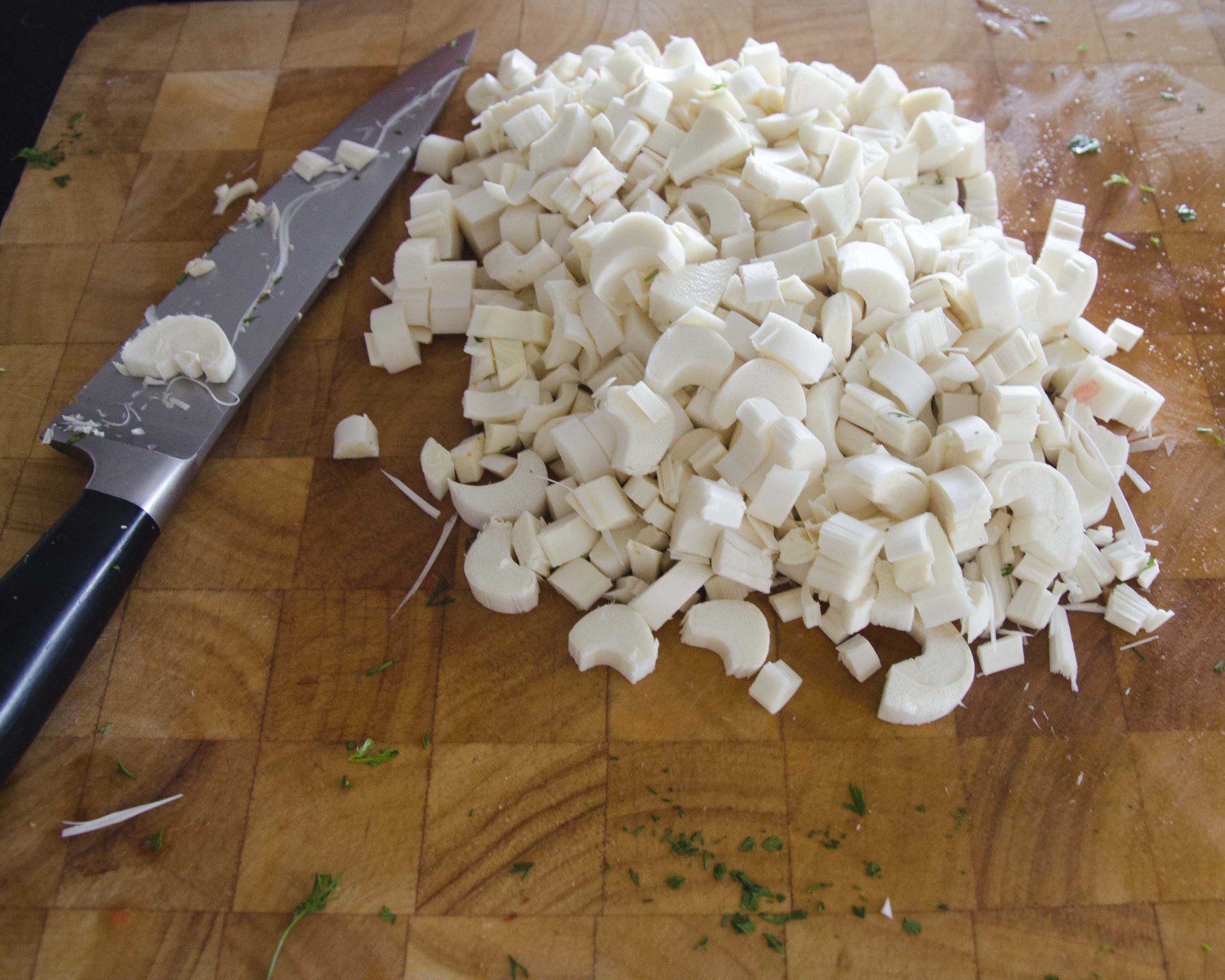 Place the juice of the oranges and lemons in a blender. Add the tomatoes or tomato puree. Blend until everything is well combined. Add the oil and salt and pepper. If you are using ketchup and mustard, add these as well. (There are some who believe these are essential to a truly Ecuadorian ceviche. In our home, we don't use these and the result was still delicious.) Blend once more.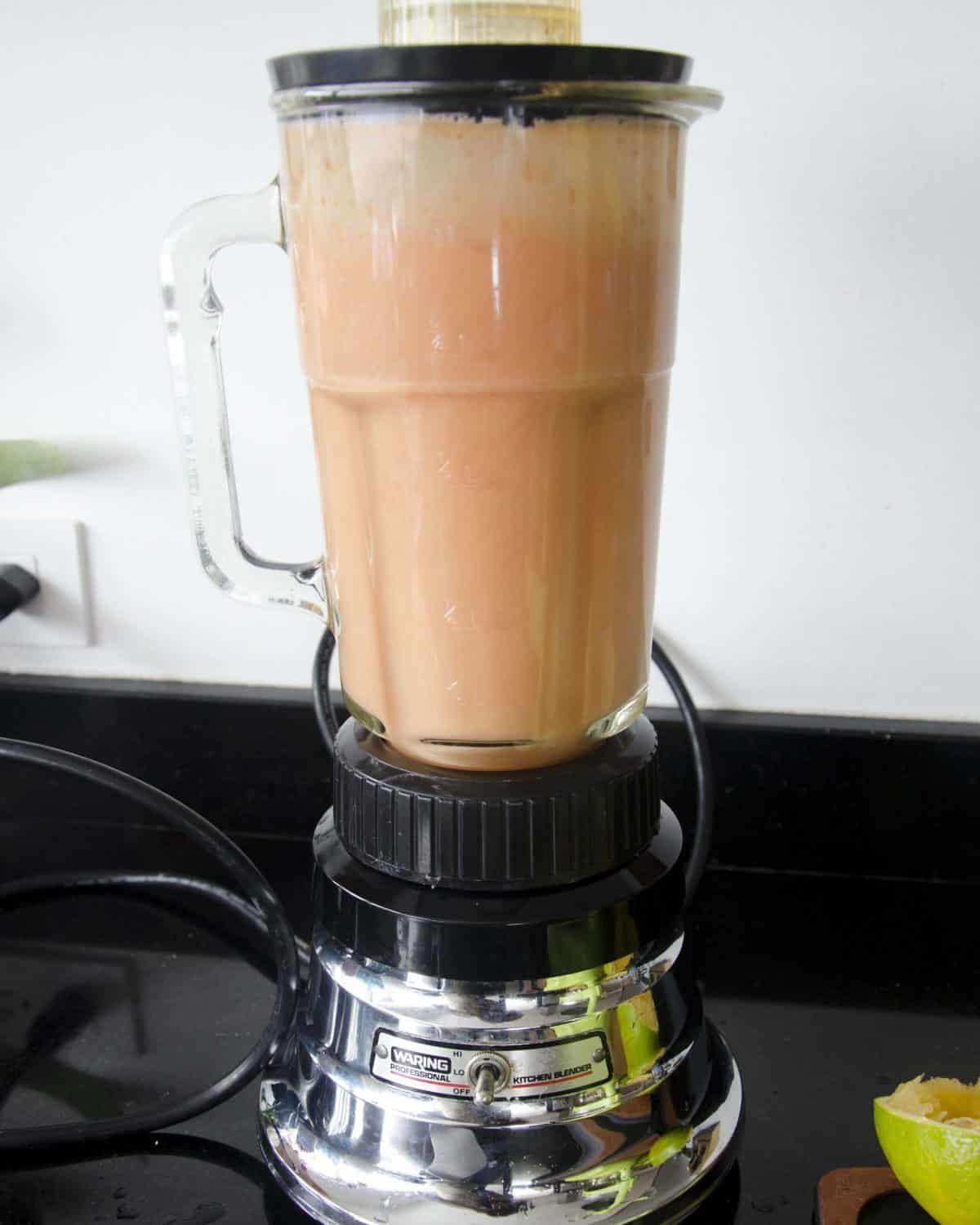 Pour over the vegetables and heart of palm in the salad bowl. Serve immediately or prepare up to one day ahead. Best served at room temperature. And that's it, a delicious vegetarian ceviche to impress your friends and family!
This recipe should serve 8-10 people, easy. It is a great size to take to a potluck lunch or dinner.
In Ecuador, ceviche is always served with crunchy sides like cangil, which is popcorn (lightly salted only); tostado, which looks just like un-popped popcorn that has been lightly toasted in oil and then salted; chifle largo which are chips made from green plantains cut lengthwise; or chifle de camote which are sweet potato chips that are not orange but a light amber with streaks of purple. In our house, the chips are used to dip, as if the ceviche was a type of salsa. Many people just toss a little of each into their bowl of ceviche. Either way, the combination is yummy!