When you're mid-road trip and plan on stopping at your favorite restaurant for breakfast and the wait time ends up being 2.5 hours before you can even sit at a table, what do you do?
You get on the road and keep driving until you find the next best place.
Fortuitously, that's another way to get to know the REAL Ecuador!
The American-Style Breakfast Cafe de la Vaca
Our favorite restaurant, Cafe de La Vaca, offers up a pretty decent breakfast with juice, eggs, bread, and sometimes a protein like sausage. We shy away from bacon because it tastes nothing like our American counterpart and we are just always a little disappointed. This small roadside stop is so popular with middle-class Ecuadorians that finding a table on the weekends can take upwards of 2 hours. Even when you arrive at 8 am.
However, the average Ecuadorian doesn't often eat eggs and sausage for breakfast. They are more likely to eat dishes that we might have for lunch, like hornado.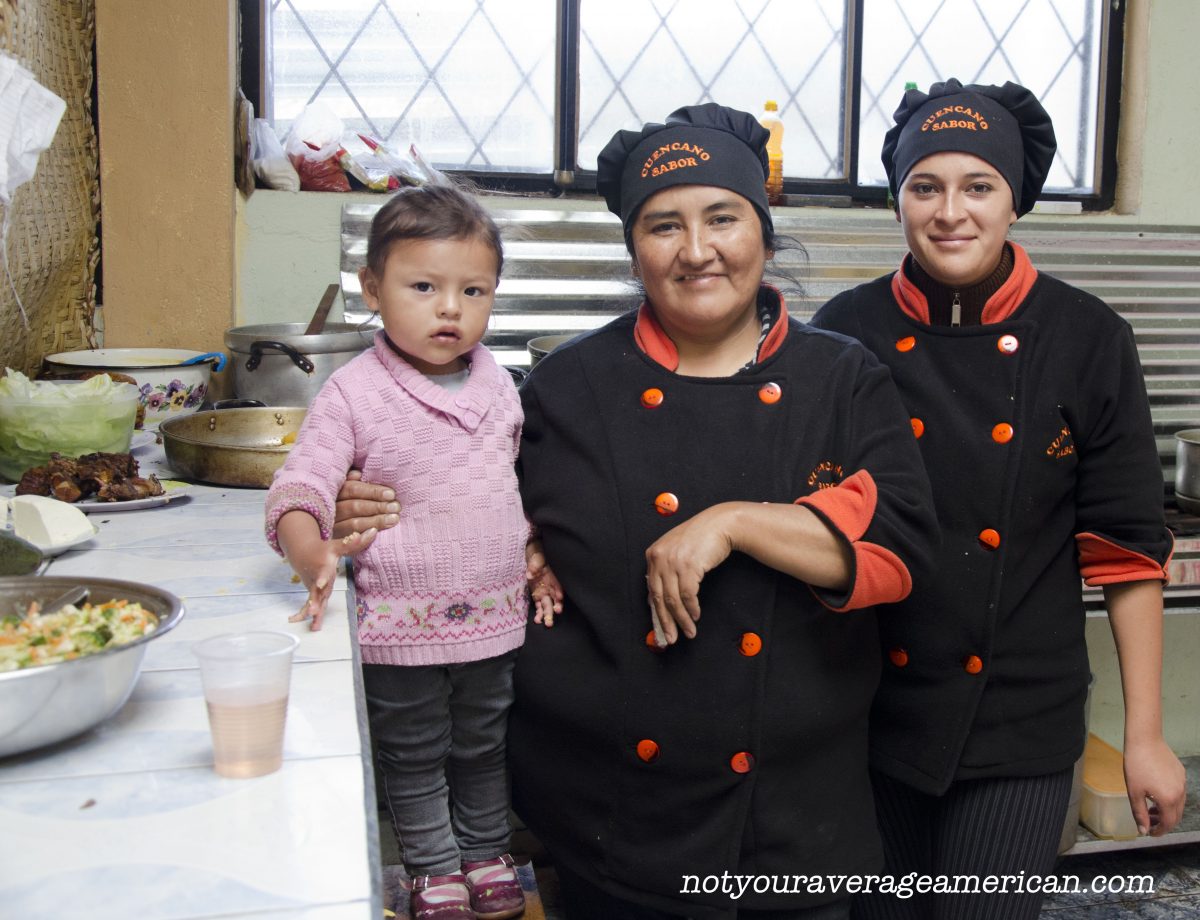 Cuencano Sabor
Case in point – Cuencano Sabor – a small roadside restaurant on the highway between Machachi and the exit for Cotopaxi National Park. From the grounds of the restaurant, it's possible to see a lovely view of the twin mountain peaks, Las Ilinizas. Although on this day, they weren't the attraction. It was the sign that said DESAYUNO or BREAKFAST.
We arrived to find a welcoming host outside at the grill finishing of the latest batch of Asado de Borrego. Of course, at the time, we didn't know it was grilled mutton. Nor did we realize it would be one of two choices for breakfast!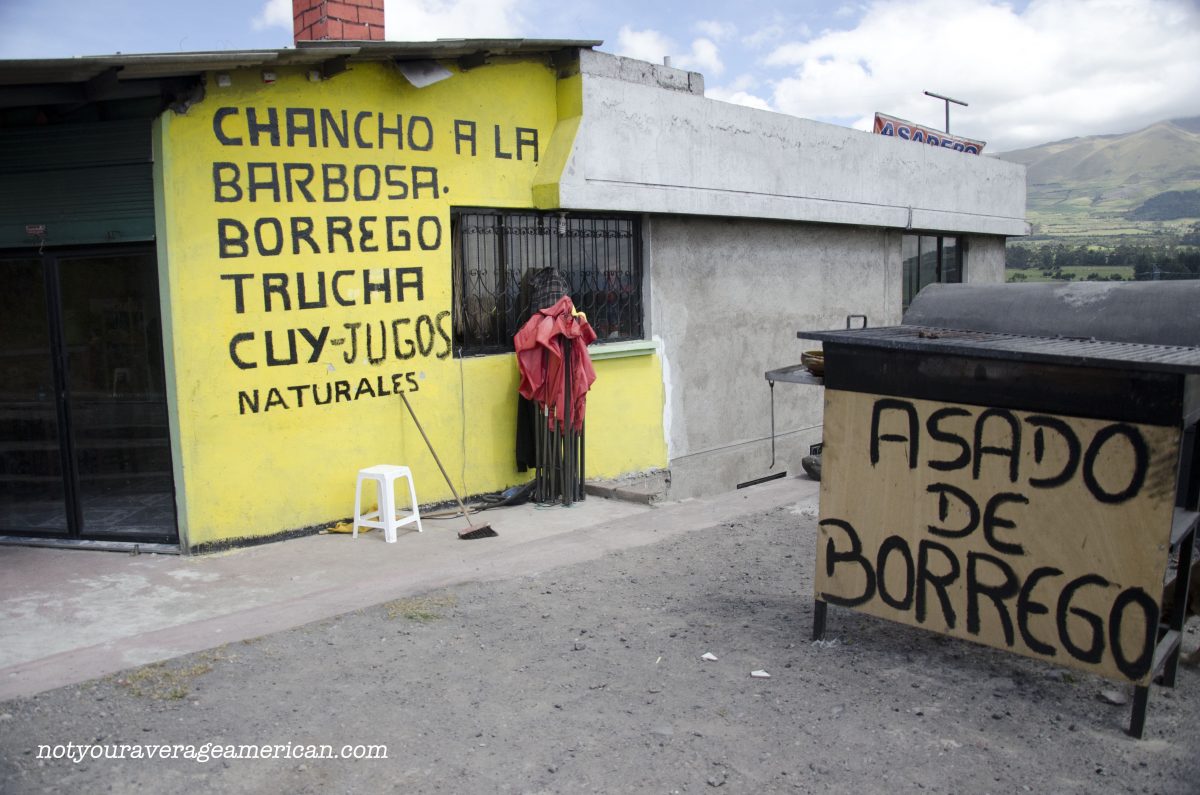 A Typical Road Trip Breakfast in Ecuador
Inside, we found a simple, if dark, restaurant. It was already half full with Ecuadorians, all chowing down on the two dishes on offer for the day. Our waiter brought us a plate of habitas y queso, freshly cooked fava beans in the skin with a side of fresh cheese. You can eat the beans with skin or pop the beans out of the skin. Either way, they make a yummy appetizer with a small bite of salty fresh cheese. He also brought a basket full of utensils and napkins. We were ready to eat!
Two of us ordered the mutton special and the other two went with chancho, or pork. 
The Asado de Borrego came with grilled mutton, a large boiled potato, smaller tubers that are potato-like, sliced avocado, a fresh salad of broccoli, beans, and carrot, habitas (fava beans) and fresh cheese, and the ever-popular ear of corn called choclo.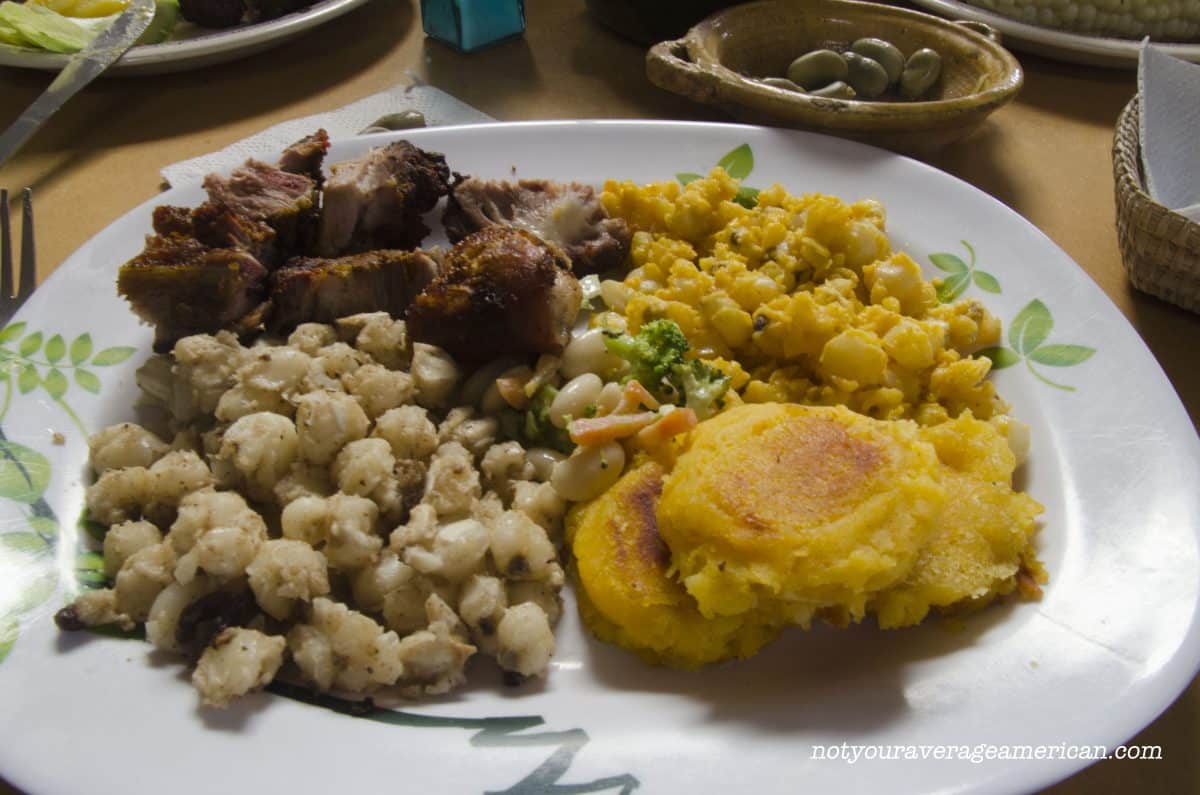 The Chancho came with mote, a hominy-like corn, cooked in two different styles, Mote Sucio (Dirty Hominy) and Mote Pillo (Naughty Mote) as well as llapingachos (mashed-potato pancakes) and a small salad of broccoli, carrot, and beans.
We ate everything, well-seasoned with the housemade ají, standard on any Ecuadorian table.
Before you ask, no one got sick. Eating at small local restaurants means using some common sense. We do look for cleanliness and we hope for soap in the guest bathroom. Furthermore, we travel with medication for stomach problems, just in case. Either way, we often find that roadside restaurants and stands have some of the best food around!
Let me know in the comments below which you think was the better meal!