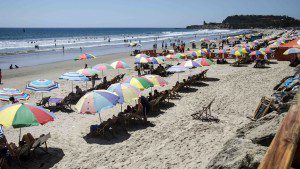 Montañita, the most well-known beach town on the coast of Ecuador, has a reputation for marijuana, strong drinks, and great waves. I'm not sure if any of those is really true. While we may have caught a whiff of weed on our two visits, it seemed no more or less than many other a beach town if you consider the population; happy hour is about three or four hours long and if you're staying the night here, I can imagine a party vibe after about 10pm or so; and we haven't seen great waves but know that timing is all important for surfers. We've probably just come at the wrong time!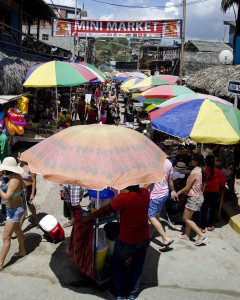 Since I'm an early riser and like my shut-eye, this wouldn't be the town I would chose to stay the night on the coast. But if you like a beach town with excitement, you should at least stop by for the day. The beach is long and walkable, with the occasional shell or sand dollar for the beachcombers among you. Great food can be found in restaurants (lots of seafood dishes on offer), from streetside vendors (empanadas made by a real Argentine), or on the beach itself. Just be careful how close you sit to the surf when you partake your locally made ceviche. The tide has been known to turn and wash away a table or two.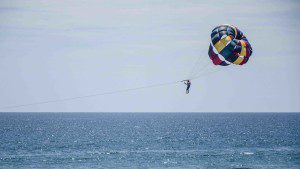 For the adventure seekers, it starts with surfing, just make sure to ask the locals about the best times. You can rent a board or decide to buy one specifically crafted to your specifications from several surfboard makers in town. And if surfing isn't your style, you may like to parasail high above the ocean instead.
If you come on a weekend or holiday, expect a crowd. A big one. And lots of pounding music on the beach. Even then, you can escape the noise by walking north towards the cliff though you may want to carry your own water and snacks if you venture real far. I don't think the portable ceviche stands go beyond the crowds.
[ready_google_map id='27']