We were fortunate not to feel any high altitude affects immediately. We've been in Quito for over a month and only my husband has left for sea level since we arrived. So we were good to go and started hiking.
Hiking at High Altitude
Now, hiking at a high altitude is more difficult than hiking at sea level. Your heart can feel like you're running a sprint even though you're only walking up a slight incline. Your lungs fight to get every ounce of oxygen out of the thin air and you're tempted to breathe through your mouth, taking huge gulps to compensate for what won't come through your narrow nasal passages. The latter is a mistake as it can fill your tummy with air which only adds to the possibility of feeling nauseous later on. My advice? Take your time. You're in no hurry to get to the top and you're more likely to get there if you don't push your body too far beyond its comfort zone.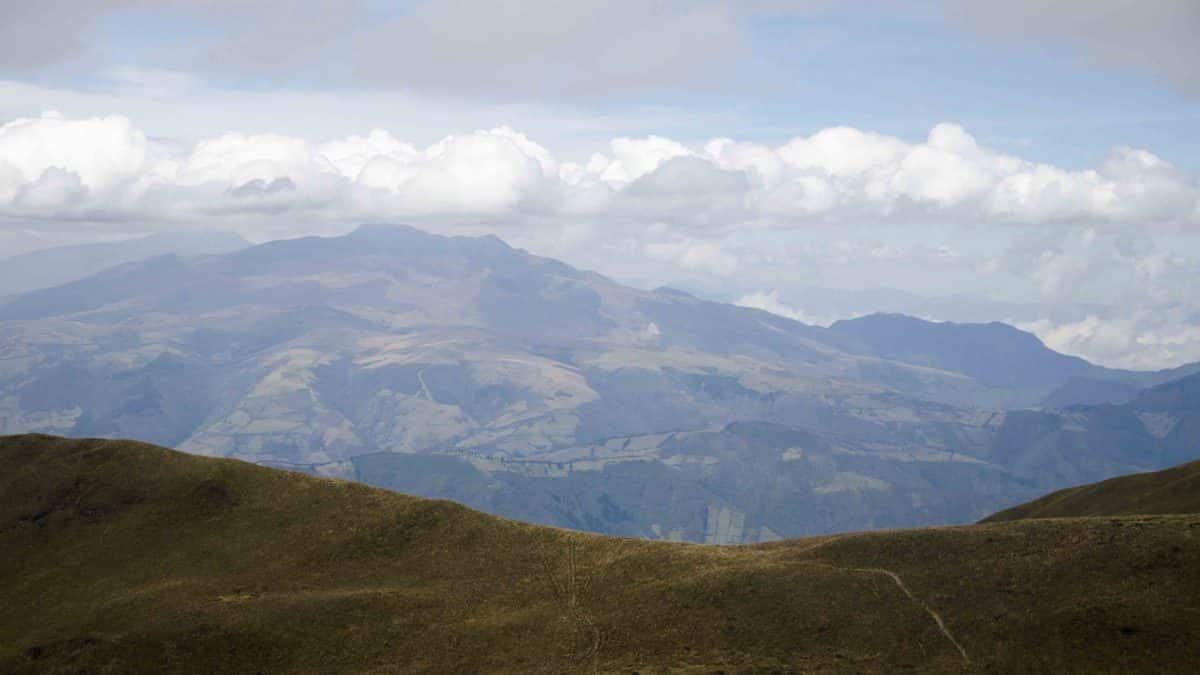 Hiking the Paramo
Hiking this terrain is a wonderful experience. Locals call it el paramo. The mountains are covered with tufts of golden grass, each tuft about two feet tall. There are no real trees though we did see lots of scrubby bushes. In the distance, some mountains look like they're covered with soft, golden brown velvet. Others are dotted by small farm fields and look like patchwork quilts of greens and golds and browns.
And then there are the mountains without plants, the sheer faces of volcanic rock. Every direction in which you look provides a new view. Thus, it's important that while you're hiking to take the time to stop and look around. There are so many things to see.
Flowers grow very low to the ground for most of the trail. About an hour and a half in, we found orange pin cushion flowers growing on low scrubby bushes. In this same area, we watched hummingbirds flying around and could hear small songbirds singing in the distance.
It was about this beautiful spot that my husband realized he couldn't hike anymore. The signs of altitude sickness had arrived. Unfortunately, this is where we're going to talk about what you need to look for when your hiking partner says they don't feel good but can still go on.
 It's Hard To Turn Back Before You Reach Your Goal
As I mentioned before, nausea and headaches can be pretty normal when hiking at high altitude. For minor symptoms, it is possible to hike. I know because I spent a long, long day on the Inca Trail in this exact condition. However, the safest route is to turn around and get the ill person back to a lower altitude as soon as possible.
This is especially the case if you or your partner start vomiting, show signs of clumsiness, or that headache becomes extreme. In my husband's case, his body's circulation was slowing down. Just holding his hand was a sure sign that something wasn't right. His fingers were freezing cold and though they didn't look swollen, they felt slightly puffy. So we headed down.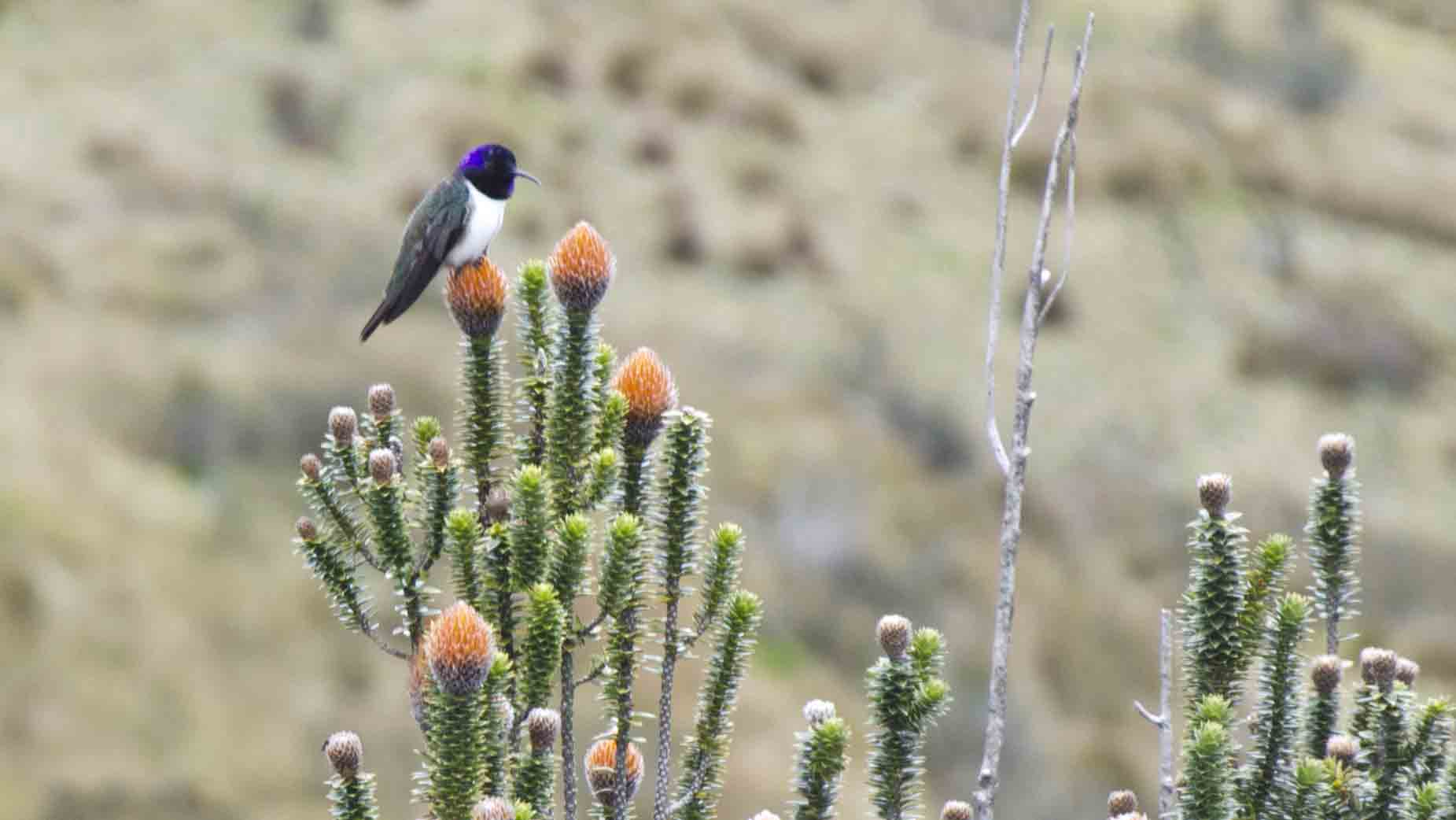 On the way back down, we took the time to smell the proverbial roses. We caught a picture of one of those gorgeous hummingbirds, purple-head, white chest, sitting proudly on the orange-flowered bushes. We followed the sounds of the songbirds but could only catch an occasional flash of dull-colored wings in the tall grass. How we relished being outdoors in a beautiful location! Despite turning back, we had a wonderful day. I only hope my husband will dare to tackle it again… but only when he hasn't recently been at sea level!
If you plan on hiking at a high altitude any time soon, be prepared to turn around. It's okay. Happy Hiking!
If you would like to read another trip about hiking Rucu Pichincha, check out this article: 
The Teleferico
Entrance to the Teleferico
Information For Your Trip
Bring clothing for cold, windy and possibly wet weather. It is possible to purchase snacks and drinks up top, at premium prices. If you plan on hiking, bring high energy snacks, plenty of water, and know the symptoms of altitude sickness before starting.
For up-to-date rates, check the official website, El TeleferiQo.
Direction by Car, use WAZE and look for Teleferico, Quito, Pichincha, Ecuador
Direction by Public Transportation for buses around Quito, use the Google Map link and click on get directions. Use the public transportation option to find the best from your current location. The bus will not enter the Teleferico grounds and you will have to hike up to the cable car entrance.