If you find yourself at Cotopaxi National Park on a sunny day, you may just want to take the opportunity to hike up to the Cotopaxi glacier, especially if you've already taken the time to hike to the Refugio! The views are spectacular, both towards the icy mountain peak and down into the valley below. This portion of the trail is inclined but rarely steep. In fact, it is probably easier than the hike up to the Refugio itself, especially if you used missed the switch-back trail.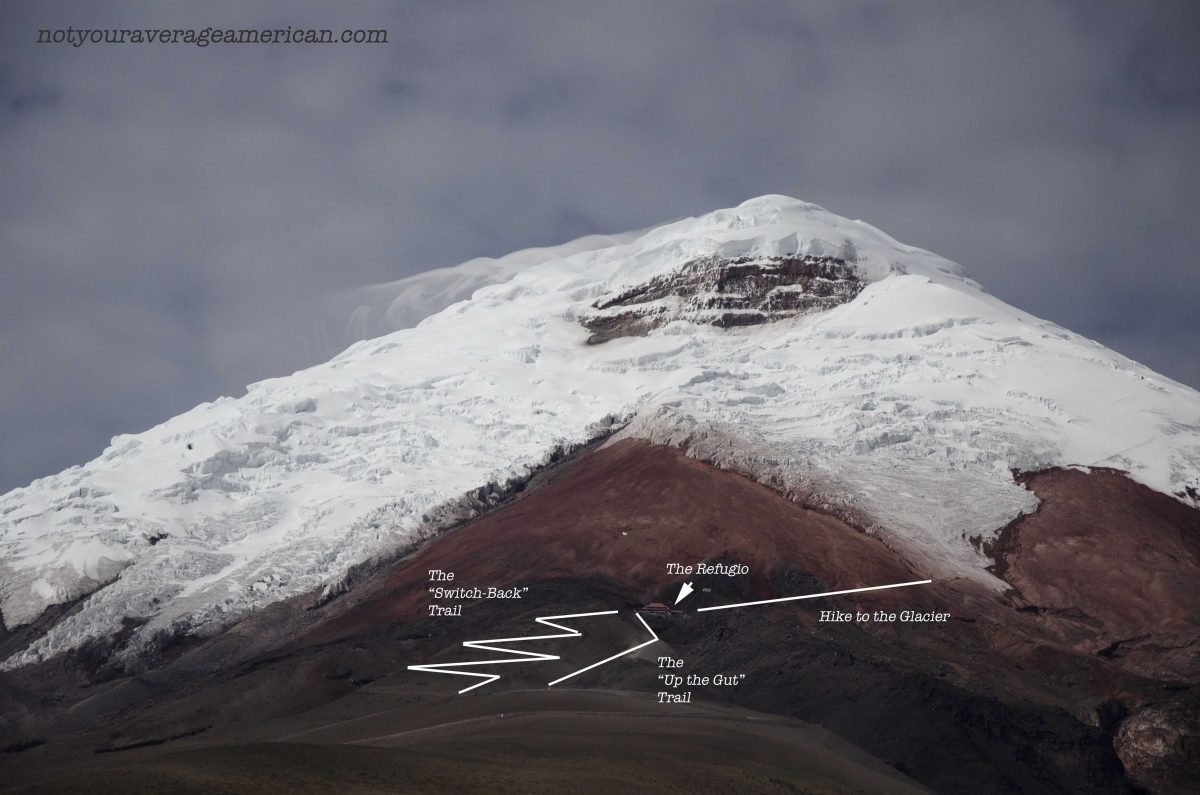 Hiking to the Cotopaxi Glacier
This slow hiker made the Refugio-to-Glacier leg of the trail in about 45 minutes. In total, the hike from the parking lot to the Refugio and then to the glacier took me about 2 hours. Round trip, about 4 hours.
If you are an avid photographer, you may want to add an hour or two more, depending on how much time you spend setting up your shots. As for me, the photos were only a part of what slowed me down. I stopped to talk to several people on the trail. So if you're a quiet person who tends to just hike and is in decent shape, you may even cut this trip down to 3 hours round trip! But please don't be in a hurry. The wonders of this place should not be rushed.

If you plan on hiking ONTO the glacier, we highly recommend hiring a mountaineering guide. We saw people slip-sliding around on the ice as if it was just another day in the park. Glaciers are dangerous places. It is not a good idea to enter the ice without training or proper equipment.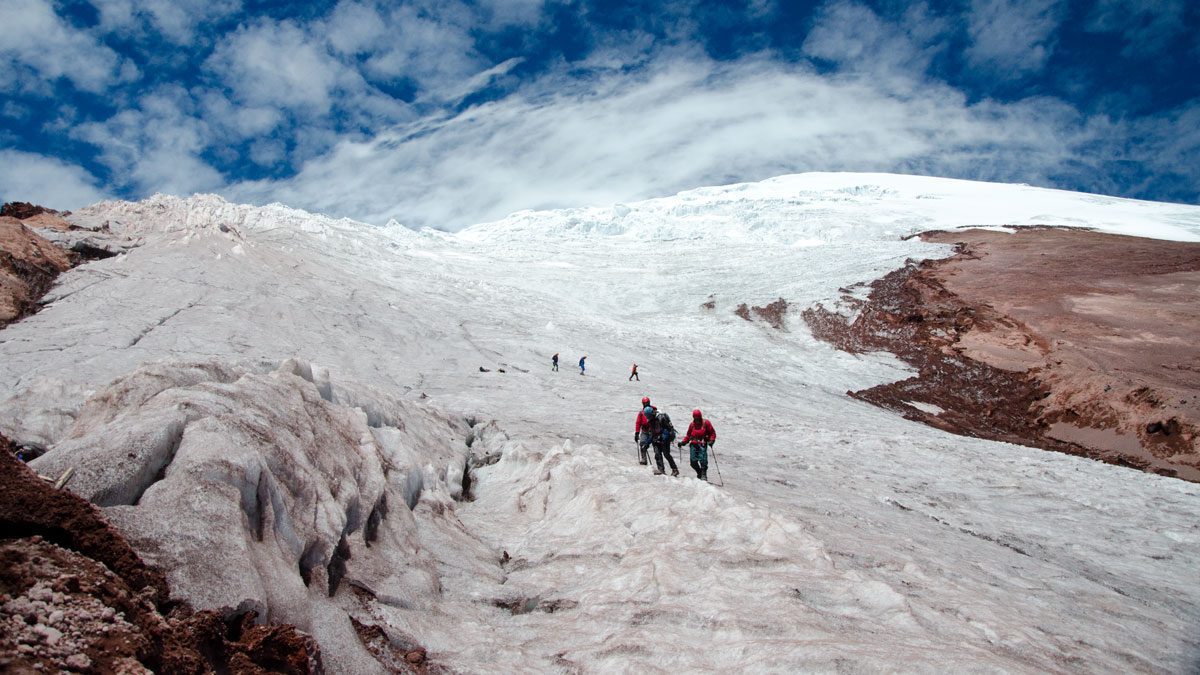 Hiking at High Altitude
Even with the occasional steep slope, I felt exhilarated the entire hike. My husband tells me I was experiencing an altitude high and he may have been right. But with no high altitude headache, no stomach upset, and glorious weather, the trip to the glacier remains the high point of my summer (pun intended).
But that said, it is worth reminding folks that high altitude sickness is a real thing. One of the worst symptoms includes losing the ability to make judgement calls. That's why having a plan of attack before you hike is important. If you think about making that plan more adventurous as you hike, think twice.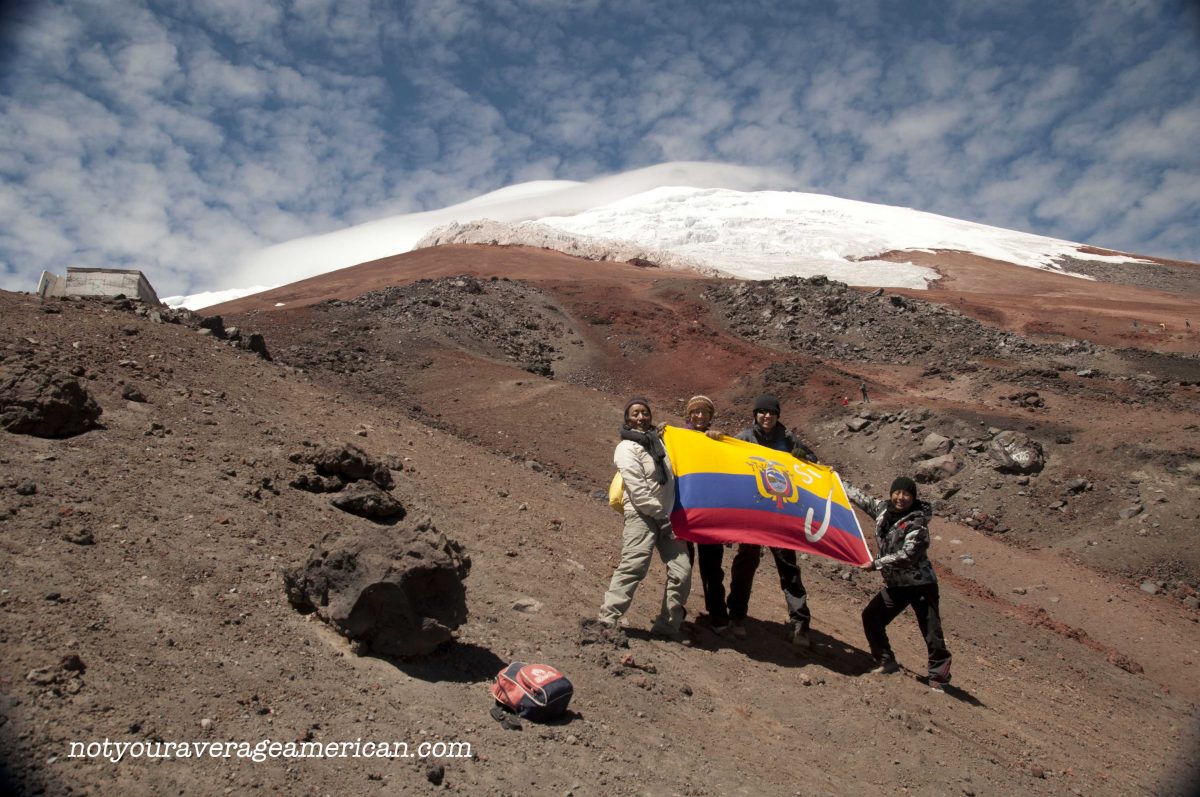 Be especially aware of your hiking companions. If someone acts like they are intoxicated, it is a sign that they are not getting enough oxygen to their brain. Turn around and head back down. No icy glacier is worth a trip to the hospital.
Hiking Companions on the Slope
We shared the slopes with all kinds of people. We noticed a few tour groups visiting from the United States. Many were college students practically running up the slopes while some of their companions exhibited symptoms of high altitude sickness that would have made it smarter to turn back.
Ecuadorians took every opportunity to snap a picture with their national flag as proof of how high they climbed. A group of Columbians were proud to pose for my camera and then holler back and forth with us about how beautiful the day was. Children from a town just outside Cotopaxi and a friend of theirs visiting from Venezuela chatted us up and asked for a photo. The list goes on. It was an international party, everyone amazed by the clear skies and our luck in choosing this day to hike.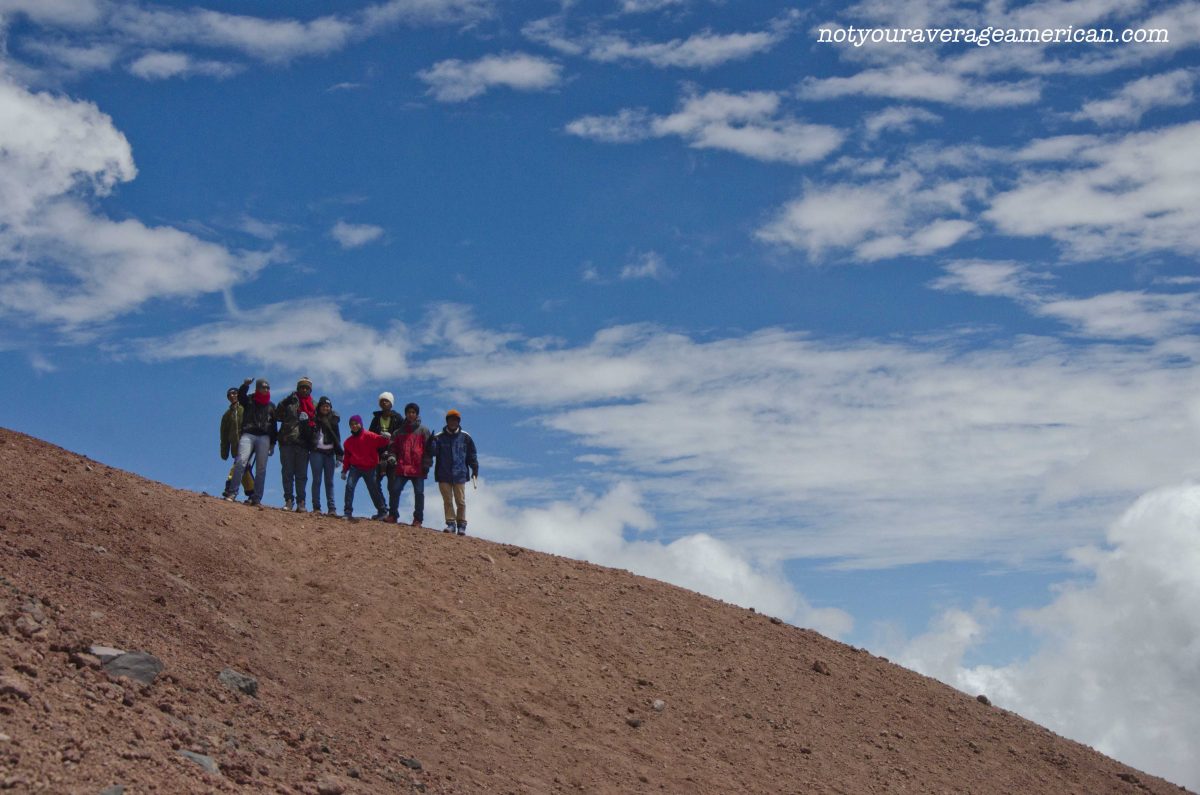 Those of us who started our hike to the Cotopaxi glacier early in the morning were very fortunate. As we finished our hike a few hours later, the clouds were rolling in. I felt bad for those hiking up as we were hiking down. The weather changes rapidly in the Andes so your best chance for clear views means starting early. in the morning.
Plan Your Trip
For the best chance of clear weather, try to plan your hike sometime between August and October. It's not that there aren't clear days at other times of the year. Or that you are guaranteed a clear day in those months. It just improves your odds of success.
Also, please read Part 1 about the trail to the Refugio. That will best prepare you for the hike up. It will also present a choice of route that most locals don't know about. The article includes suggested items to bring to make sure your day is one of the best. If you decide to hike onto the Glacier, we want to reiterate how important it is to bring all-weather gear for those rapid changes in weather. This mountain is a killer for those who hike unprepared.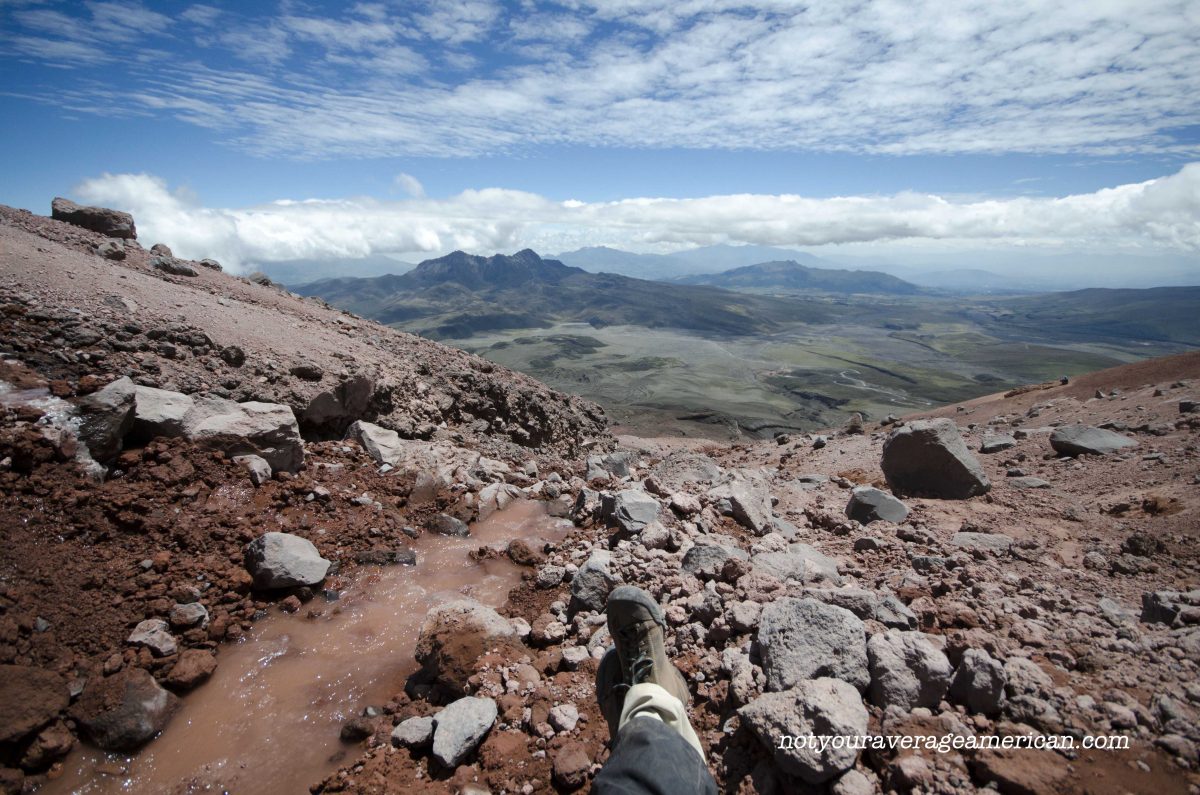 This article was originally published on October 14, 2014. It has been updated with current information and reformatted.
The Refugio
From the Main Entrance, follow the main road. Head right at the intersection that heads toward Tambopaxi and the North Entrance.
From the North Entrance, follow the road in and turn left at the crossroads.
Limpiopungo
The access road to Laguna Limpiopungo is just off the main road that runs through the park. If you enter using the North Entrance, turn right on the main road as if you are headed to the Main Entrance of the park, not towards the Refugio.
Pucara Salitre
The Pucara Salitre can be found using backroads accessible from the North entrance of Cotopaxi National Park.
Information For Your Trip
Prepare for cold weather, even on beautiful days. Snow and rain can occur at any moment. Carry plenty of water and high energy snacks. Be prepared to stop hiking if anyone in your party exhibits signs of high altitude sickness.
Direction by Car, use WAZE and look for Refugio Cotopaxi, Latacunga Canton, Pichincha; for Limpiopungo, look for Laguna de Limpios, Pichincha, Ecuador.
Direction by Public Transportation Unfortunately, there are no great public transportation options that make it possible to arrive, hike, and depart Cotopaxi on the same day. We recommend hiring a driver and car or staying the night at a nearby lodge. Camping is prohibited while the volcano active.