Tucked away in a quiet corner of the Bellavista neighborhood of Quito, just below Parque Metropolitano, the former home of Oswaldo Guayasamín provides a glimpse into the economic divide that describes so much of South America. Guayasamín, the most influential Ecuadorian artist of the last century, was born to poverty and died a rich man. His story reveals the complicated relationship between money and power in Ecuadorian society.
Oswaldo Guayasamín
Born in Quito, Ecuador in 1919 to a Quichua father and a mother of mixed Quichua and European blood, Guaysamín grew up in a family with 10 children. He struggled in school and found himself expelled six times for an inability to learn. However, even as a child, Guayasamín was a talented artist, creating caricatures of teachers and fellow students from the age of six. In 1933, at 14 years old, he joined the Quito School of Fine Arts and, despite a tumultuous education, became the most famous student to graduate from this prestigious institution.
Guayasamín found inspiration for so many of his pieces in the poverty, injustice, and everday life of Ecuadorians. His early successes immediately following his graduation at 21 years of age opened doors. His art works won awards and garnered the attention of Nelson Rockefeller, a well-known and successful American businessman and politician. Through this connection, Guayasamín sold many of his pieces to Americans and was able to travel the United States, visiting museum after museum to learn and experience the artwork of many masters. The money he earned while in the United States enabled him to travel to other nations, like Mexico, Peru, Argentina, Chile, and Uruguay where he met other famous artists of the era, like Diego Rivera and Pablo Neruda.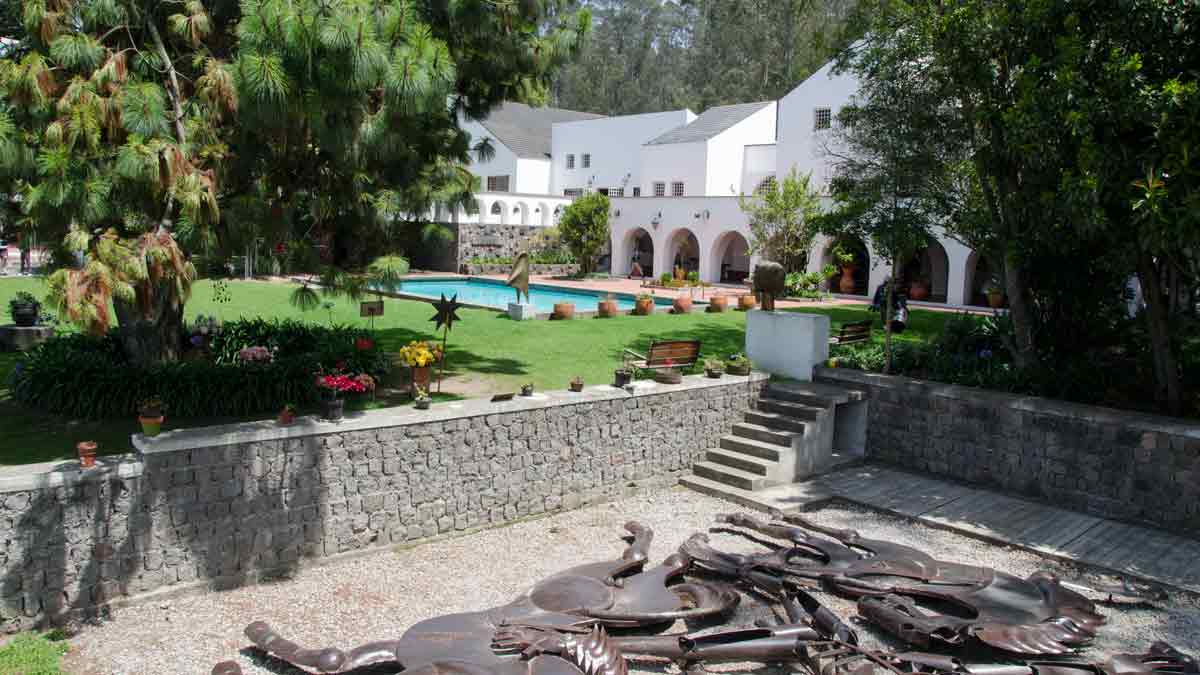 After decades of success, Guayasamín lived in Quito in a manner his parents would never have been able to provide. His home, built high on the hillside overlooking the capital city, became a personal oasis. Outdoors, a crystal clear, turquoise-blue swimming pool shines bright. A collection of old automobiles recalls his father's humble beginnings as a taxi driver. And the interior rooms reveal the inner workings of a very private artist. While he deplored the economic conditions of his fellow countrymen, Guayasamín lived a life of quiet, comfortable luxury. He entertained world leaders, political movers and shakers, and reknowned artists while professing support for the communist revolution taking place in Cuba under the firm hand of Fidel Castro, a friend and visitor to the Quito residence.
Room after room hold collections of artwork from across the ages. According to the museum docent, many of his pre-Columbian pieces were found on family land. He took to collecting religious paintings and wooden carvings from the Quito School. Nor did he skimp on adding more modern additions to complete his overall collection. Guayasamín created a living museum for personal enjoyment.
Ironically, his collection of native Ecuadorian works by the artists of Tigua are displayed outdoors in a protected courtyard. As an indigenous artist himself, Guayasamín perhaps unconsciously placed this folkart in a different category than his own. In retrospect, the decision to place Ecuadorians artists of humble backgrounds in a space open to the elements speaks to a subtle inconsistency in Guayasamín's own life. He spent his life's work calling out the injustice of class differences. However, he seemed unable to seperate his own economic success from the trappings that have become the very definition of capitalism. He lived like a king and his subjects were literally the heart of his success.
The Fundación Guayasamín
In 1976, Guayasamín founded the Fundación Guayasamín with the intent to preserve and protect his personal art collections and to provide gallery space to highlight many of his own works of art. The Foundation protects more than 2,000 pieces of Pre-Combian artifacts, over 500 examples of Spanish Colonial paintings and sculptures, and more than 250 works of modern artists, including many of his own pieces.
Upon his death on March 10, 1999, the majority of his land and his collections reverted to the Foundation.
Today, the well-preserved interior of his former home exists just as it did when he was alive. Rooms full of religious art, pre-historic pottery, and a lifetime of memories are open for regularly scheduled guided tours. The house has become a shrine for those who want to understand the life and times of an artist who shaped so many of Ecuador's modern day painters and sculptors.
The Chapel of Man
When Guayasamín created his foundation, his dream included building a gallery where his artwork in Ecuador would reside.  He called it the Capilla del Hombre, or Chapel of Man. Inaugurated in 2002, the building is a stark structure built with square stones reminiscent of cobble that line many of the streets of historic Quito. It is also square in shape, a huge cube topped with a trapezoidal dome.  From the outside, it is devoid of any article that equates it to a church or chapel.
"La Capilla del Hombre se aleja de lo religioso. Será un centro de recogimiento, un sitio donde se pueda meditar sobre la trayectoria de la humanidad en este continente, desde hace milenios, hasta nuestros días."

"The Chapel of Man moves away from the religious. It will be a center of recognition, a place where one can meditate on the trajectory of humanity on this continent, from the past millennia, until today "

~Oswaldo Guayasamín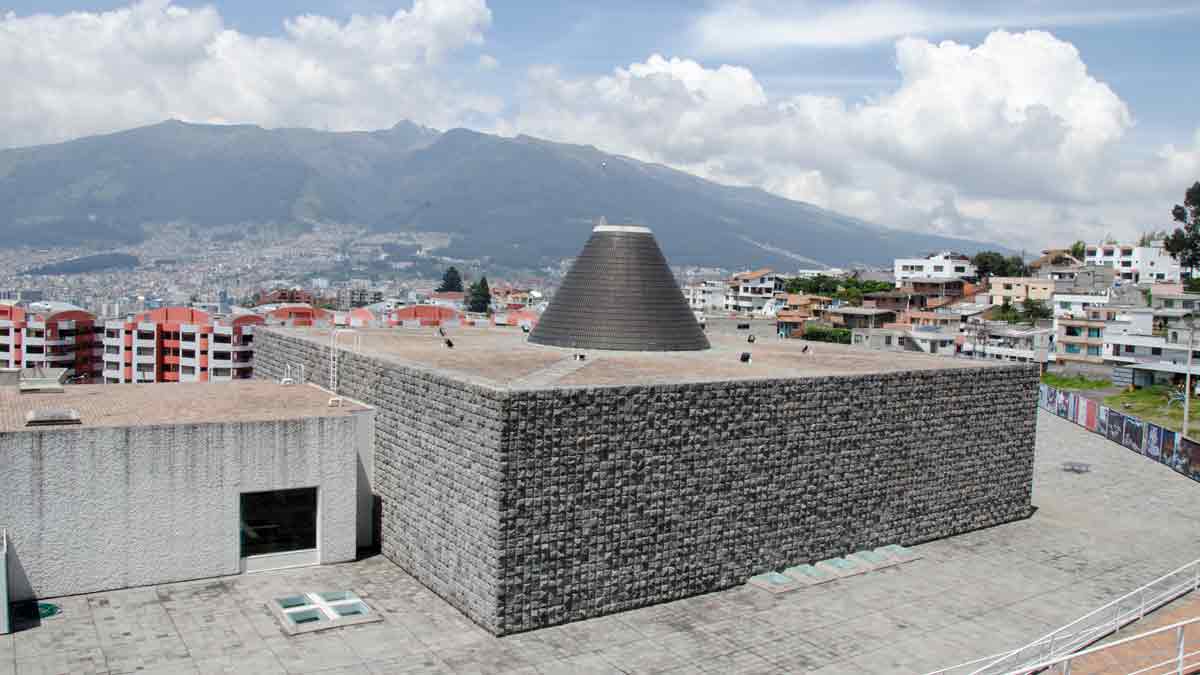 The edifice is filled with artwork in a style that has become famous for the artist: emotional faces in pain and anguish, twisted bodies, dark colors with somber tones. The namesake piece, the domed structure considered the center of the chapel, highlights skeletal human figures clawing at the ceiling as if looking for escape through the single round window atop the dome. Many are from a his series called La Edad de Ira, the Years of Anger, and focus on war, torture, and pain caused by conflict.  Others are from the series La Ternura, The Tenderness, on which Guayasmín worked from 1988 until his final year as a painter. They are an homage to motherhood and the relationship between mother and child yet no smile passes the lips of his subjects. These families are broken, seeminly held together by their love for one another.
This is not a museum for the faint of heart. As I walked the passageways I felt deep hurt, pain, and guilt and can only imagine that the artist must have felt similar emotions while creating these stunning pieces. A meditation in this space would leave me feeling helpless in the face of the current inequalities around the world. In fact, I see this as a chapel that calls attention to the hopelessness of both religion and man.  Despite that, I found pieces to love, like the Andean Condor clawing at the back of a fighting bull, symbols of the Andean people mastering their Spanish conquerors. Despite the hopelessness, there were occasional sparks that hinted at free-will and possibilities.
Information For Your Trip
Entrance is free on Sundays for residents of Ecuador (cedula required). Otherwise, the entrance fee is steep for Ecuador, $8 per person, cash only and bring small bills or correct change. A small cafe on site offers refreshment. 
The museum is open daily from 10 am until 5 pm. Closed on national holidays.
Direction by Car, use WAZE and look for Fundación Guayasamin, Mariano Calvache, Quito, Ecuador
Direction by Public Transportation for buses around Quito, use the Google Map link and click on get directions. Use the public transportation option to find the best from your current location to the Fundación Guayasamin or the Capilla del Hombre, both in Bellavista.
Guayasamin Museum, Bellavista
There is a small parking lot that borders the Parque Metropolitano. While it is within view of the museum guard, do not leave valuables in your car.