Living in Portland, Oregon I like to think I know a little something about artisan beer. My first week back in Quito after a few years, I tasted three excellent examples from a company that exemplifies our own founding beliefs – not all Americans come from the United States.
Let me introduce you to Amerik, a small family-owned business started five years, shortly before the Covid-19 pandemic. The incredible hard work of the co-founders, Oscar Artundva and Gina Valera, is palpable in every sense. Their business name, their branding, their logo, and their artwork reflect their obsession with perfection. This passion crosses over into their beer.
Artisan Beer Tasting at Viajero
I happen to be staying a the Hostel Viajero, around the corner from La Ronda in Quito, Ecuador. They offer events for their guests in evenings, like tonight's free beer tasting, which took place in their well-ventilated common area (one of the things I love about this hostel!).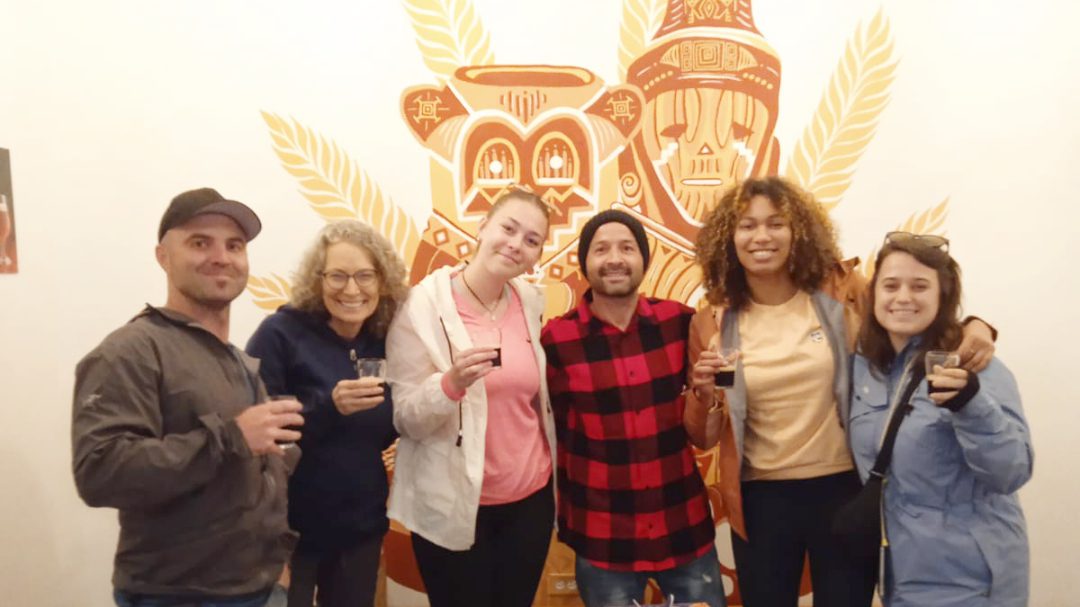 Viajero also is home to the small space where Amerik makes its beer. And this is a great place to explain that when spoken out loud, Amerik sounds like America. Oscar reminded me that the letter k in the Spanish alphabet is pronounced kah and that they once wrote their business name like this: Ameri-k. They have dropped the hyphen but not the pronunciation. So remember – Amerik is pronounced Amerikah.
Our tasting started with a tour of their very small and spotless workspace. Oscar explained the entire process of beer making, from boiling the malt to adding the yeast to selling the final rpoduct. He told us how they ferment the beer for a week at room temperature and for a month in a refrigerated room. He showed us how each bottle is capped by hand, using a bottle capper very like the one we have at home for making our own home brew. It's incredible to think that all the bottles they sell are capped one-by-one by a person, not a machine.
This attention to detail extends to every part of their business. That was made incredibly clear once the tasting started.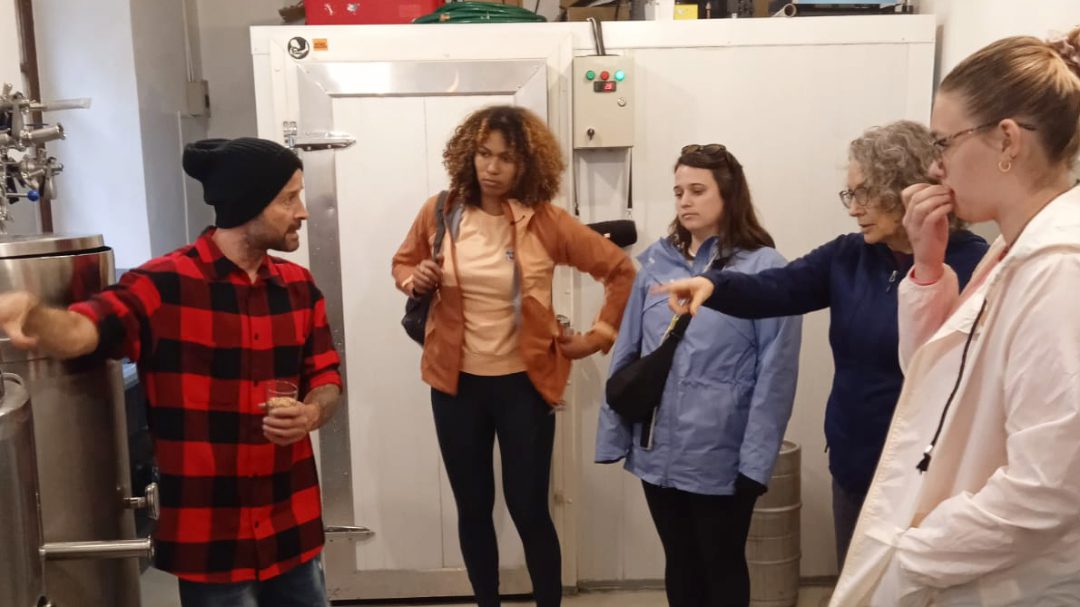 Tasting Amerik's Award-Winning Artisan Beers
Our beer education continued in the tasting room where we were introduced to three varieties of different artisan beers, two of which won awards at last year's Copa Cervecera, Mitad del Mundo. How ironic that my favorite was not an ward winner:
the Belgian Blonde (Bronze Medal)
the Red Ale
the Oatmeal Stoat (Gold Medal)
They also make an IPA and a Porter (also an award winner) that weren't on the tasting menu.
How To Taste Beer
Before we could sip, Gina led us through the proper tasting protocol. First, lift your glass and admire the light passing through the beer (or not for the Oatmeal Stoat). Identify the color. Second, slowly pass the beer under your nose, back and forth, wafting the aroma up towards your nose. Identify the aromas. Third, taste the beer. Identify the flavors.
We had a wonderful time batting words back and forth between English and Spanish, discussing the finer detail of flavors like licorice or anise (two different words in English, one word, as far as we could make out, in Spanish) and describing the flavor of molasses, something that doesn't exist in Latin America, though miel de panela is closest. In the end, everyone enjoyed all the beers but there was no single favorite among us. In my opinion, that's also a sign of well-made beer.
 Why Amerik(a)?
When I asked how they came to the name Amerik, Oscar almost rolled his eyes when he said, "Because we are in America, of course!" Then he laughed politely, waiting to see my response.
I applauded his response. And then explained how we came to name our own website. That message bears repeating to our readers…
People living in all of the Americas (North, Central, and South) live in America. And that is why I always refer to myself as a US American or, in Spanish, estadounidense (literally United Statesian).
Folks like Oscar often wonder why they should have to even explain this in the first place. To most Americans (see what I'm doing here?), it is plain common sense that the word include everyone born in the Americas, north to south, tip to toe. Not just US Americans.
Amerik is more than name
It's worth pointing out that Oscar and Gina have worked very hard to make sure that their brand resonates. Look carefully and you will see the Statue of Liberty wearing a crown of hops and holding high her torch of frothy blonde beer. It's enough to make an American cry with pride and joy.
Their tag line is El Sabor de La Libertad which means The Taste of Freedom. It's a slogan worthy of a great political campaign. It's as American as Apple Pie. They have truly thought a lot about how to make Amerik sing.
These are small business owners who really get it. In Oscar's own words:
"We make our beer with love and passion."
Oscar and Gina, I can taste that love and passion in ever sip. Thanks for taking those years of homebrew skills and creating an excellent artisan beer for us to enjoy!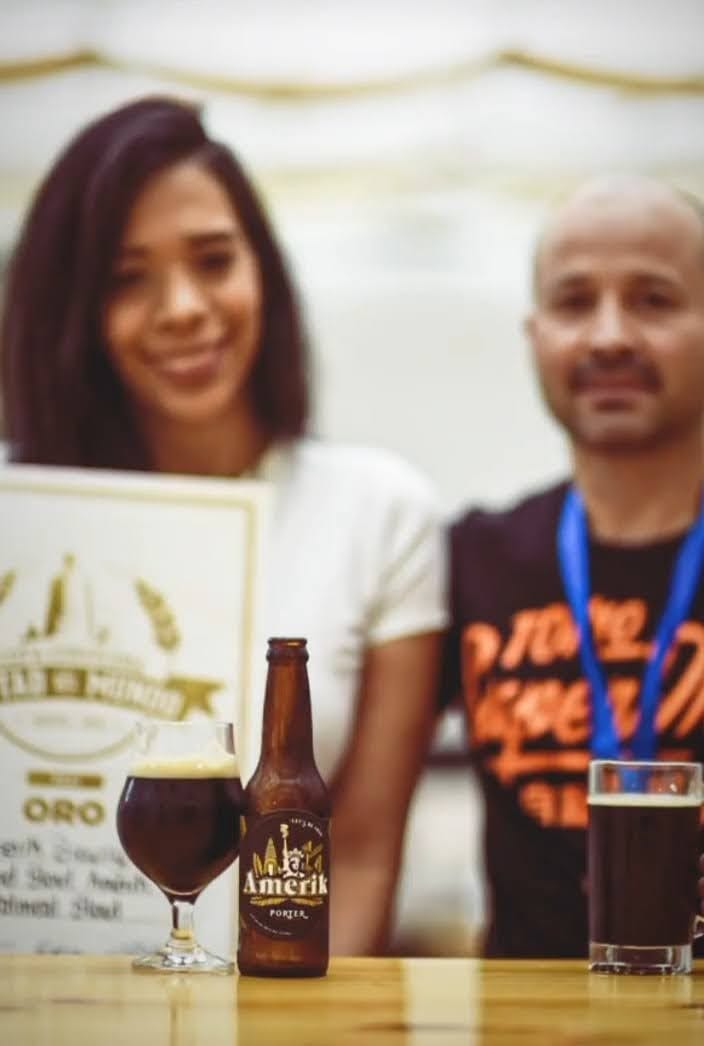 Where to Find Amerik
Amerik's small brewery is located inside Hostel Viajero. You can buy bottles to go. If you would like to try their beer on tap, check out Claroscuro Gastro Club, a recently opened restaurant and bar with fine dining and party rooms found on the upper levels of a colonial home in historic Quito.
Also, follow Amerik on Instagram and Facebook. Be some of the first to say you knew Amerik before they became famous  for their beer.
PS – this is not a sponsored post