I can heartily give a big thumbs up for the Otavalo artisan market! Some folks will try to tell you that you can find the same selection of Andean handcrafts in Quito's Mariscal district but they're not telling you the entire truth.
The Otavalo Market Has The Best Variety of Goods
While some of the most popular items like blankets, shawls, and jewelry can be had in both Quito and Otavalo, the latter definitely has more variety of woven goods and artwork, especially on market day. Where you might find several vendors selling the exact same scarves or sweaters or hats in Quito, you'll find those vendors and more selling unique versions that can't be found anywhere else but Otavalo.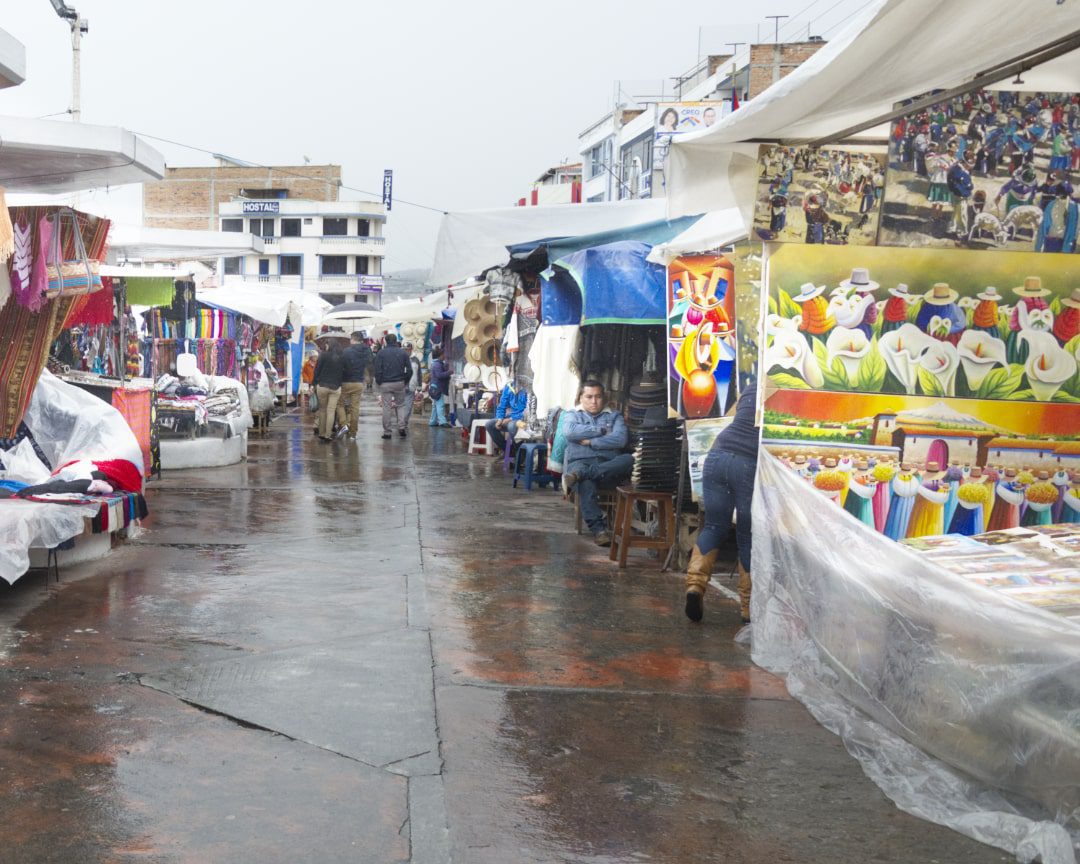 Saturday is Market Day
For the best selection, it is best to show up for the Saturday market.
On Saturdays, Plaza de Los Ponchos is overflowing onto the surrounding streets of Otavalo as artists from neighboring towns come to sell their wares. Sometimes vendors arrive from further afield knowing that this is a great place to sell! This lends to the authenticity of the experience – hundreds of vendors could never make a living selling only to foreign tourists. They are here to also do business with fellow Ecuadorians.
However, if your plans can't accommodate a Saturday, there are always vendors in the Plaza de Los Ponchos, rain or shine. Only tourists shop mid-week but you won't have to fight any crowds.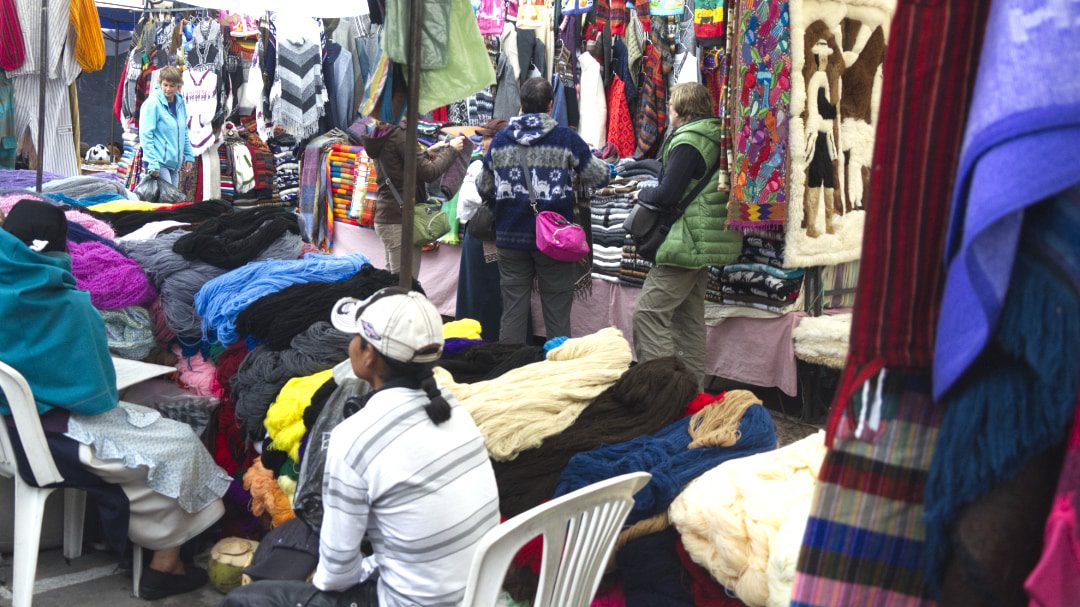 The stalls are chock full of woven blankets and musical instruments, ponchos and oil paintings, jewelry and mosaic artwork, original watercolors, and miniature llamas. We have found intricate folk art and purchased exquisite watercolor paintings of hummingbirds from a highly talented artist Bayardo Monteros. We've bought woven goods like blankets, throws, and scarves. And we've found some lovely examples of classic paintings from Tigua. Basically, we found the items we were looking for and so much more!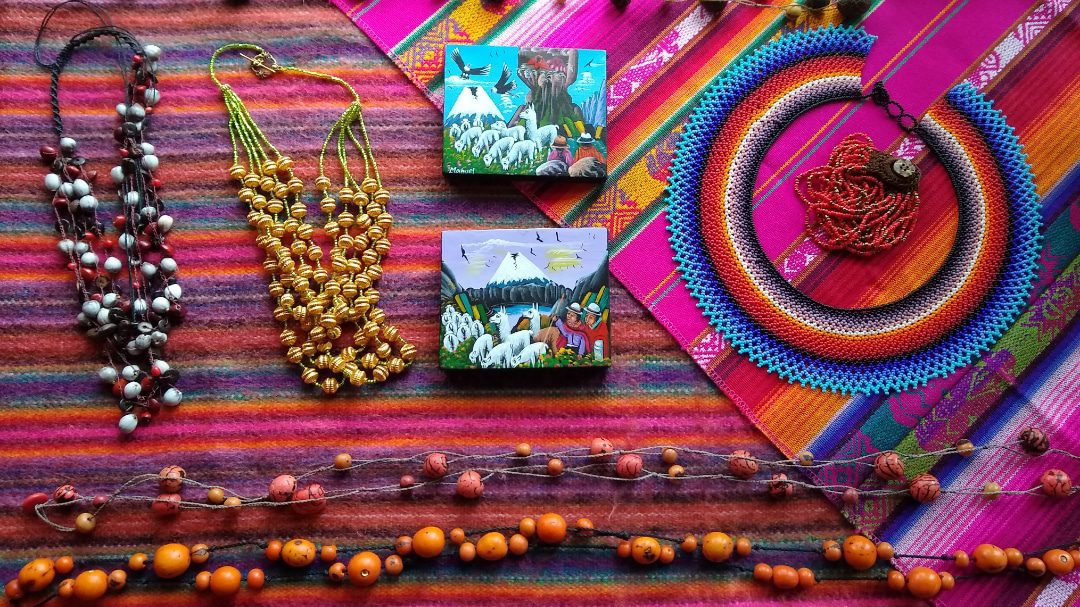 Bring Your Best Spanglish
Although most vendors speak Spanish and a few have a spattering of English, there are one or two vendors who speak only Quichua. Our favorite poncho vendor is one. He has enough Spanish to tell you a price. If his neighbors think you are trying to cheat him, they will come over and help the process by playing translator. (Tip: we use his ponchos in our yoga practice – folded they can easily replace a bolster or provide additional padding for tender knees)
Some of the items at this market are actually handcrafted and worthy of a high price while some are just mass-produced. Just remember that while getting a bargain is great, paying someone for the value of their work is important to creating a vibrant local economy that can sustain tourism. Make your purchases matter!
More Than Artisan Goods
At the Saturday market, it's also possible to buy other goods as well. Many of the people who arrive live on the outskirts of Otavalo and do their shopping along the streets selling more usual market fare traditional and American-style clothes, shoes, and household goods. There are also a few fruit and vegetable vendors and a smattering of food vendors offering very local dishes but nothing that comes close to the covered market where Rosario Tabango sells her famous hornado.
To my surprise, I also found the best spice vendor around, right on a busy corner of Plaza de los Ponchos. Just the scent of her freshly ground peppers and spices attracted us to her stall. Her prices encouraged me to buy generously.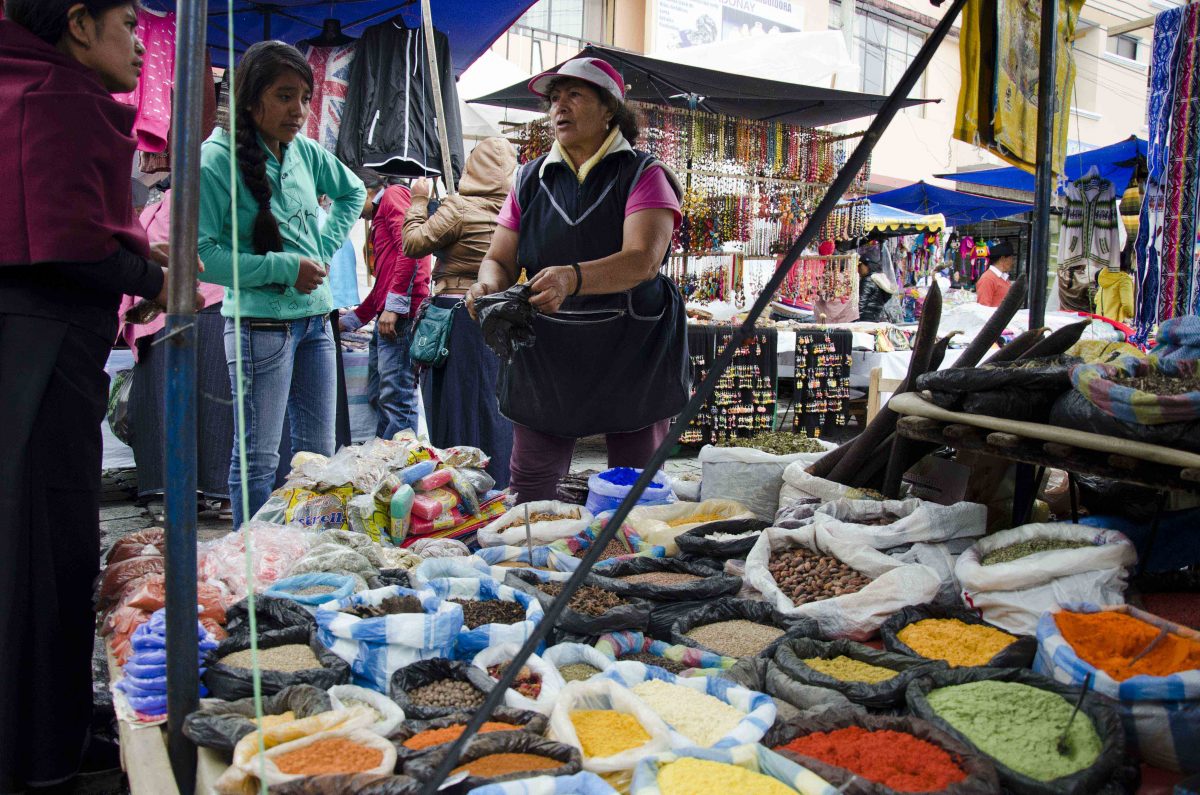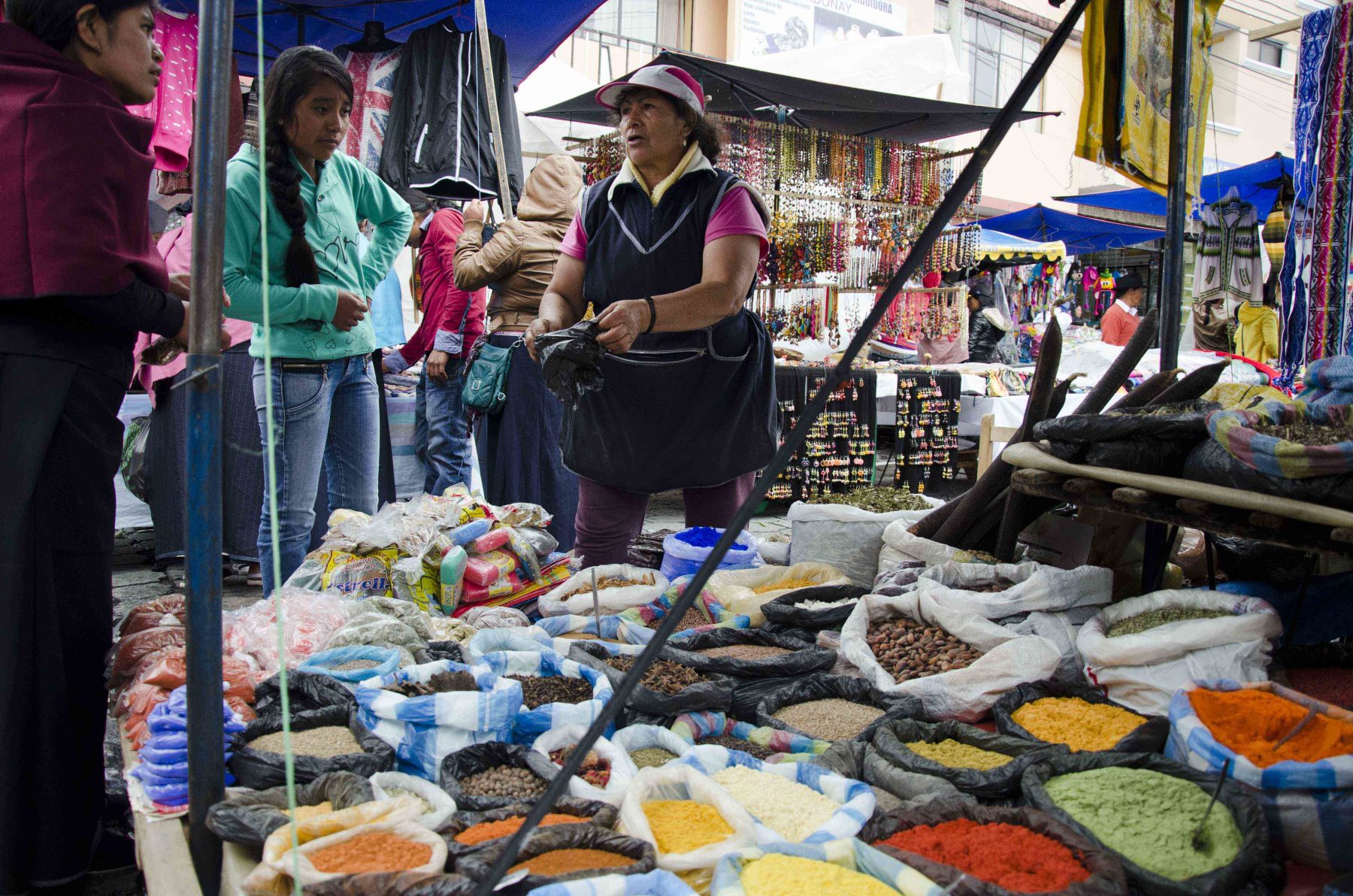 Tips For the Otavalo Artisan Market
Here are a few tips to better prepare you for the Saturday market, come prepared.
Most vendors will not have change for your purchases so bring bills in small denominations, like $5 and $10, and a good amount of small $1 coins. Although $1 bills can be used, they are not very popular in Ecuador and vendors much prefer the heavier coin.
If you are making multiple purchases from the same vendor, ask for a discount.
Feel free to bargain and know that if you don't speak some basic Spanish, the price goes up automatically.
It is possible to spend large amounts of money on artwork and hand-crafted musical instruments. If these are your goal, know what you want to spend BEFORE arriving.
A lot of small purchases can quickly add up if you are buying gifts to take home. Bring enough cash.
If you do not have cash with you, there are a few ATMs in town. None are well protected from street-view so please use your very best situational awareness when flashing cash.
For more safety tips, you can read our suggestions for touring in Quito as they are very much the same.
Information For Your Trip
Come prepared to shop! That means bringing cash in small bills and coins. If you decide to make a more expensive purchase, there are several ATMs in town but all are street side. Please be situationally aware when using them and when flashing cash in the market itself.
Direction by Car, use WAZE and look for Daily Grind, Otavalo, Ecuador. This will take you to the a parking lot just off the central plaza and on top of the Saturday market.
Direction by Public Transportation You will want to go to the Terminal Carcelen in North Quito to find buses traveling to Otavalo. There are several everyday but you will want an early bus if you are making this a day trip.
Plaza de los Ponchos
Parking Lot
We have always found a parking place, even on Saturdays, at this protected parking lot next to the coffee shop, The Daily Grind.