Personal stories usually start at the beginning with a retelling of our beautiful childhood and remembrance of avatars of youth. These stories end in the current day. However, on this occasion, I want to start at the end. I have a huge desire to tell the adventures and stories of a guide who has finally been guided.
The Guided Guide
My name is Edison Benitez, a professional tour guide in Ecuador, working towards 30 years of wandering this small paradise located in the heart of America, although many say we live in the middle of the world (that is also true).
My home city is Quito, the capital and at the same time a UNESCO Cultural Heritage Site since 1978, the birthplace of quite intense and exciting characters such as an indigenous man who made a pact with the devil to build a church and a cleric who jumped on a crucified Christ to go out and sing and dance in the dusty streets of yesteryear. The city of elves and geraniums, Quito also was home to a doctor who understood smallpox and other pandemics. I belong to the city where Mariscal Sucre arrived and left us freedom. I live in the city where Bolívar fell in love and García Moreno and Alfaro (considered among the most important in our history) were massacred.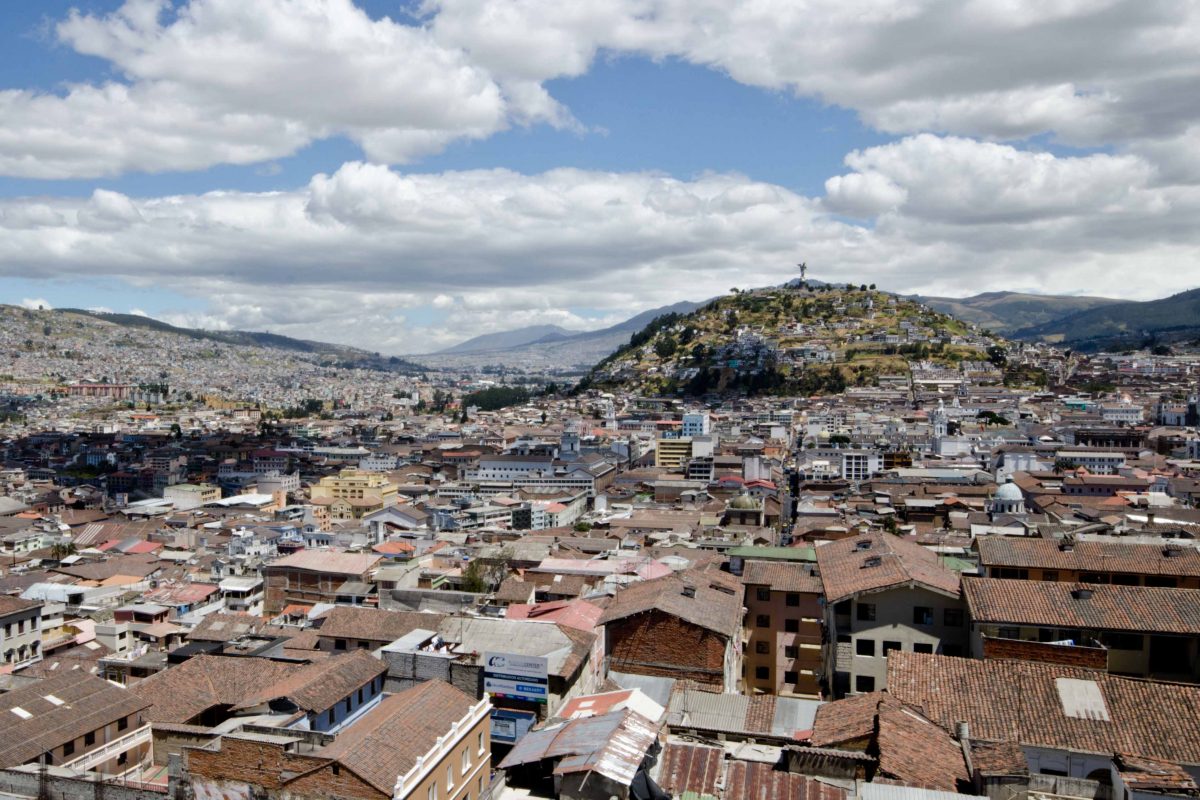 Anyway, Quito is a city where legends and true stories mix and create this amalgam of culture full of magic and poetry. It seems to me that I am somewhat in love with this flirtatious city and must settle to write a very brief description of its mystery and beauty.
However, my account on this occasion is not about Quito, although the events took place in its surroundings or, more to the point, on its emblematic mountain named Rucu Pichincha.
El Pichincha, A Complex of Volcanos
The mountainous Pichincha comprises several peaks, volcanoes, and volcanic domes, both active and extinct, such as Rucu (old) Pichincha, a volcano that has been extinct for several centuries, its son the Guagua (the child) Pichincha, completely active but, thanks to the miracles and predictions of the first saint of Ecuador called Mariana de Jesús, it is quiet and does not affect the city. Although yes, if volcanic activity besieges us, it likely comes from just behind Guagua from a volcanic dome called EL CRISTAL. This active volcano showed us its power in 1999 when all the Quiteños admired an eruption that resulted in a gigantic mushroom of ash and pyroclastic flow.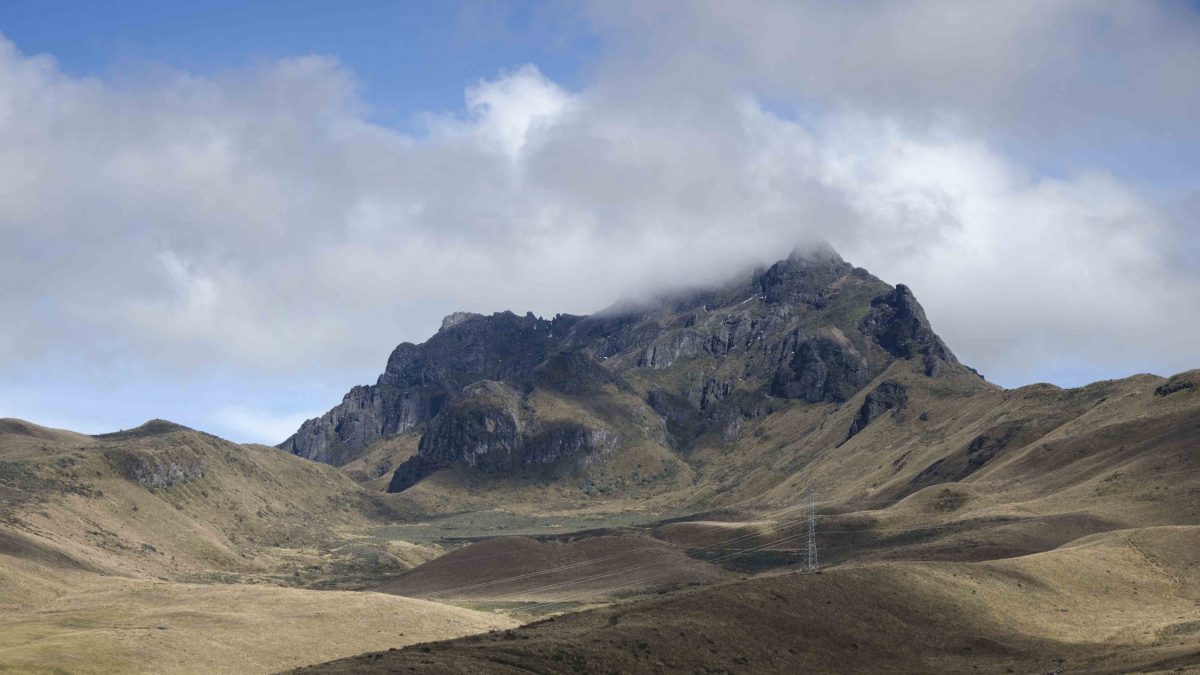 The Pichincha as a whole is a volcanic complex indulged by many artists, musicians, painters, poets, and expeditions; I shouldn't fail to mention that on its flanks, the final battle against our Spanish overlords unfolded, back in 1822.
From my house, I can always admire Pichincha. For several years, I had a huge desire to climb to the top of the city; I wanted to evoke the exploits of Rumiñahui, La Condamine, Dr. García Moreno, Edward Whymper, and other characters who have climbed it forever.
An Adventure of Celebration
But the unexpected gets in the way and my dream had not come true for several decades until, recently, the day finally arrived.
On December 6 of each year, we celebrate the Anniversary of the Spanish Foundation of Quito that occurred in 1534. Increasingly, this day is full of controversy and discussion among defenders and contrarians for the motherland. But last December I wanted to greet Quito from the clouds. I wanted to go to the highest point, as far away as possible, only without friends, without my pet, without anyone….
And so began the adventure, with a backpack made ready with a bottle of water, hot coffee in a thermos, a handful of chulpi (a variety of toasted corn), and a few pancitos (rolls made with love), a jacket for the cold, trousers without much to offer against the frigid weather of the heights, and, most importantly, a pair of tennis shoes, not at all suitable for the hike, which I later learned the hard way.
Reaching the summit of Rucu Pichincha
After 20 minutes on the Teleferico (Quito's cable car), I reached 4100 meters and from there I had no plan to turn back. My mind only thought of gaining more and more height until I reached the summit of Rucu Pichincha (4784 meters above sea level). Along the way, I left behind tourists from other regions of the country, a couple of foreign tourists with their guide describing the city below, some children playing on a huge sky swing, young lovers who hiked hand-in-hand, and some young girls walking with their dogs. Everything appeared perfect (according to my adventurous perspective) and I kept walking like a desperate person as if someone was chasing me and would never give up. Gradually, people fell to the wayside as did my fears and my demons (we all have them, that's for sure).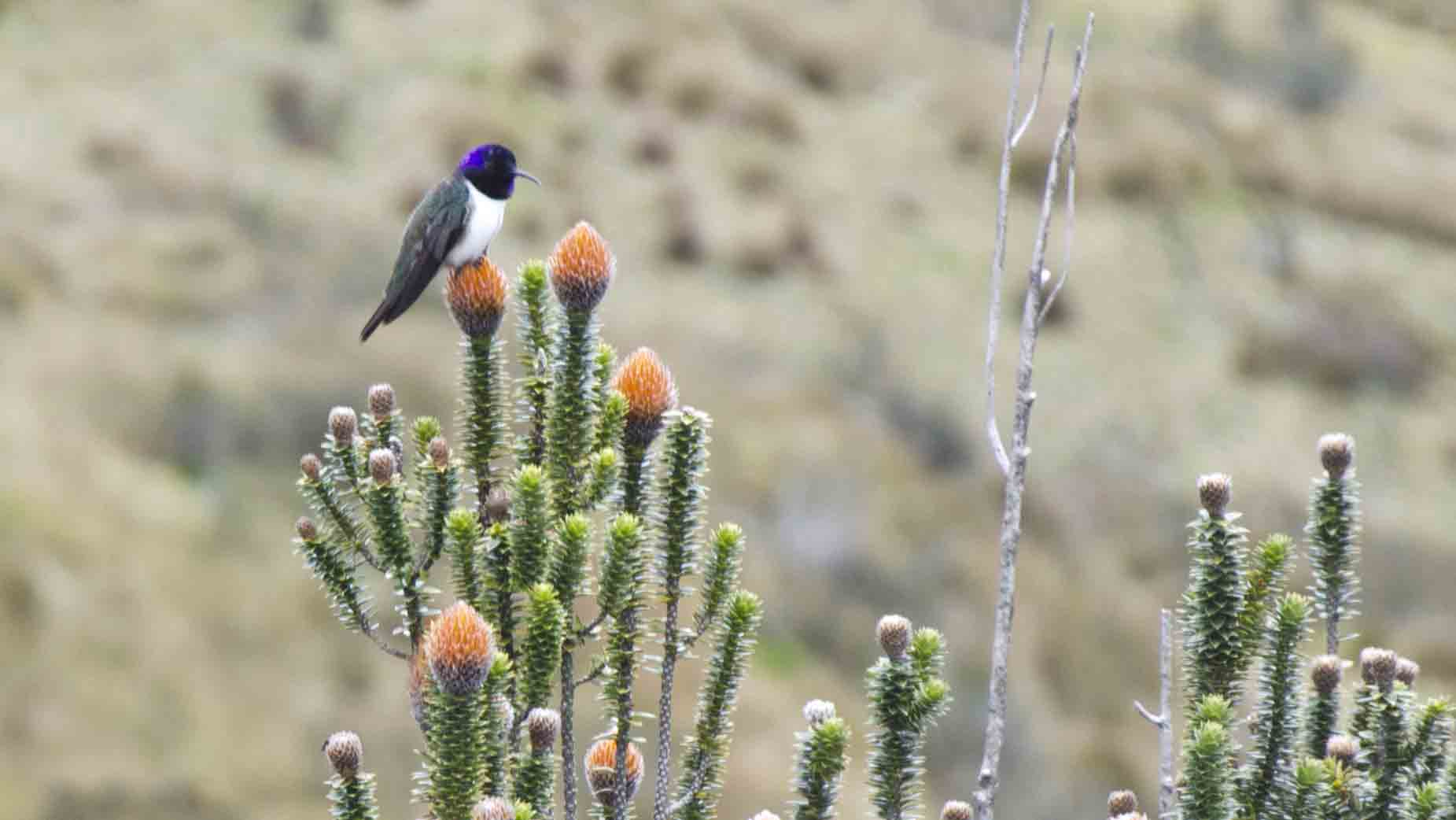 So, at one point I had no one in front of or behind me. That's when I realized that I had no idea where to go. Therefore, I just followed a path, that same path that I shouldn't have taken, but at the time, had no idea that I had chosen wrong. It might have been the Ecuadorian Hillstar hummingbird that distracted me and led me down the wrong path??! In a heartbeat, I arrived in front of some rocks that a group of about 8 people was climbing. Well, I started climbing behind them, because I thought that was the route.
Isn't this the way to the top of Rucu?
Fortunately, in the group was a girl who apparently delayed that rock climb and I was able to catch up with them. Then, from above, a voice yelled at me: "Hey friend are you going to the Pass of Death too? "(it was Miguel the guide of the group) and I replied: I have no idea, isn't this the way to the top of Rucu?
Let us remember that this was the first time I had visited the colossus Pichincha and hadn't the most remote idea that I had taken the route of the Andinistas and connoisseurs of mountain and rock climbing.
Immediately, the guide arranged for me to be in the middle of his group and told me to do exactly what they did; things didn't look so good from high but at the same time it was too late to turn back and take the less dangerous and adrenaline-free route.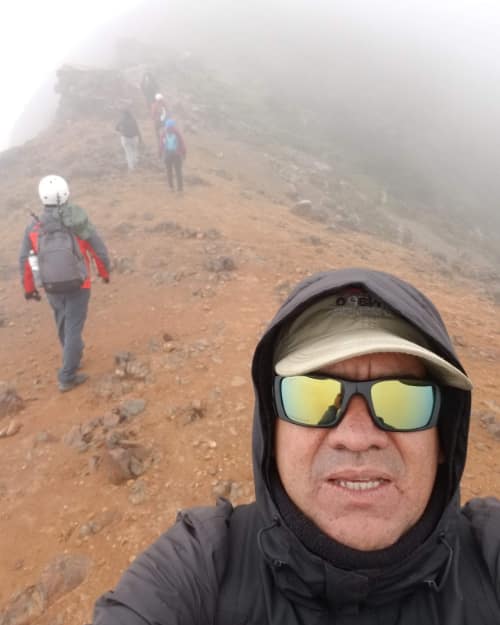 After an hour and a half or so of climbing (remember that I had some "tennis shoes" and not trekking shoes), we arrived at the famous Pass of Death (Paso de la Muerte), which is an abyss of about 100 meters of empty space on one side, a narrow path looking towards the rock, and another deep abyss on the other side. Best of all, it was impossible to return.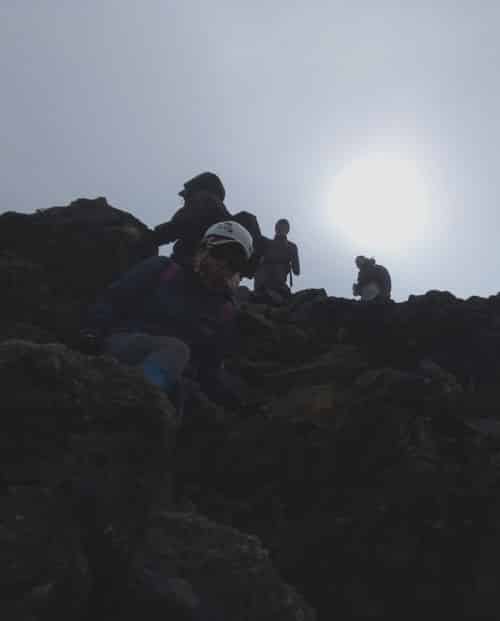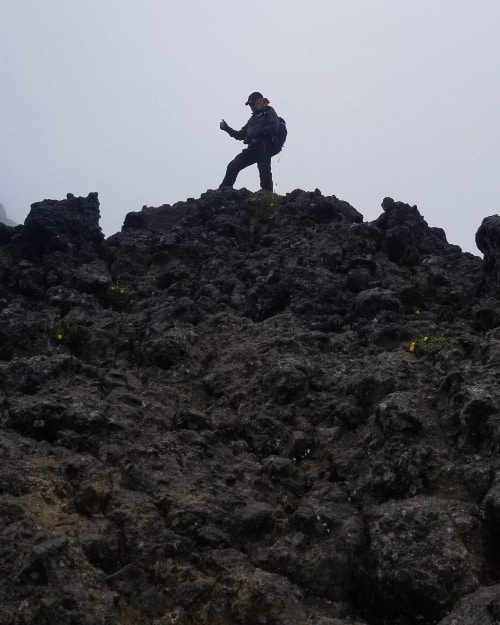 The Pass of Death
We went one by one with nerves of steel and extreme concentration. There would be no opportunity to make mistakes. Even worse, a small misstep could mean death. I thought about my tennis shoes that were not appropriate to hike through this place of terror. Then came the wisdom of our guide who helped me by boosting my confidence while showing me the way to do it… the guide was guided!!!
So, after such a terrifying experience that, at the same time, taught me a life lesson (patience and self-confidence), we all reached the summit of Pichincha. And there a CURIQUINGUE (Carunculated Caracara) awaited us.
Since that unforgettable December 6th, I have not stopped climbing the medium-sized mountain peaks and I have already visited six others. Who would think that at my age of half a century, I would be climbing mountains like an adrenaline-fueled young person? I believe it is never too late to do what fills your soul and spirit and brings you inner peace.
I look forward to the weekends because there are so many mountains in this beautiful country that it is always possible to select another new adventure and add one more summit to the list.
The Guided Guide will be back very soon to continue sharing travel experiences as well as the history, culture, and nature of Ecuador.
See you next time!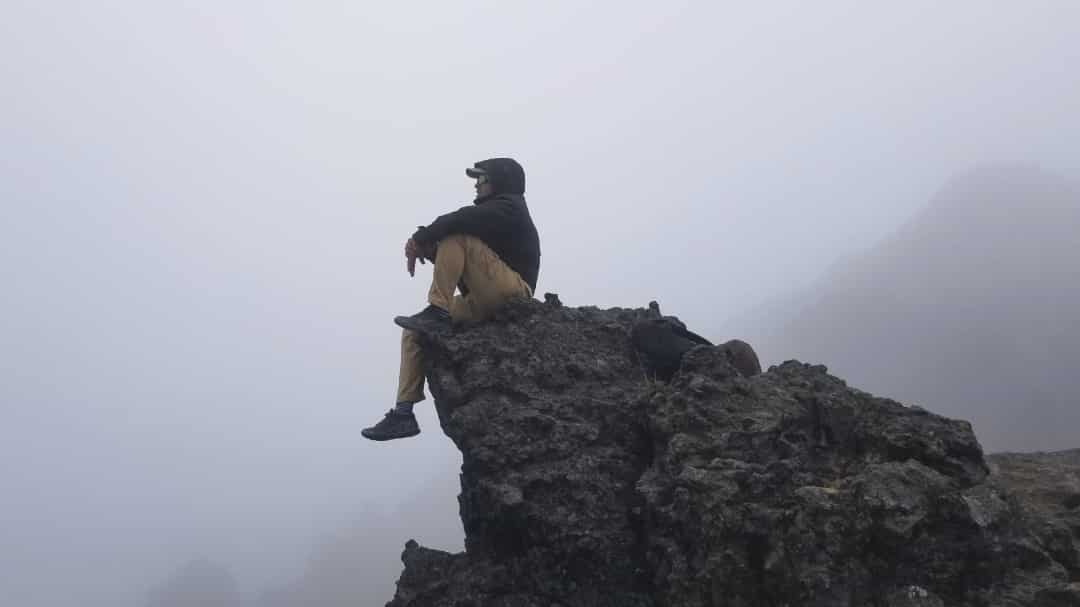 Esta publicación está disponible en: Español