On October 17, 2020, communities throughout Ecuador participated in Global Big Day, an annual event where birdwatchers worldwide identify and count the birds in their communities. A group of bird-loving friends in the Patate Canton of Ecuador hoped to change people's minds by holding this mega world event near their own home. They chose a beautiful route on the western side of Llanganates National Park.
An Important National Park for Bird Conservation
The name "LLANGANATES" means "beautiful mountain" in Quichua and its emblematic peak of the same name in Spanish is Cerro Hermoso, about 4,500 meters high. The slopes of this mountain and its neighbors are often covered by fog and cloud, creating a damp and rich environment for many species of birds. Also, the mysterious fog adds credibility to the old stories of treasure hunters lost while searching for ancient Incan gold. In fact, it's hard to get through the park without a local guide.
The Bird Watching in Los Llanganates
However, the park's modern treasure is birds, not Incan gold.
The park protects pristine microclimates that house many native, endemic and migratory bird species, thereby earning it the international designations IBA (Important Bird Area) and EBA (Endemic Bird Area). In addition, the National Park is recognized as a wetland of international importance by RAMSAR, an international treaty organization that provides a framework for the conservation and prudent use of wetlands and their resources.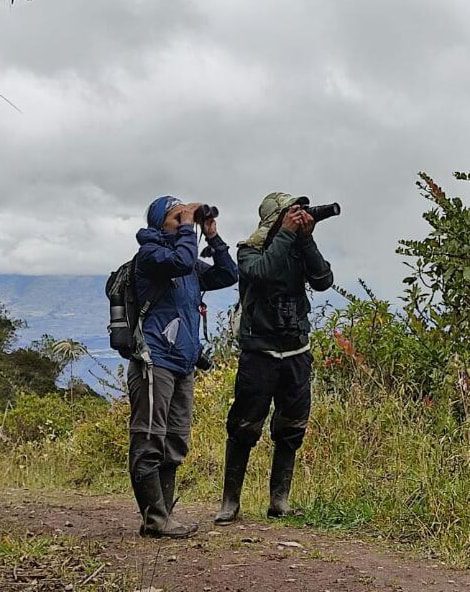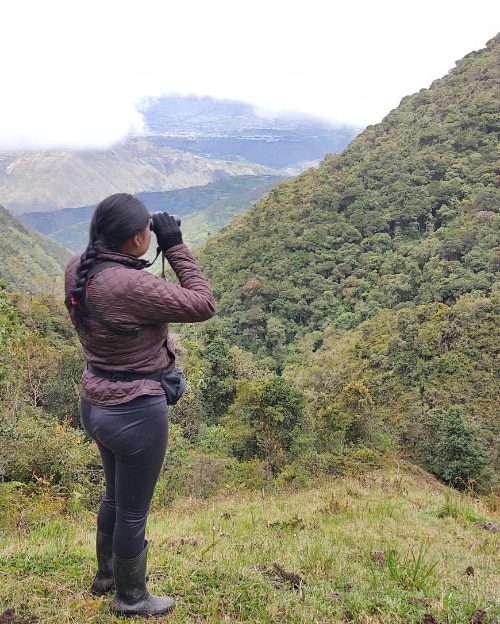 The Kuripischku Eco-Route
More importantly, the park is crossed by the longest ECO-ROUTE in Ecuador, "KURIPISCHKU" which means "golden bird" in Quichua. This Eco-route contains patches of primary forests intervened by pastureland. Nevertheless, it is easy to observe over 50 species of birds of the temperate and high forest along the trail. Local birdwatchers feel lucky to have a wide variety of birds at their disposal.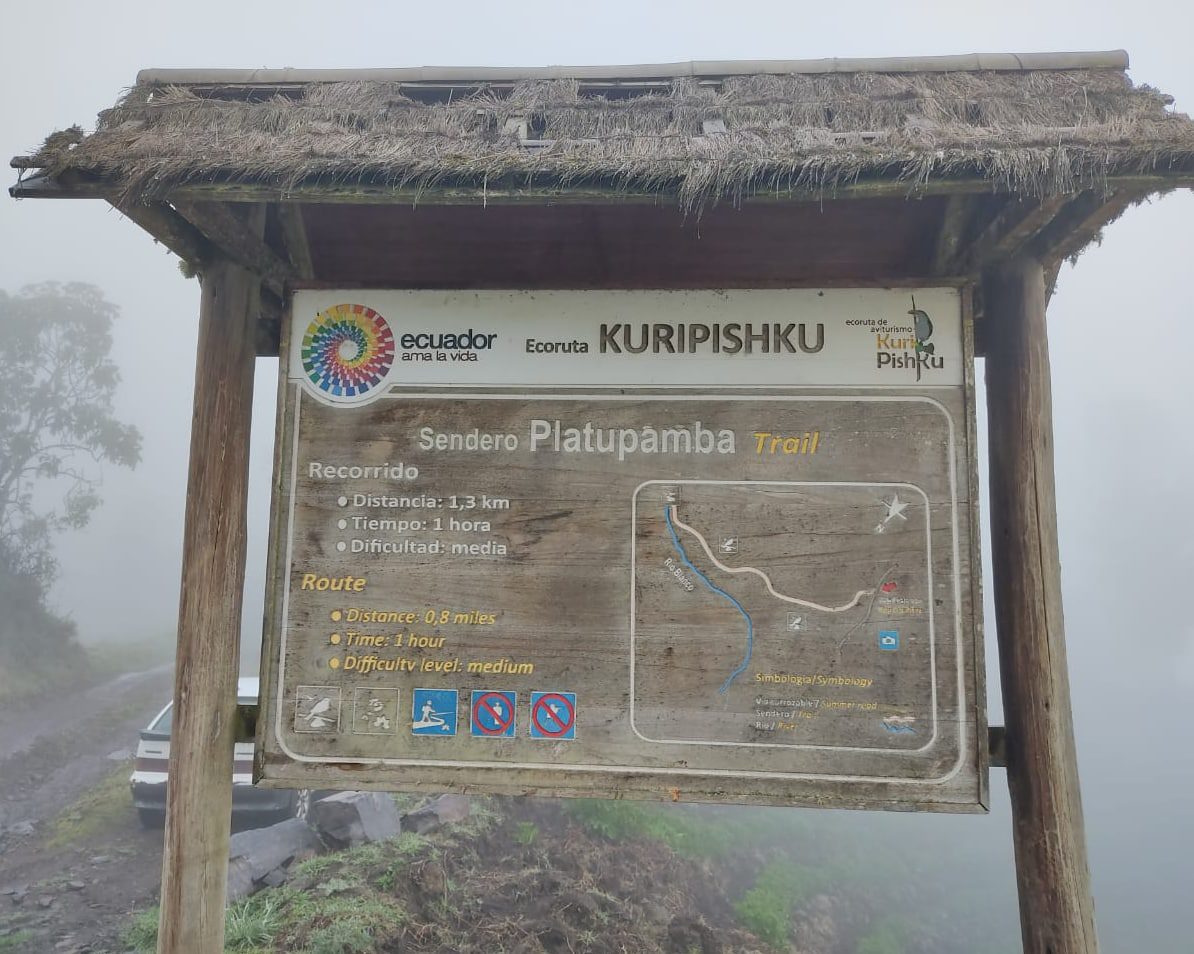 This trail within the KURIPISHKU Eco Route rises from 2,700 meters to 3,200 meters. It is readily accessible, especially to visitors who are traveling along the Avenue of Volcanoes. On the day of the event, our group of local birders saw 55 species including the 10 species of hummingbirds, three species of Conebills, and three species of Tapaculo. Featured birds included Gray-breasted Mountain-Toucan, Crimson-mantled Woodpecker, Chestnut-naped Antipitta, Smoky Bush-Tyrant, and Azara's Spinetail.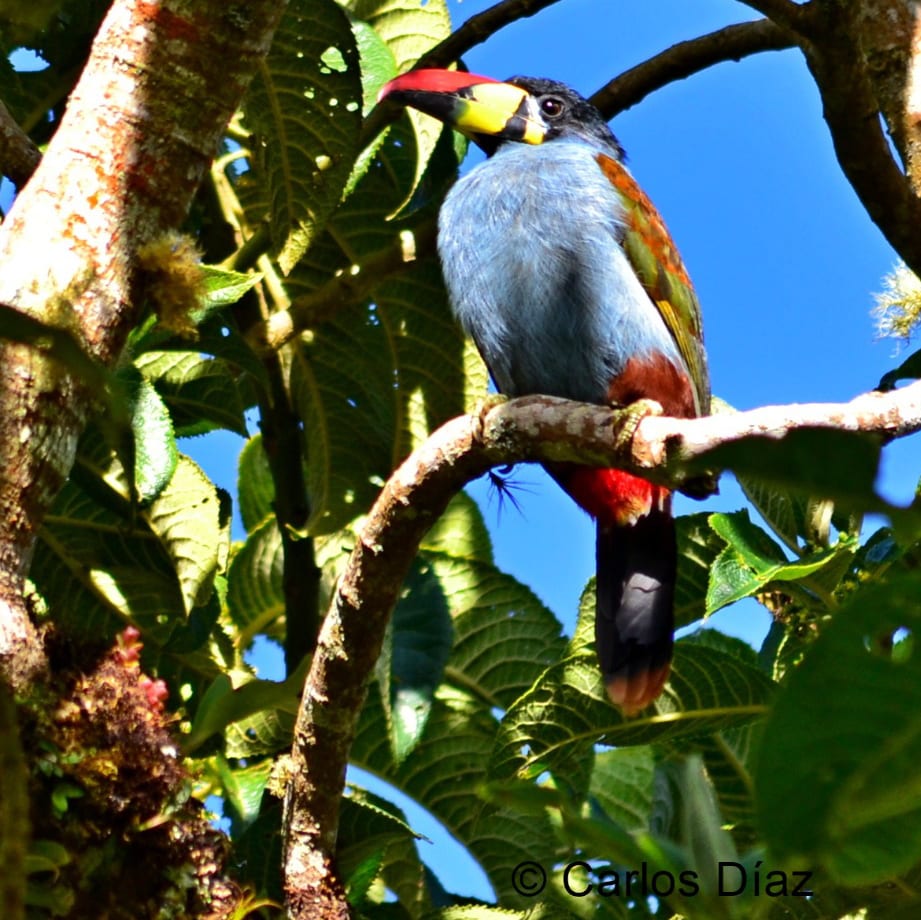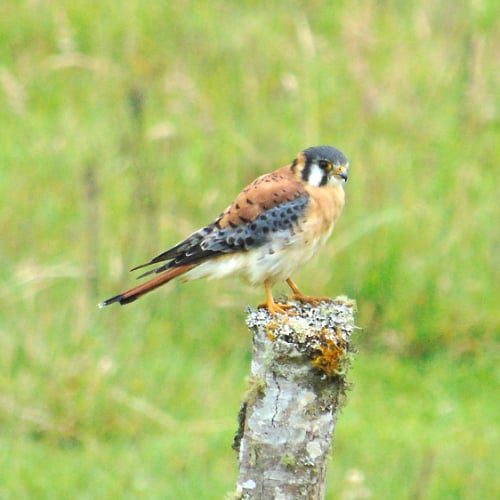 With 11 checklists completed since 2018, the route has 107 species registered in Ebird. Once more dedicated birdwatchers visit, we expect the number of species to grow.
We invite you to visit the KURIPISHKU Eco-route and add some species to your life list! In this regard, I'd like to introduce myself.
Bird Guide, Carlos Diaz
I first worked as a native guide in the Amazon. Then, I earned national certification and have worked for the past 15 years as a National Guide. I have experience trekking in the mountains, canyoning, and bungee jumping.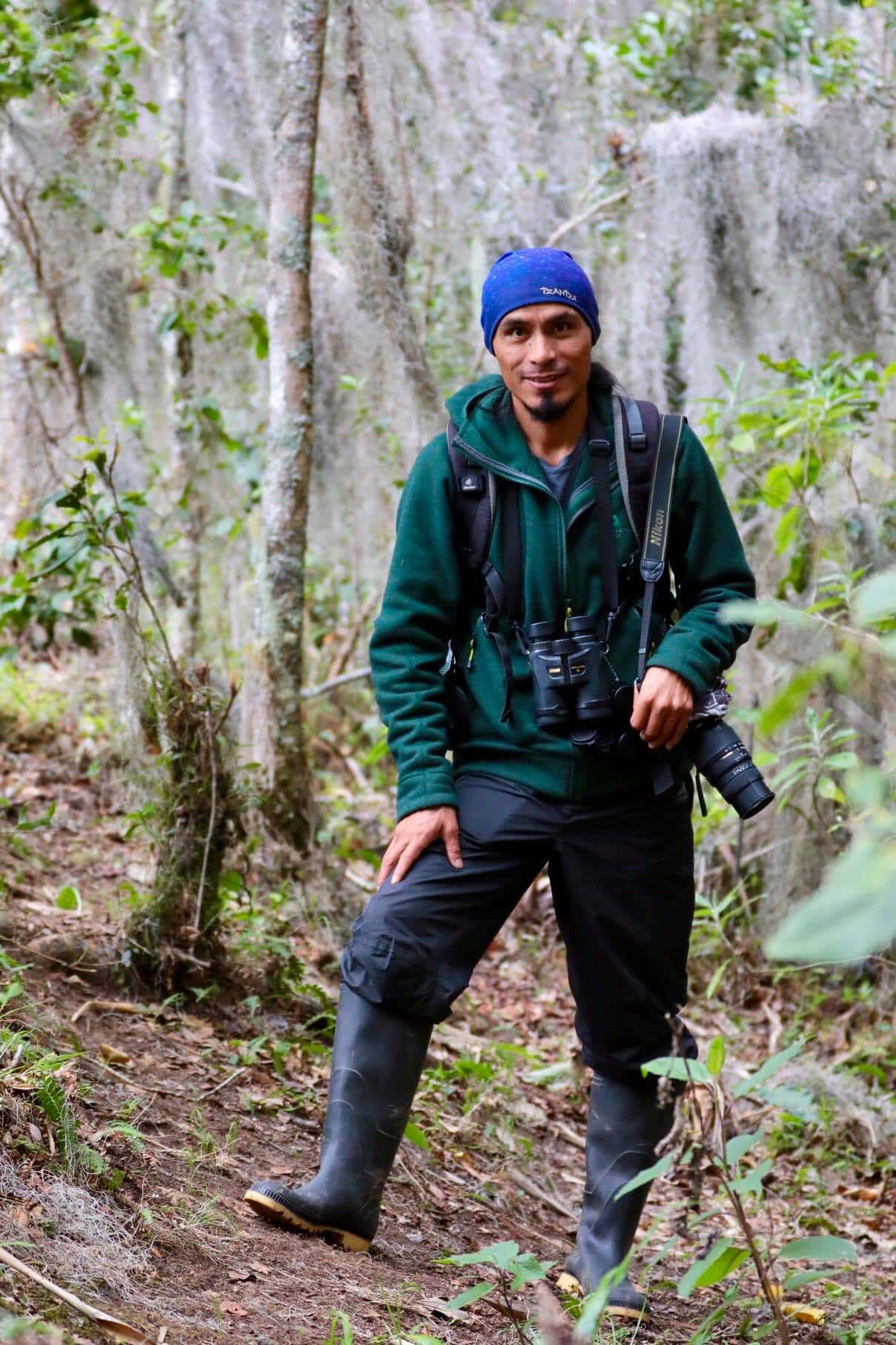 However, my passion and love of birds began about 9 years ago when I was a guide for the hotel and spa, Luna Runtun (now called Moon Volcano). There I met Paul Greenfield, writer of the book Birds of Ecuador. I saw him and his fellow travelers with giant cameras and binoculars. They knew a lot about birds including their latin names!
Their visit compelled me to start studying these beautiful species. While visiting my mother here in Patate, I saw a group of young people leaving for Mundug Waterfall and went to see what they were up to or if they needed information about the trail. Among this group, I met biologist Adrian Soria who was training a group of young people to be local guides in the region of Llanaganates. I joined them and started participating in their outings. I was one of the more experienced students, so I learned in a short time. Soon, I was helping conduct the monthly, quarterly, and biannual censuses including the time of migration within the Llanaganates National Park as a part of Birds and Conservation of Ecuador, a partner of Birdlife International.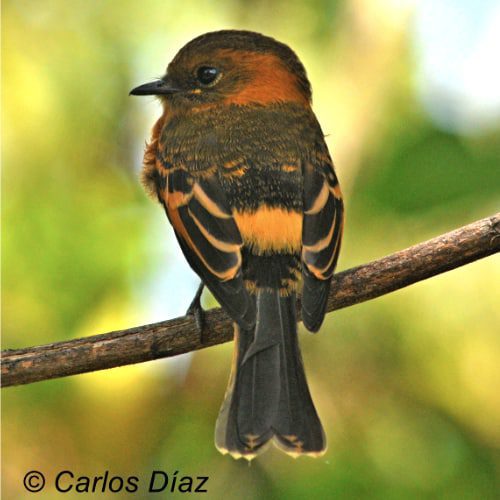 Years later, the project ended and we ran out of funding to participate in the Christmas bird counts or the annual Ecuador Ornithological Meeting. I was often the only person to represent the region of Llanganates and the province of Tungurahua. Taking advantage of my birding knowledge and my experience as a guide, I started to offer bird-watching tours in Baños, a center of international tourism with a beautiful landscape of lush forests and hundreds of species of birds. I continue to search for new routes and add species to my life list as I wait for more birdwatchers to learn about my guiding service in and around the city of Baños. This went smoothly, so that bird lovers learned by word of mouth that Tungurahua has a guide who knows birds and who can help in their adventures and experiences.
I'm waiting for your next visit! WhatsApp Contact: +593-99-318-4936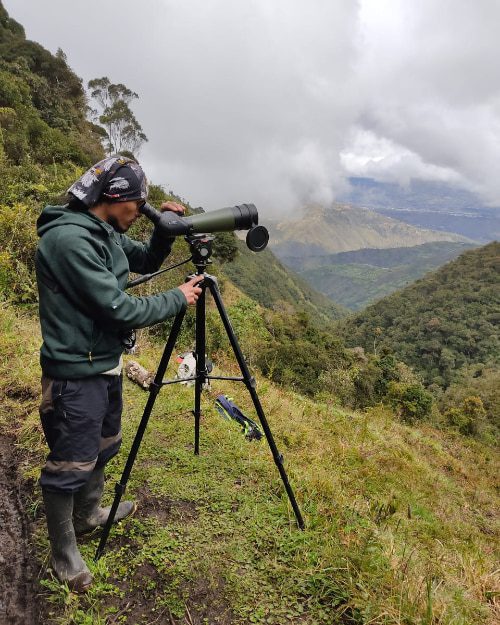 Esta publicación está disponible en: Español